Description
Described by Hollywood insiders, digital influencers and industry leaders throughout the world as a "must-attend" event, now in its 6th year Digital Entertainment World (DEW) is where you want to be if you are in the business of creating or monetizing digital entertainment content. DEW 2019 focuses on "The Power of Creativity and Influence" and will cover topics from OTT to Innovation to eSports to Millennials to Content Marketing to VR/AR to Music Rights to Startups, etc., as this theme guides all talks, discussions, meetings and presentations over the two days. This year's event will be held in the hip and modern Marina del Rey Marriott just steps from the beach and located in the heart of LA's thriving Silicon Beach with easy access to Santa Monica, Venice and Playa Vista. The event includes keynotes, fireside chats, presentations, panel discussions, tech demos, startup competition, innovative exhibitions, daily DJ music and performers and the best networking in the hotel's Sinder Lounge. Join DEW 2019 and be a part of the future of connected entertainment.
Agenda: https://www.dewexpo.com/agenda/
Speakers: https://www.dewexpo.com/2019-speakers/
Sponsors/exhibitors/media partners: https://www.dewexpo.com/sponsors/
---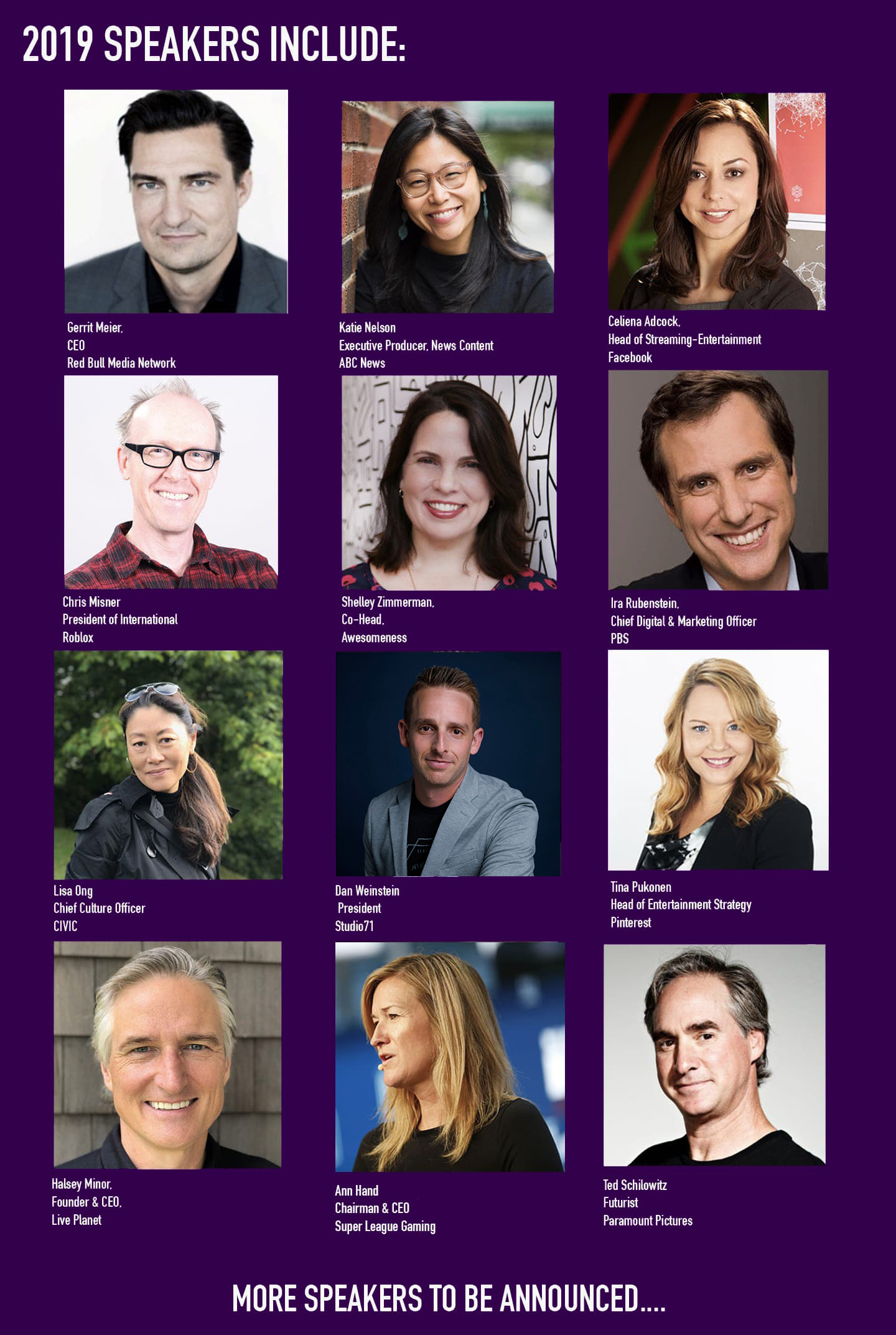 2019 Confirmed Speakers:
Confirmed Keynotes & Fireside Chats:
Celiena Adcock, Head of Streaming-Entertainment, Facebook
Benjamin Grubbs, Founder & CEO, Next 10 Ventures
Jason Lake, CEO and Founder, Complexity Gaming
Gerrit Meier, CEO, Red Bull Media Network
Halsey Minor, Founder & CEO, Live Planet
Katie Nelson, Executive Producer, News Content, ABC News
Andrew Wallenstein, Co-Editor-in-Chief, Variety
Confirmed Speakers:
Wesley A' Harrah, Head of Training & Development, Music Ally
Rene Amador, CEO, ARwall
Lauren Apolito, SVP of Strategy & Business Development, HFA/Rumblefish
Kimberlee Archer, Head of Development Marketing AR/VR, Facebook
Jonathan Azu, Senior Manager, Red Light Management
Tom Bash, VP, Product, ChefsFeed
Noah Becker, President, AdRev
Dwayne Benefield, Vice President, Head of PlayStation Vue, Sony Interactive Entertainment
Nancy Bennett, Chief Creative Officer, Two Bit Circus, Inc.
Erin Berman, Head of Business Development and Content Partnerships for VRV, Ellation
Lisa Bilgrei, Branded Content Expert, Google
David Bloom, Consultant and Columnist, Tubefilter
Dae Bogan, Co-Founder and CEO, TuneRegistry
Hale Boggs, Partner, O'Melveny & Meyers LLP
Chris Borelli, VP, Brand Partnerships, IMGN Media
Tripp Boyle, SVP, Connekt
Josh Brooks, SVP, Brand Strategy & Marketing, Jam City
Antony Bruno, Director of Communications, Royalty Exchange
Beau Bryant, GM of Talent, Fullscreen
Teri Nelson Carpenter, President & CEO, Reel Muzik Werks LLC
Jayne Charneski, Founder, Front Row Insights and Strategy
Jesús Chavez, CEO, Vertical Networks
Kevin Chernett, EVP - Global Partnerships & Content Distribution, Live Nation
Dawn Chmielewski, Technology Editor, Deadline Hollywood
Ted Cohen, Managing Partner, TAG Strategic
Jenni Cook, Head of Development, Dreamscape Immersive
Greg Cross, Chief Business Officer, Soul Machines
Eric Dahan, CEO and Cofounder, Open Influence
Kevin Day, VP Business Development & Strategic Relationships, Sound Royalties
Franco De Cesare, Director of Global Console & Online Gaming, Facebook
Robert DeFranco, VP, Sales and Development, The Future Group
Hayley Delaine, Founder, Trending All Day
Casey Dickinson, CEO, FTX Games
Colin Dixon, Founder and Chief Analyst, nScreenMedia
Zaid Farooqui, Product Manager for Stream, Cloudstream
Samantha Fernandez, Senior Director, AEG Global Partnerships
Rafi Fine, President & Co-Founder, FBE
Javon Frazier, EVP, Strategy and Business Development, Studio71
Andi Frieder, Global Head of Industry, Entertainment, Spotify
Rob Gelick, Executive Vice President and General Manager, CBS Entertainment Digital
Jon Giegengack, Founder, Hub Entertainment Research
Keatly Haldeman, CEO, Riptide Music Group
Minard Hamilton, Managing Partner, Driver Ventures
Ann Hand, CEO & Chairman, Super League Gaming
Hilary Hoffman, Global Executive Vice President Marketing, NBC Universal
Chauncy Jackson, CEO/Founder, Siri Music Group
Mike Johns, Executive Producer, Tech This Out
Ewan Johnson, Chief Creative Officer, Arcturus Studios
Gigi Johnson, Exec. Director, UCLA Center for Music Innovation
Jocelyn Johnson, Digital Video News Editor, The Wrap
Brittani Kagan, Head of Talent, Portal A
Greg Kampanis, Sr VP Business Development and Operations, Blue Ant Media
Gabrielle Kessler, VP of Experiential, Future Plc
Sam Kling, SVP, Creative Operations, SESAC Holdings, Inc.
Charlotte Koh, Head of Digital Media & Programming, Hello Sunshine
Albert Kugel, Strategy Director, Giant Spoon
Harry Lang, VP of Product, Hallmark Labs
Folayo Lasaki, VP, Marketing, SoulPancake
Damon Lau, Head of Esports, United Talent Agency (UTA)
James Leaverton, VP of Ecosystems and CoFounder, StackPath
Kamiu Lee, CEO, Activate
Max Levine, Cofounder, MC Projects
Katie Loffe, Director of Marketing, Digital Strategy, Mattel
Jim Louderback, General Manager, VidCon
Dave Madden, SVP Global Brand Partnerships, EA
Ashley McCollum, General Manager, Tasty
Mickey Meyer, President of Network, Group Nine Media
Grant Michaelson, VP, Business Affairs and New Media, ABC Entertainment
Chris Misner, President of International, Roblox
Julia Moonves, Vice President of Sales & Business Development, pocket.watch
Helene Muddiman, CEO & Founder, Hollywood Elite Music & Media
Candice Mudrick, Senior Client Director, Newzoo
Dan Murray, President, Skybound Interactive
Vickie Nauman, Founder/Owner, CrossBorderWorks
Doug Neil, Executive Vice President Digital Marketing, Universal Pictures
Kym Nelson, SVP of Client Strategy, Twitch
Panos Panay, VP, Innovation and Strategy, Berklee College of Music
Verena Papik, CMO, TuneMoji
Tony Parisi, Head of AR/VR Strategy, Unity Technologies, Inc.
Lisa Ong, Chief Culture Officer, CIVIC
Andrew Paradise, CEO and Founder, Skillz Inc.
Jennifer Perri, Vice President, Univision Creator Network
Sahil Patel, Media Editor, Digiday
John Petrocelli, CEO, Bulldog Digital Media
Chris Petrovic, SVP & Head of Corporate Strategy, M&A and Business Development, Zynga
Tina Pukonen, Head of Entertainment Strategy, Pinterest
Nelson Rodriguez, Global Director, Media Industry Strategy, Akamai Technologies
Neeta Ragoowansi, SVP. Biz Dev & Legal Affairs/Co-Founder, NPREX
Carter Rogers, Principal Analyst, Superdata, A Nielsen Company
Ira Rubenstein, Chief Digital & Marketing Officer, PBS
Tom Ryan, Co-Founder and CEO, Pluto TV
Mia von Sadovszky, SVP Group Planning Director, RPA
Robert Schefferine, VP Production, ABC Entertainment Marketing, Disney ABC Television Group
Ted Schilowitz, Futurist, Paramount Pictures
Russell Schneider, Head of Brand Partnerships, 9GAG
Lori Schwartz, Governor, Interactive Media, Academy of Television Arts & Sciences
Michal Shapira, SVP of News Content Partnerships, Turner Ignite
Sephi Shapira, Founder & CEO, Escapex
Bennett Sherman, Co-Head, Digital Ventures, Gaming, ICM Partners
Clark Stacey, CEO, WildWorks
Steve Stewart, CEO & Co-founder, Vezt
Michael Sugar, Founder and CEO, Sugar23
Chris Sumner, Senior Vice President, Business Development & Strategy, Refinery29
Josh Swartz, COO, Popdog
Daniel Tibbets, President & GM, El Rey Networks
Peter Trinh, Managing Director, International and Independent Film | Esport Groups, ICM Partners
Jay Tucker, Executive Director, Center for Media, Entertainment & Sports, UCLA Anderson School of Management
Rasty Turek, CEO, Pex
Benoit Vatere, Founder & CEO, Mammoth Media
Tina Walsh, VP Content Strategy, Tongal
Dan Weinstein, President, Studio71
Chris M. Williams, CEO & Founder, pocket.watch
Shelley Zimmerman, Co-Head, Awesomeness
2019 Sponsors include: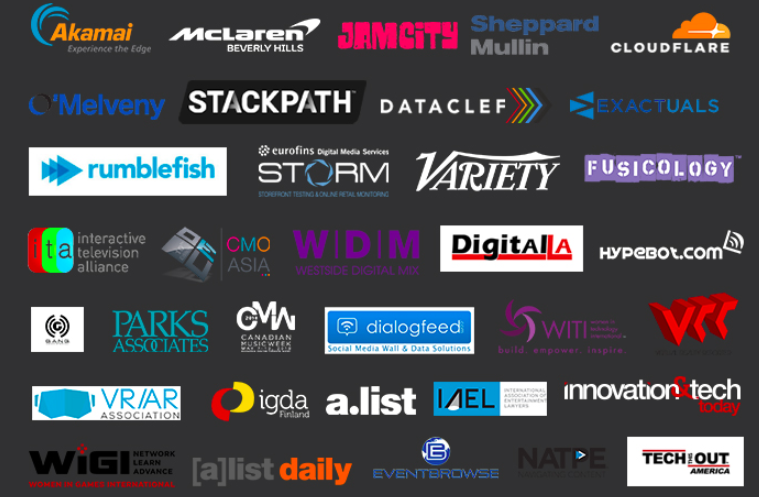 FAQs
What's the refund policy?
Refunds are subject to a $100 processing fee, which will be subtracted from your refund total. We must receive your written request for a refund by January 4, 2019. Cancellation requests received after January 4, 2019 are non-refundable.
Do I have to bring my printed ticket to the event?
No. However you may be asked to show a government issued ID or drivers license to verify identity.
Is my registration fee or ticket transferrable?
You may transfer your registration to another person. Please provide written authorization to info@digitalmediawire.com. Confirmed and paid attendees who do not attend or who cancel after the deadline are liable for the entire fee.
How can I contact the organizer with any questions?
For questions, please call or email us at 310-855-0033 or info@digitalmediawire.com