Description




PLUS: JUST ADDED AN #HOUROFCODE FAMILY-FRIENDLY ACTIVITY ON DAY 2
Learn More about the Hour Of Code Activity: https://hourofcode2017.splashthat.com/

Apply Here to Participate: http://bit.ly/nodebots-dfnyc17

AND WE HAVE A HACKATHON!

WE HAVE ALREADY HIT OUR TARGETED 100 HACKERS LIMIT BUT WE DO HAVE A WAITLIST - INTERESTED IN HACKING FOR PRIZES AND GLORY? APPLY HERE: https://bit.ly/appfestNY-cfp-2017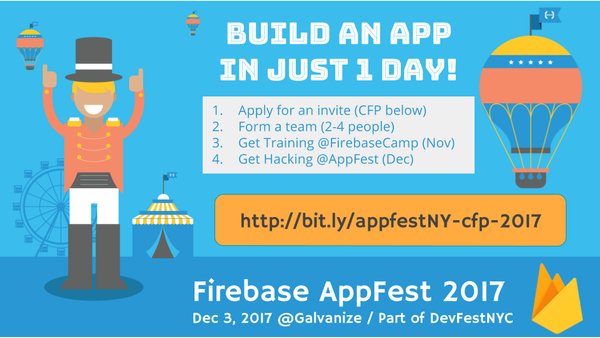 MORE ABOUT DEVFEST NYC
DevFest NYC is the signature developer conference held annually by the Google Developer Group NYC.
This is a community-run conference with a focus on awareness, actionable learning and affordability. Our goal is to empower the developer community to explore new ideas and enhance existing skills, in preparation for a new year ot technology innovation. Our DevFest (on Dec 2-3 this year) happens right at the start of CSEdWeek. Join us for 2 days of immersive learning, networking and doing.
Join us on Day 1 (TECH TALKS) to hear from industry and community experts on a variety of topics, technologies and tools that we feel are critical to a developer's education. We will have three tracks: Mobile/Web (focused on Android, Progressive Web Apps and Cross-Platform development), Cloud/MachineLearning (focused on Firebase, serverless computing & applied ML), and Hop Topics (covering Virtual Reality, Internet-of-Things, Smart Assistants and more..).
ACTIONABLE LEARNING:
Join us on DAY 2 (WORKSHOPS) and select from a set of half-day workshops that cover topics like Flutter, Kotlin, AndroidThings, Google Assistant, and more. While tech talks provide awareness, it often takes 2-3 hours of deep-dive workshops and hands-on coding to learn about the platforms, APIs and best practices that convert awareness to action. We will also have self-directed learning options that allow you to explore a variety of topics by completing codelabs that cover beginner, intermediate and advanced features
AFFORDABILITY:
Our goal is to allow as many people as possible to take advantage of this event while covering the basic costs (breakfast, lunch, coffee, swag for 2 DAYS) required to make the event viable so we tried to keep it simple but also flexible.
1. Pick a day. You can buy a ticket for just one day (either tech talks or workshops). However note that with some promo codes, the 2-day ticket may be competitive with the 1-day pricing, so ask about discounts.
2. Sign up as a volunteer. We will post the link here and also on our @gdg_nyc and @devfestnyc Twitter accounts later this week. Volunteers will receive a complimentary ticket to the event in exchange for contributing a fixed amount of time on each day, as well as helping with peripheral planning tasks (e.g., publicity) prior to event.
3. Sign up for the AppFest Hackathon by filling in this form. Accepted members will receive a code that gives them a free ticket to Day 2, and a highly-subsidized ticket to day 1. We have a limited number of spots to fill so apply early.
4. Ask us about Student & Diversity Scholarships. We will have a form available for this soon. Our goal is to try to find sponsors to cover the costs which would allow us to offer applicants either free or steeply-discounted tickets to one or both days of the event accordingly.
PLEASE NOTE: If you work for a company that can afford to pay for training, please consider buying full-price tickets. We can then use a portion of those costs to help subsidize tickets for the diversity/student scholarships as well. Help make a difference to someone else's career as well. We will be happy to list your company on our website as one of the "donors" who helped make the diversity scholarships happen in this case.