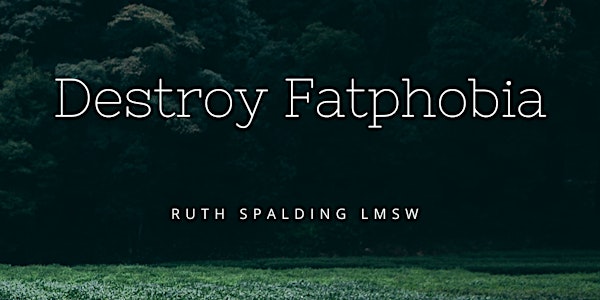 Destroy Fatphobia
This online, liberation focused, implicit bias training focused on guiding mental/healthcare providers to unlearn internalized anti-fat bias
Refund Policy
Refunds up to 7 days before event
Eventbrite's fee is nonrefundable.
About this event
Friday, September 30th & October 7th, 2022 - Synchronous ONLINE
1:00 - 4:30pm EST Both Days
6 AASECT** and MI SW CEs* available
Sliding Scale Fee Pricing $100 - $400+ - Learn More HERE or scroll down to read more. Scholarships available. Email education@odysseysexualhealth.com to learn more.
Presented by Ruth Spalding, LMSW, CAADC @ True Node Therapy, LLC
Hosted by Fitz @ Odyssey Sexual Health, PLLC
NOTE! After registration on Eventbrite there is one more registration step! In your confirmation email there will be a link to a Google Form; completing this form is necessary to attend the event.
Description This 2 day, online course is a liberation focused, implicit bias training focused on guiding mental health/healthcare providers to unlearn internalized anti-fat bias and reduce discrimination against fat clients/patients. Current "weight stigma" or "body positivity" training does not fundamentally address provider's own internalized bias, relationship with their own bodies, or how these impact the care they provide. This training explicitly addresses this gap and aims to cultivate greater compassion for self and others. We will also explore how anti-fat bias is a systemic issue including a look at the fundamental link to racism and ableism, how medical discrimination against fat people is lethal, and discussing how healthcare providers (social workers, doctors, nurses, sex therapists) can work together collectively to create collective care options for systemic problems. Clinicians/providers who take this training will be able to provide better mental/healthcare to patients of all sizes.
Sliding scale fee pricing approaches enable folx to access services no matter their financial situation. The scale is centered around the actual cost of a service but also provides payment options above and below the base cost. Ideally, folks with financial security who can pay more for a service elect to pay an amount above the full cost so that folks without financial security are still able access services without risking access to their basic needs. When the sliding scale is used in an equitable way, the cost of services averages to meet the base cost and providers/educators are still paid appropriately for their time and expertise.
For more guidance and tools to help you determine which ticket is right for you visit www.odysseysexualhealth.com/education and click on the sliding scale pricing link!
**This program meets the requirements of the American Association of Sexuality Educators, Counselors and Therapists (AASECT) and is approved for ____ CE credits. These CE credits may be applied toward AASECT certification and renewal of certification. Completion of this program does not ensure or guarantee AASECT certification. For further information please contact info@assect.org.
* This course is approved by the NASW-Michigan Social Work Continuing Education Collaborative Approval #072722-15