Description
Technology is often described as 'disruptive', while it serves to perpetuate existing power structures. It's not an accident, for instance, that our technologies that function effectively as "caregivers" or "secretaries" are designed to have female voices. What does it mean to imagine an alternative, feminist voice interface? Can we hack voice interfaces to be more feminist?
In this workshop, we'll work together to imagine and prototype possible futures for voice technologies. Through a series of speculative design exercises, we'll think about and discuss what voice technologies and software could look like if we designed them in line with the central commitments of feminism: participation, agency, embodiment, equity, empowerment, plurality, and justice. Taking our discussion as inspiration, we'll explore how we can hack voice technologies and bring them in line with feminist principles, such as using JavaScript to build custom Alexa skills that subvert the practices of current smart assistants. This workshop asks participants to think speculatively about how technology can impact feminism, but we also acknowledge that there's no one tech solution to fix these larger issues.
Who is teaching?
tendernet is an an all-female collective of artists, writers, engineers, researchers, designers, educators and activists whose work explores speculative design, networked devices, surveillance, and privacy through an intersectional feminist framework. Most recently, the collective has led workshops, produced zines, given talks, and written on topics as diverse as: feminist interfaces and critical design, IoT and privacy, alternatives to Alexa voice assistants, the surveillance of female bodies, and self-tracking & disciplinary power. tendernet consists of Zoe Bachman, Katrina Peterson, and Becca Ricks.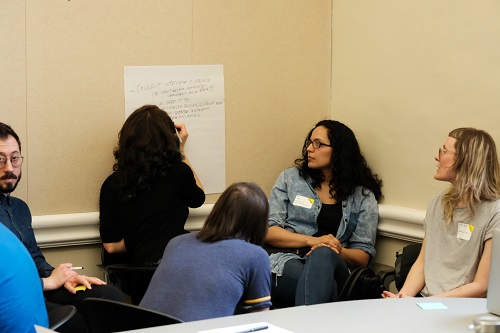 This class will be hosted by NYC Resistor member Max Whitney. As with all NYC Resistor events, this class is 18+ and governed by our Code of Conduct. The Code of Conduct, as well as accessibility information, can be found at www.nycresistor.com/participate/.
Please note that refunds must be requested 72 hours in advance. If you have any questions, please email classes@nycresistor.com.