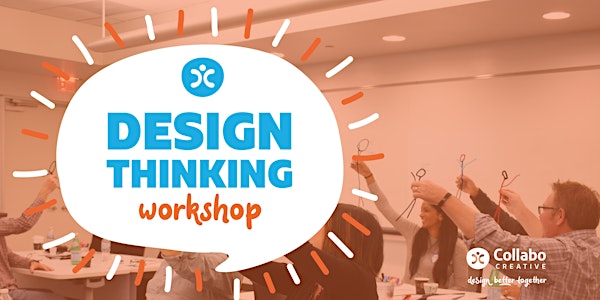 Design Thinking Interactive Workshop (Free Online event)
Get hands-on with Design Thinking and learn to solve problems faster in this 1 1/2 hour virtual workshop hosted by Collabo Creative.
About this event
Are you looking to level up your teams? Need to streamline processes? Or, do you just need to solve problems better and faster?
How's about all of the above?...
Well, how familiar are you with Design Thinking?
Over the past decade, the term "Design Thinking" has gained wide-spread popularity, being thrown around many industries from business, to healthcare, to finance, social entrepreneurship, city planning, non-profit, economic development… and the list goes on.
Appearing, somewhat, as the silver bullet to solving the world's problems, both large and small—organizations around the world have been adopting this approach and seeing much success.
According to a 2018 Forrester report on the impact Design Thinking has had within IBM, revealed that organizational teams were able to: design better, reduce risk, slash time-to-market, cut costs, streamline processes, demonstrate project value, energize employees, and align teams.
If you're looking to...
level up and align your teams
streamline processes
solve problems better and faster
You're gonna want to check out Collabo Creative's most requested workshop:
The Design Thinking workshop - Online!
In this hands-on workshop you'll learn:
The nuts and bolts of Design Thinking & Human-Centered Design
The business case for why top organizations around the world have been adopting it
How you can incorporate this creative problem-solving approach into your work and life.
Who is this workshop for?
Business leaders interested in developing new capabilities in their teams
Community leaders looking for a different way to engage with community members
Organizational teams looking to work better together and see greater results.
Anyone that wants to learn the basics of Design Thinking and Human-Centered Design
Here's what past workshop attendees have said:
"One of the most engaging programs! Thanks for keeping us moving!"
"Collabo presented an energetic and interactive workshop that left me feeling inspired and motivated and ready to implement the ideas presented today when I return to work."
"The Collabo Creative team helped me to refocus my thoughts and approach to my everyday challenges at work"
"This is definitely NOT your typical workshop!"
"The ladies of Collabo Creative helped me to look at an issue that is bothering me in a way that made me feel like I might be able to impact it."
REGISTER NOW!
Who's Collabo Creative?
Collabo Creative is a Service Design company located in Indianapolis. We're a group of researchers and design thinkers who focus on helping organizations build deep, long-lasting relationships with the people they serve—customers and team members, alike. Because we believe that people and relationships are the foundation of every business.