Join us for a panel discussion featuring local architectural designers as they offer a virtual tour of exemplary projects across the world
About this event
Catch up with AIA San Diego during OH! San Diego for a panel discussion featuring local architectural designers showcasing exemplary design projects the world over which embody the highest design standards (with the awards and citations to back them), while also making a positive impact in under-served, disenfranchised communities.
The Designers of Good (aka our Panelists)
Kurt Hunker, FAIA, Design Consultant for Davy Architecture | Monarch School
The Good: Educates students affected by homelessness, Barrio Logan
Eric Naslund, FAIA, Studio E | Washington Street Apartments
The Good: Low-income senior housing, La Quinta, CA
Laura Lesniewski, FAIA, BNIM | Asilong Christian High School
The Good: A High school campus with a profound emphasis on sustainability, Northwest Kenya
Danielle Buttacavoli, AIA AICP, BNIM | Ivy Senior Apartments
The Good: Bringing our discussion back home to San Diego, Ivy offers up a permanent supportive housing project in the Clairemont neighborhood of San Diego
Moderated by Frederick Marks, AIA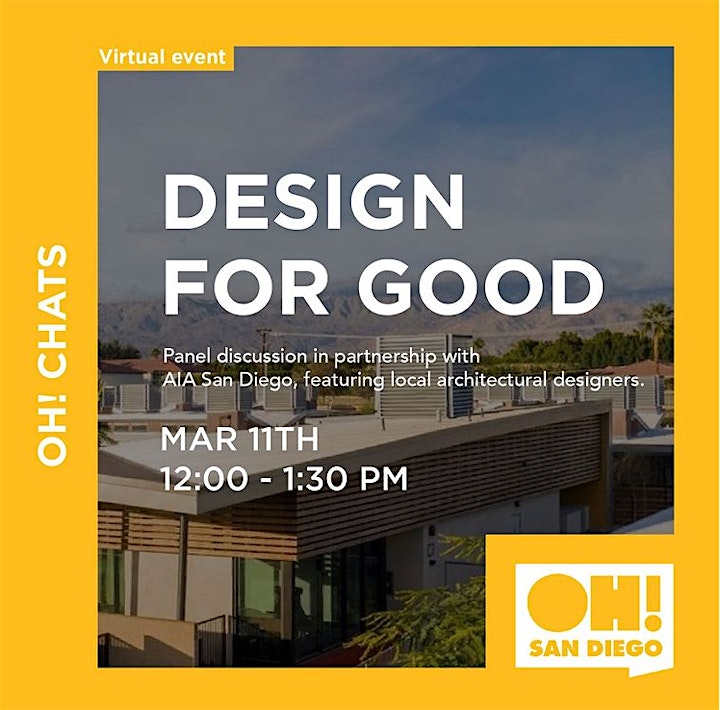 Organizer of Design for Good
The mission of AIA San Diego is to promote the profession of architecture in the San Diego region and support members in professional excellence. AIA San Diego represents approximately 1,000 design professionals in San Diego County. Founded in 1928, AIA San Diego has a stalwart record of advocacy for - and promotion of - design, planning, sustainability, architecture education, professional development, and civic leadership.