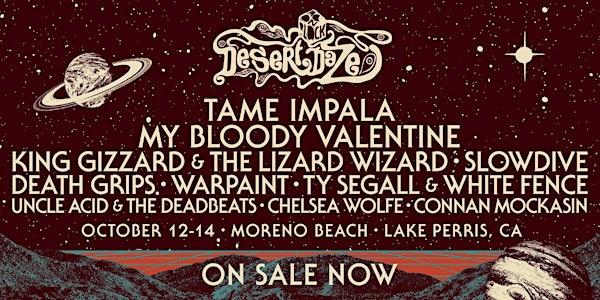 When and where
Location
Moreno Beach Lake Perris, CA 92571
Performers
Headliners
TAME IMPALA
MY BLOODY VALENTINE
More Performers
Jarvis Cocker introducing JARV IS
King Gizzard & The Lizard Wizard
DEATH GRIPS
Earth perform The Bees Made Honey In The Lion's Skull
MERCURY REV PERFORMING DESERTER'S SONGS
Uncle Acid & The Deadbeats (North American Exclusive)
WARPAINT
Beak> (Geoff Barrow of Portishead)
SLOWDIVE
TY SEGALL & WHITE FENCE
Hinds
TY SEGALL & WHITE FENCE
Boogarins
CHELSEA WOLFE
Follakzoid
SHELLAC
Bedouine
MALCOLM MOONEY
CONNAN MOCKASIN
Wand
PREOCCUPATIONS
JULIA HOLTER
A PLACE TO BURY STRANGERS
Imarhan
GUM
KING KHAN & THE SHRINES
Hand Habits
ESCAPE-ISM
SHANNON & THE CLAMS
Gladys Lazer
IAN SVENONIUS
POND
Mannequin Pussy
YONATAN GAT & THE EASTERN MEDICINE SINGERS
KEVIN MORBY
DAKHABRAKHA
WOODEN SHJIPS
EARTHLESS
KIKAGAKU MOYO
ALL THEM WITCHES
EX-CULT
THE HOLY DRUG COUPLE
TRUE WIDOW
SONS OF KEMET
CUT WORMS
IDLES
JJUUJJUU
COSMONAUTS
Description
Desert Daze 2018 • October 12th – 14th
"A surrealist's playground that reminds us what festivals were like before festivals were Festivals™" (Noisey)
You have reached the portal for Tickets, Camping, Add-Ons, and VIP passes. Payment Plans also available here.
____________________
Phase Four Transmission
Tame Impala
My Bloody Valentine
King Gizzard & The Lizard Wizard
Slowdive
Death Grips
Mercury Rev perform Deserter's Songs
Warpaint
Jarvis Cocker - Introducing JARV IS...
Shellac
Ty Segall & White Fence
Earth perform The Bees Made Honey In The Lion's Skull
Uncle Acid & The Deadbeats
Damien Echols - High Magick
Chelsea Wolfe
Connan Mockasin
Wooden Shjips
Beak>
A Place To Bury Strangers
Shannon & The Clams
Kevin Morby
Preoccupations
Malcolm Mooney of CAN
Hinds

King Khan & The Shrines

Pond

Idles

Julia Holter

DAKHABRAKHA

Earthless

Kikagaku Moyo

Boogarins

Wand

Gum
Föllakzoid
Bedouine

Escape-ism
All Them Witches
The Holydrug Couple
Ex-Cult
True Widow
Imarhan
Sons Of Kemet

Cosmonauts

L.A. Witch

Death Valley Girls

Vinyl Williams

Cut Worms

JJUUJJUU

Ulrika Spacek

Here Lies Man

Mary Lattimore

Yonatan Gat & The Eastern Medicine Singers

Goon

Hand Habits

Sextile

Tropa Magica

Stonefield

Sugar Candy Mountain

Al Lover

Gladys Lazer

Mannequin Pussy

Cat Scan

The Mad Walls

•••

Opening Ceremonies With Ian Svenonius

Talks Program Featuring: Steve Albini, + More

•••
Late Night Experimentations with:



Kikagaku Moyo + Boogarins + JJUUJJUU

Deap Vally

Lumerians

Prettiest Eyes



and more to be revealed
____________________
Please note the 4 ticket limit per customer. This event is all ages; anyone under 18 must be accompanied by an adult. The festival takes place rain or shine.
Tickets are non-refundable and non-transferable. Lineup and daily schedules are subject to change. Artist cancellation is not grounds for refund.
Once you complete your purchase, you will receive an order confirmation email from Eventbrite on behalf of Desert Daze 2018. IMPORTANT: If you do not see your order confirmation in your inbox, make sure to check your junk / spam folder. If you still do not see your order confirmation, click here to access the Eventbrite help center.
Bring your ticket(s) to the Festival Box Office, on the date of your arrival, to receive a wristband for entry. Additional credentials for camping and add-on's may be needed. Lost or stolen wristbands may not be replaced. If you're having trouble retreiving your ticket, please visit: https://www.eventbrite.com/support/articles/en_US/Troubleshooting/where-are-my-tickets?lg=en_US
Only purchase Desert Daze 2018 tickets from the official Desert Daze ticketing page (you're here!). If you purchase from another source, you risk purchasing a counterfeit or invalid ticket. Desert Daze is not responsible for tickets purchased from unofficial sources.
For further information and questions, check out the Desert Daze website and FAQs. If you are having any other technical ticketing-related issues with your order, click here to contact Eventbrite.
_____________________________________________________
Click HERE to join our Ambassador program to earn rewards.
_____________________________________________________