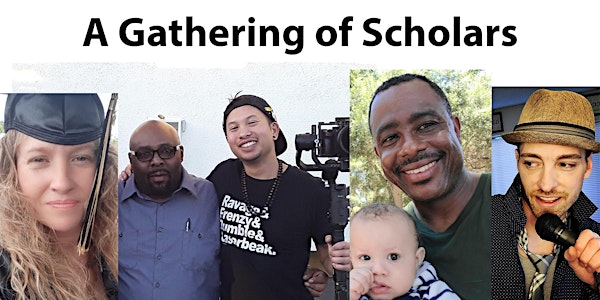 Dec. 2nd
Hear from a few Prison Scholars of the impact you have made on their lives.
About this event
Gracious donors, please join us on December 2 at 4pm, PST, as we celebrate 2021's learnings and opportunities at the Prison Scholar Fund. Hear from our Scholars about the impact your donation has had on their new beginnings and how a postsecondary education (woven in our programs) has changed their life's trajectory. Learn from our Scholars' experiences about how their educational journey continues to support their personal development and quality of life.
We want you, our donors, community, and investors, to feel a sense of pride when you listen with empathy and a greater sense of contribution. Because it is with your support that we are able to shape their education, their roadmap for a better life, and their ability to pay it forward.
Hear what our Scholar Alum are doing now:
Tony Curtis - Prison Scholar Alum
Jenny Iredale - Prison Scholar Alum
Robert Wood - Prison Scholar Alum, PSF Board Member
Learn about our coding bootcamp in partnership with Coding Dojo
The Prison Scholar Fund is partnering with Coding Dojo to provide a 14-week, immersive coding bootcamp that helps system-impacted students master the fundamental building blocks of web and software development alongside their peers. With campuses in 10 cities, Coding Dojo has been delivering top-tier coding education since 2012. Its three-stack program includes hands-on learning, robust support from highly qualified instructional staff, and an industry-tested learning platform.
Individuals selected for participation will also receive a variety of support from PSF to ensure successful program completion and connections to PSF's network of "second-chance" technology employers.
Stay informed on public policy with Mr. Brent Orrell, a Senior Fellow at the AEI
Fostering access to careers in science, technology, engineering and math careers among justice-involved individuals holds great promise for expanding post-incarceration employment of these populations. PSF's new board member, Mr. Brent Orrell, a Senior Fellow at the American Enterprise Institute, a Washington, D.C.-based public policy research organization will cover the latest research.
With music performed by Kurt Myers
Kurt is a father, social justice advocate, nonprofit specialist, business owner, and whenever he can, a musician. His style is a catchy mixture of grunge rock meets hip hop at a Seattle coffee shop.
Be inspired by how giving our neighbors a second chance ripples positively throughout our community.
Not able to make it? Consider a gift here:
https://www.prisonscholars.org/donate/