Description
OFFICIAL DEAR DATA BOOK LAUNCH
Every week for a year, Giorgia Lupi (NYC) and Stefanie Posavec (London) gathered their personal data, visualized it as a 'data-drawing' on a postcard, and posted it to the other person.
Visualized is hosting a special dataviz meetup together with Beyond Words Studio to celebrate the launch of Dear Data, the book of this project published by Particular Books / Penguin.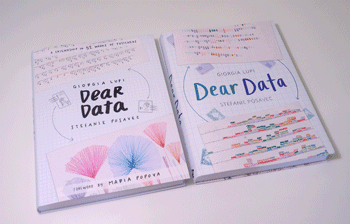 Join Giorgia, Stefanie, and Visualized for a talk (a rare moment when the pair are on the same continent!), book signing (books will be available to purchase), and a drink to toast the advent of a more human approach to working with data.
Meet Giorgia & Stefanie IRL, on the same continent and in the same city!

Preorder book now:
North America / Europe
Follow Dear Data
Twitter / Facebook / Instagram
---
About Visualized 2016, October 6, New York:
The Visualized conference returns to New York to bring together the world's most creative minds that are changing the way we communicate, understand, and interact with data. Join hundreds of data designers, visualizers, storytellers and technologists for an experiential and educational event, October 6, as we explore the future of information communication.
---

About Beyond Words:
Beyond Words sits at the intersection of journalism, cutting-edge design and data visualization. Their multidisciplinary team is unified by a single goal – to combine data and design to create compelling, human-centred narratives.
Their approach is a blend of science and storytelling that appeals to the heart as well as the head.
---