Description
PAYMENT
The cost of the DC Master Naturalist Program is $250. Payment can be made before or at the time of the first class, by check or money order, made payable to the "University of the District of Columbia." Please put "3901 i" in the memo line. Limited scholarships are available for qualifying registrants.
The College of Agriculture, Urban Sustainability and Environmental Sciences (CAUSES) will hold its first DC Master Naturalist Extension Program. The program consists of two components: an intensive volunteer training that offers a comprehensive overview of natural history; followed by a year-long period in which the trainees give 40 hours of volunteer service to pre-approved projects and sites that fulfills the program's mission "to promote awareness, understanding, and conservation of the District's natural environment through a community of trained volunteers."

Each class is taught by a local expert and is approximately three hours long, consisting of a presentation/lecture that is followed by a hands-on or field activity. Trainees will also have a minimum of eight hours of field trips in the course of their training.

The DC Master Naturalist Program's training will offer the following classes: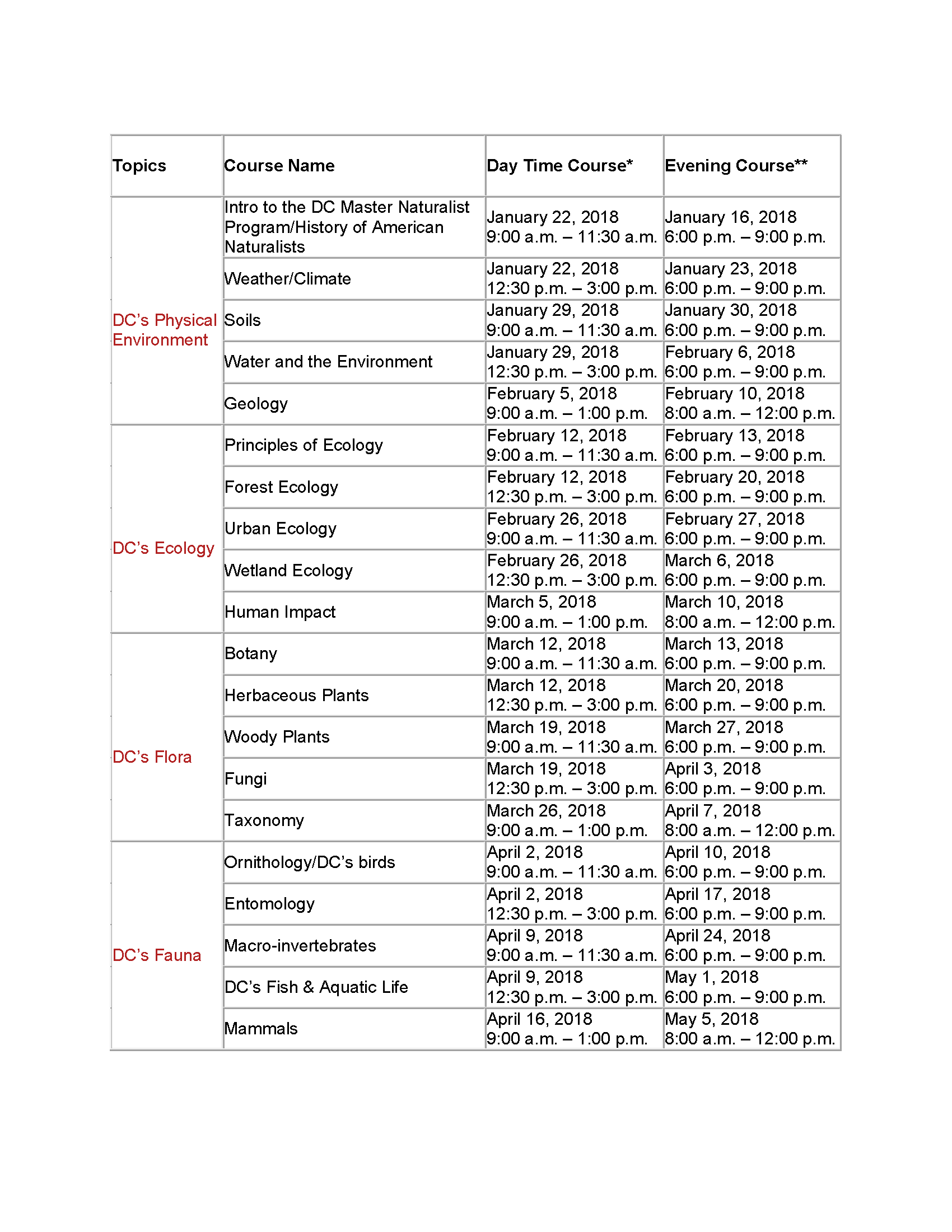 *Day Time Courses are offered on Mondays with an hour lunch break
**Evening Courses are offered on Tuesdays with field trips on Saturdays

A certificate of completion will be issued upon the successful completion of all training sessions.

LOCATION
All classes will be held at
University of the District of Columbia (Van Ness Campus)
4200 Connecticut Ave, NW
Washington, DC 20008

Registrants will be contacted via e-mail regarding the building and room number before the first class session.

The University of the District of Columbia is located at the Van Ness/UDC Metro stop on the Red Line. There is a parking garage on campus for those who prefer to drive ($8 for 1-3 hours; $12 for 4-6 hours; $20 for 7 hours or longer). Limited street parking is available.

CONTACT
For additional information on the training, please contact Ashley Grant at ashley.grant1@udc.edu.