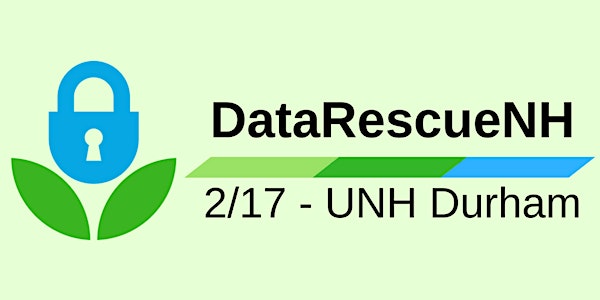 DataRescueNH
When and where
Location
University of New Hampshire 105 Main Street Durham, NH 03824
Description
Document outlining training/resources for tonight's event: http://bit.ly/2lp337h

Join us for a #DataRescue event at UNH Dimond Library, Friday 2/17 from 4-8PM in room 352.

DataRescueNH is a civic-minded hackathon focused on preserving at risk federal data and webpages. All levels of technical experience welcome. We are launching #DataRescueNH to culminate #LoveYourDataWeek 2017. This event collaborates with #DataRefuge, The Environmental Data & Governance Initiative -EDGI, and the Internet Archive's End of Term 2016 project to archive at-risk federal online pages and data. This event is sponsored by the UNH Dimond Library.

We will be adding URLs from the EPA webpage to the End of Term archive to help them prioritize their efforts and crawl deeper into agency websites. Bring laptops and chargers - snacks are on us.

**Tentative agenda**
4:00 - 4:15: check in, introductions
4:15 - 4:30: Training for evenings tasks
4:30 - 8:00: Work time!
6:00 - 6:20: second introductions and training (as needed for those who cannot arrive until after work hours)
8:00: Wrap up

If possible, even if you have to leave early, aim to be at the event promptly. The training, which is needed for the DataRescue archiving that we will work on during the evening, will start at 4:15 and 6:00. Feel free to stay for as long as you are able after you are trained - properly seeding a webpage can take 30-60 minutes.

Email questions to datarescueNH@googlegroups.com.