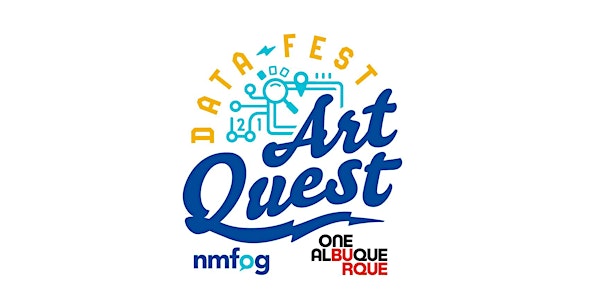 DataFest: ArtQuest
NMFOG and the City of Albuquerque's present DataFest: ArtQuest!
When and where
Location
Albuquerque Convention Center (East Building) 401 2nd Street Northwest Albuquerque, NM 87102
About this event
DataFest: Art Quest includes presentations, workshops, a hackathon and other activities across two weekends to inform the community about Open Government, Public Arts and Civic Tech. NMFOG, CABQ and other partners have arranged for a variety of sessions and experiences to help improve our capacity for developing civic tech solutions and increase local engagement with public arts.
Sessions and activities are available for participants with different skill levels and availability. Regardless of time or skills we have ways for you to get involved!
Note: As the public health response to the COVID19 pandemic evolves, we are exploring ways to involve both in-person and on-line participation while keeping participants, staff and volunteers safe. For those who feel comfortable meeting and working together in person, we are requiring masks on-site and making accommodations for physical distancing. On-site participation will require pre-registration and those attendees will receive further guidance and instructions.
If anyone feels ill or is exhibiting symptoms, please stay (and participate) at home!
Activities include:
Presentations and Workshops
Presentations and workshops will inform participants about open government, "no code" and intro to code solutions, as well as public art assets in our community - and some ways information about them can be improved.
"Deployathon"
For participants with limited time - or limited tech skills - we will have ways to assist the City and the Arts and Culture Department with research and data to improve the information they provide the public.
Field Visits
Visit public arts locations in the Albuquerque area to take and share photos, videos and other information about these sites, the artists and their work.
Hackathon
After learning about local public arts and different assets available, developers and other participants will form teams to create apps and other tools that improve the ways we understand, experience and engage with public art. The hackathon will kick off June 12th at 10:00 AM and conclude with final presentations and awards Saturday, June 19th from 3:00 - 5:00 PM.
A Hackathon Guide with information on how we're organizing the hackathon and the the tools we'll be supporting will be available soon!
Find more information at the CABQ Arts & Culture event site here: http://www.cabq.gov/artsculture/public-art/datafest/datafest
Our full Event Schedule is available here.
Please read our Code of Conduct Here.
This event is sponsored through a grant from the National Freedom of Information Coalition (NFOIC).
About the organizers:
New Mexico Foundation for Open Government
The New Mexico Foundation for Open Government (NMFOG) is a non-profit, nonpartisan organization committed to helping the citizens students, educators, public officials, media and legal professionals understand, obtain and exercise: their rights and responsibilities under New Mexico "sunshine laws" – the Inspection of Public Records Act, Open Meetings Act and Arrest Record Information Act; their rights under the federal Freedom of Information Act, and their First Amendment rights.
City of Albuquerque Clerk's Office
The Office of the City Clerk serves the needs of the public by maintaining the official records of the City, by conducting City elections and by enacting all City legislation.
City of Albuquerque Department of Technology & Innovation
The Department of Technology & Innovation is a proud participant in community outreach and technological innovation.
City of Albuquerque Public Art Urban Enhancement Division
The Urban Enhancement Trust Fund is a public trust that supports a broad variety of arts, cultural projects and services, through a community application process
###
Parking
The City of Albuquerque is making free parking available for event participants, but only in the municipal lot at Civic Plaza. Participants registering for on-site event will receive additional instructions!
Public Records
The parties acknowledge that the City of Albuquerque is a New Mexico public body and subject to the New Mexico Inspection of Public Records Act, NMSA 1978, Sections 14-2-1 to -12. The City of Albuquerque shall not be responsible for any disclosure of information pursuant to the Act, the City of Albuquerque's public records act laws, rules, regulations, instructions, or any other legal requirement.