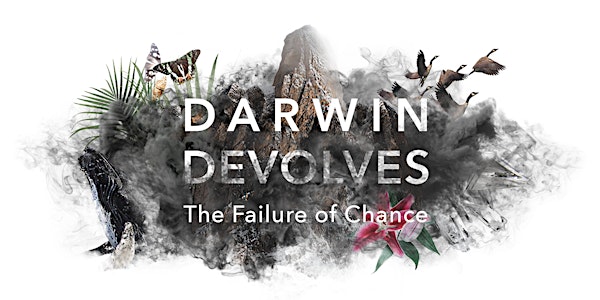 Darwin Devolves: The Failure of Chance
When and where
Location
Covenant Fellowship Church 1 Fellowship Drive Glen Mills, PA 19342
Refund Policy
Refunds up to 1 day before event
Description
Online registration has now ended (as of Sunday, March 31). Walk-up registration will be available at the same rates.
Adult: $90

Student (with valid ID): $45

Youth (under 18): $30

Are you...
Staff or volunteer for this conference?
A host church (Covenant Fellowship) member?
Aware of someone in need of financial assistance?
Interested in coordinating a group of 10 or more?
...if so, please contact the registration manager, Daniel Reeves, at dreeves@discovery.org to request special provisions.
---
Darwin Devolves...
Given enough time, can bacteria mutate into insects by chance? Can random mutations account for the existence of butterflies and whales and platypuses? What about the origin of the universe or the origin of man's ability to reason? Come and hear scientists and scholars discuss the limitations of chance and the abundant testimonies to design, as they come to realization from physics to proteins.
Featured speakers will include scientists from the Discovery Institute's Center for Science and Culture and theologians from Westminster Theological Seminary. You will hear from biochemist Michael Behe, author of Darwin's Black Box and - released just this year - Darwin Devolves; theologian Vern Poythress, author of Redeeming Science; historian of science Mike Keas, author of Unbelievable; theologian Scott Oliphint, author of Reasons for Faith; assistant professor of biology Ransom Poythress, author of Richard Dawkins; social scientist John West, editor of The Magician's Twin: C.S. Lewis on Science, Scientism, and Society; physicist Brian Miller, assistant professor of systematic theology and apologetics Carlton Wynne, and biologist Ann Gauger, co-author of Science and Human Origins.
This year, for the first time ever, the conference will feature a special youth track, designed especially for junior high and high school students. In addition to the plenary and breakout sessions for all ages, these additional breakouts will cover topics of particular interest to the youth. Attendees in elementary grades or younger, or in need of special assistance, are welcome to join but should be accompanied by an adult.
For more details and a glimpse at the topics, download the tentative conference agenda.
---
This conference will be held at Covenant Fellowship Church in the greater Philadelphia area and is co-sponsored by Westminster Theological Seminary and Discovery Institute's Center for Science and Culture.
Questions? Please contact the registration manager, Daniel Reeves, at dreeves@discovery.org or call 1-800-685-0632 ext. 151 between 9:00 am-5:00 pm (PT).