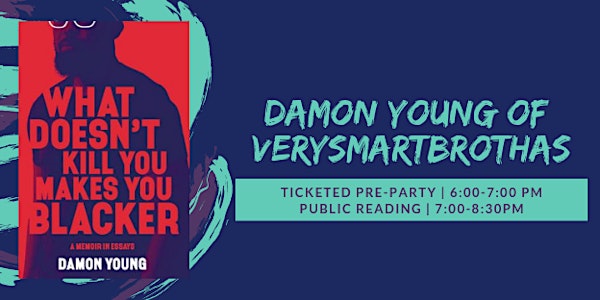 Damon Young: What Doesn't Kill You Makes You Blacker--Pre-Reading Reception
When and where
Location
Auburn Avenue Research Library 101 Auburn Avenue Northeast Atlanta, GA 30303
Description
Charis Books and More and The Auburn Avenue Research Library on African American Culture and History welcome Damon Young, the cofounder of VerySmartBrothas.com, and one of the most read writers on race and culture at work today, to celebrate his first collection of essays, What Doesn't Kill You Makes You Blacker, a provocative and humorous memoir-in-essays that explores the ever-shifting definitions of what it means to be Black (and male) in America. Damon will be in conversation with Atlanta writer and Morehouse College Journalism Professor, David Dennis Jr.
The reading begins at 7pm and is free and open to the public, but if you would like to attend the pre-party reception at 6pm to meet Damon Young, you must reserve your place by purchasing a copy of the book through the ticket link below.
The reading will take place in the Auburn Ave Auditorium.
ABOUT WHAT DOESN'T KILL YOU MAKES YOU BLACKER:
For Damon Young, existing while Black is an extreme sport. The act of possessing black skin while searching for space to breathe in America is enough to induce a ceaseless state of angst where questions such as "How should I react here, as a professional black person?" and "Will this white person's potato salad kill me?" are forever relevant.
What Doesn't Kill You Makes You Blacker chronicles Young's efforts to survive while battling and making sense of the various neuroses his country has given him.
It's a condition that's sometimes stretched to absurd limits, provoking the angst that made him question if he was any good at the "being straight" thing, as if his sexual orientation was something he could practice and get better at, like a crossover dribble move or knitting; creating the farce where, as a teen, he wished for a white person to call him a racial slur just so he could fight him and have a great story about it; and generating the surreality of watching gentrification transform his Pittsburgh neighborhood from predominantly Black to "Portlandia . . . but with Pierogies."
And, at its most devastating, it provides him reason to believe that his mother would be alive today if she were white.
From one of our most respected cultural observers, What Doesn't Kill You Makes You Blacker is a hilarious and honest debut that is both a celebration of the idiosyncrasies and distinctions of Blackness and a critique of white supremacy and how we define masculinity.
ANY VIP TICKETED BOOKS NOT PICKED UP AT THE EVENT WILL BE HELD FOR TWO WEEKS AFTER THE EVENT AT CHARIS BOOKS AND MORE 184 S. CANDLER ST DECATUR, GA 30030.