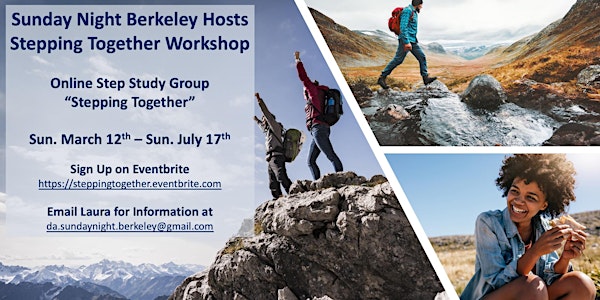 DA Stepping Together Step Study Group
DA Stepping together is a 18 week step study group aimed at deepening your program, working through the steps in a supportive community.
Date and time
March 12 · 3pm - July 17 · 4:30pm PDT
Refund Policy
Contact the organizer to request a refund.
Eventbrite's fee is nonrefundable.
About this event
Dear Community Members,
This interactive and dynamic Step Study group focuses on engaged work on each of the 18 steps. While weekly attendance is suggested it is not required, however you will get out of the program what you put into it.
Zoom Link: https://us02web.zoom.us/j/86148155711?pwd=ajNjQk84SXJ4RGdjK2dJWGsvamR4Zz09
Google Drive Files: https://drive.google.com/drive/folders/1Qolvrg3yvvFt347occsZoAT7cSY3Kv_h?usp=sharing
Reading Between Meetings:
In the 18-week step study packet, there are readings offered for each week. Please, if possible substitute the AA 12 steps and 12 traditions for the DA 12 Steps, Traditions, and concepts.
It is suggested with compassion that you read some or all of those, underline key points, and make some notes in your writing about the reading impacts. Please look at the workbook for the readings. Other suggested readings are for each step: DA 12-step book, DA 12-step pamphlet, AA 12 Steps, and 12 traditions. The AA Big Book readings are powerful; they are worth it too!
Writing Between Meetings:
Each week there are writings. The workbook has suggested writing prompts. It is suggested that you take one block of time or several blocks of time over the week to write the step work. Use the writing prompts to write on blank paper or one computer. You will be given some writing and sharing time each week in class as well. But the time you put it is worth it. It will make the impact stronger than just writing in class. One practice people have done is to have a nightly 20 - 30 min set aside for writing or a morning papers practice for the writing.
Reading Step Work with your Sponsor or Temporary Sponsor:
Sharing with another person can help you transform the pain of debiting history into the power and dignity of who you truly are. I will have temporary sponsors for those who need them next week.
Reading Step Work to Sponsor and in Class
1. Writing Between Class and In Class: Each week's writings will be brought to class. You will be given time to write in class as well. But it will not be enough to get through so it is suggested to write between groups. But come as you are. It's better to be imperfect than to let our desire for perfection get in the way of progress.
2. Sharing In Class: You will be given time to read the step of the previous week in class e.g. this next week we will read step work for step 1.
3. Reading to Sponsor: A loving suggestion is to let yourself find out you are not terminally different and as Rumi said 'expecting the worst instead you see this shining face' through reading weekly to your sponsor or temporary sponsor. You can either share your writing as soon as it is done with your sponsor or wait until the week after you have read and written in class on a step e.g. you would share on step 1 after the class on step 1 and while writing on step 2.
Note - If a sponsor is not a good fit or does not respond to you in a timely manner I can help find another better fit.
Yours In Service,
Lara and Mike
"I slept and I dreamed that life is all joy. I woke and I saw that life is all service. I served and I saw that service is joy. " - Rabindranath Tagore