Description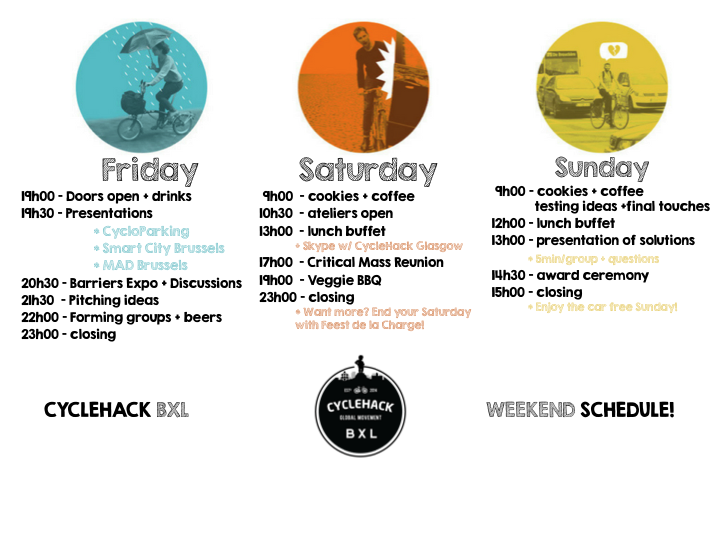 FRANÇAIS / NEDERLANDS BELOW
After the fun we had in 2015 and 2016, we're back again for 2017! Do you have a barrier that prevents you from cycling in your city? Cyclehack, a global movement of over 30 cities, is once again coming to Brussels this 15-16-17 September and we want YOU there to overcome these barriers and make Brussels (and Belgium) the cycling paradise we all dream of.
What is a cyclehack? A cyclehack is a concrete solution that solves a barrier to cycling. It is an idea that is created and tested in 48 hours to make your city more bike friendly. Whether you are an occasional cyclist, a daily commuter, a driver, a pedestrian - anyone can participate. The whole weekend is about crowdsourcing ideas and energy to overcome the obstacles we face everyday. Check out the past editions to see what we created over the course of the weekend, resulting in a variety of interesting projects. From a metro-map for the bicycle network to a shared parking solution, from a promenade idea for the pedestrian zone to Mannekenpis-style pothole finder, we had it all!
The weekend starts with an introductory evening on Friday, where we will be inspired by a few speakers and then share our barriers to cycling. Groups will form around barriers and a few drinks to help the ideas flow. Saturday, the groups begin their hacking. We have two places set up at our disposal for that: Cyclo Buro and FabLab.iMAL. Whether you need a computer, a 3D printer, a hammer, or just some creative energy, all-day Saturday will revolve around working in your group on a cyclehack. By Sunday afternoon, we present our ideas to each other, prizes are awarded and we celebrate a great weekend and the future of cycling in Belgium!
Sounds like right up your alley?
Join us! Tickets are by donation (minimum 1EUR).
Not sure you can be there all weekend?
No problem! You're welcome to come for an hour or two - no need to dedicate a whole weekend!
Got questions? Email us! cyclehack.brussels@gmail.com
------ FRANÇAIS
Après le grand succès des deux dernières années, nous sommes de retour pour 2017! Cyclehack, un mouvement mondial se déroulant dans plus de 30 villes sur la planète, revient à Bruxelles ces 15-16-17 septembre. Certains obstacles vous empêchent de rouler en vélo à dans votre ville? Rejoins-nous pour inventer ensemble des solutions et faire de Bruxelles et la Belgique le paradis du vélo dont nous avons toujours rêvé.
Qu'est ce que le cyclehack ? Un cyclehack est une idée ou un ensemble de solutions destinées à résoudre les difficultés auxquelles sont confrontés les cyclistes. Dans 48 heures nous inventons et testons nos idées! Que tu sois cycliste occasionnel, navetteur journalier, automobiliste ou piéton, la participation est ouverte à tous. Tout le week-end sera consacré à mettre nos idées et notre énergie en commun afin de surmonter les problèmes rencontrés dans Bruxelles. Les dernières années nous avons eu pleins d'équipes qui ont travaillé sur des projets variés. Le résultat? Une carte de métro pour les pistes cyclables, une solution pour le parking, une idée pour une piste cyclable inclinée et bien d'autres encore. Nous avons vu de tout!
Le weekend commencera le vendredi avec une soirée d'introduction durant laquelle plusieurs intervenants partageront leurs idées afin de nous inspirer. Les participants mettront ensuite en commun toutes les difficultés qui leur viennent en tête. Nous nous diviserons en différents groupes, qui se concentreront chacun sur un obstacle en particulier et les possibles solutions. Une ambiance conviviale fera sans aucun doute jaillir de bonnes idées.
Le samedi, les groupes débuteront le "hacking". Nous aurons à notre disposition deux locaux: le Cyclo Buro et le FabLab.iMAL. Quel que soit votre outil de prédilection: ordinateur, imprimante 3D, marteau, ou simplement quelques clous et de l'énergie créative, toute la journée sera dédiée à travailler en groupe sur le cyclehack. Le dimanche après-midi, chaque groupe présentera son "cyclehack" aux autres participants. Des prix seront décernés aux meilleures idées et nous clôturerons ce weekend en célebrant tous ensemble le futur du vélo en Belgique !
L'idée te botte ?
Rejoins-nous ! La participation est libre (minimum donation 1 EUR).
Pas certain d'être présent tout le weekend ?
Pas de problème, vous pouvez venir même juste une heure ou deux!
Des questions ? Contacte nous ! cyclehack.brussels@gmail.com
------- NEDERLANDS
Na onze succesvolle edities en 2015 and 2016 zijn we klaar voor 2017. Zijn er volgens jou obstakels die het fietsen in jouw stad bemoeilijken? Cyclehack, een wereldwijde beweging, komt opnieuw naar Brussel op 15-16-17 september om samen met jou oplossingen te zoeken om van België het fietsparadijs te maken waar we allemaal van dromen.
Wat is een cyclehack? Een cyclehack is een concrete oplossing voor een hindernis die het fietsen in je stad bemoeilijkt. Het is een idee dat gerealiseerd en getest wordt gedurende 48h om zo je stad fietsvriendelijker te maken. Of je nu een recreatief fietser, een pendelaar, een autobestuurder of een voetganger bent – iedereen kan meedoen. Het hele weekend draait rond het bedenken én testen van ideeën om Brussels fietsvriendelijker te maken.
Neem een kijkje naar de cyclehacks van vorige edities om te zien wat we doen tijdens het weekend, variërend van een metrokaart van het Brusselse fietsnetwerk en een fietspromenade in de voetgangerszone tot een Mannekenpis-style markering van putten in het wegdek, we had it all!
Het weekend start op vrijdagavond met enkele sprekers die ons inspireren met hun blik op fietsen in de stad. Daarna begint het echte werk. Er vormen zich teams rond een bepaald obstakel en bij een drankje vloeien ideeën voor mogelijke oplossingen voor dit obstakel. Zaterdag gaan de teams aan de slag met het maken van hun oplossingen. Hiervoor hebben we Cyclo Buro en FabLab.iMAL tot onzer beschikking waar je alles van computers en hamers tot 3D printers en bakken creatieve energie kan vinden. Zondag voormiddag gaan de teams de straat op om hun oplossingen te testen. Zondagnamiddag presenteert elk team zijn cyclehack aan elkaar en aan het publiek, waarna een jury de winnende hacks selecteert. Er worden enkele mooie prijzen uitgereikt en we sluiten het weekend af met een glas op de toekomst van fietsen in België!
Klinkt dit als muziek in de oren?
Doe mee! Tickets zijn aan vrije prijs (minimum 1EUR).
Niet zeker of je er het hele weekend kan zijn?
Geen probleem! Je bent welkom voor één uur of twee - niet nodig om heel het weekend vrij te houden!
Vragen? Email ons! cyclehack.brussels@gmail.com