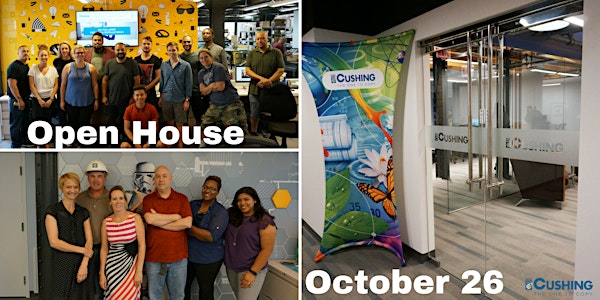 Date and time
Thursday, October 26, 2017 · 11am - 7:30pm CDT
Location
Cushing 213 West Institute Place Suite 200 Chicago, IL 60610
Description
This summer, Cushing bid farewell to 420 W. Huron &

moved to 213 W. Institute Place

.
Join us October 26th to see our space and celebrate!
Come for a tour, bite to eat and network. Food and refreshments throughout the day!

Here is how the day will be broken out:
NEW PRESENTATION
Advanced Content Marketing Lunch and Learn with Andy Crestodina

12:00 - 12:45 pm
(15 Minute Question & Answer Session)
Advanced Content Marketing: More Traffic in Less Time for Busy B2B Marketers
You've been at this content thing for a while and you're busier than ever. But your traffic is stuck at the same levels and leads are flat. You're working more for the same results you got last year.
It's time to adapt. To go beyond the basics. To take a more advanced approach. We're going to teach you to get more traffic in less time.
Turn your day-to-day email communication into high ranking articles
Delegate using tools, outsourcing and virtual assistants
Get your older content to rank like champions
Find the pages on your site that are already ready to rank
This presentation is geared toward B2B marketers with 5+ years of content marketing experience, but beginners will get value too and are welcome! If you know where you're going, you'll get there faster.
NEW PRESENTATION
10 Surprising Things That Impact Your Employer Brand with James Ellis
1:30 - 2:15 pm
(15 Minute Question and Answer Session)
You may know your employer brand, but are you aware of all the ways it is communicated to the world? Some, like your career site and recruitment ads, are obvious. But the brand pattern isn't defined by just those things.
In this presentation, you'll learn ten things that make a meaningful impact (positive and negative) on your employer brand that you probably aren't thinking about.
This presentation is perfect for Marketing professionals and human resources personnel, or small-to-medium size business owners. You'll leave with actionable ideas and gain a deeper understanding of the elements that make up (and affect) your employer brand.
Wine Tasting and Networking
3:30 - 5:00 pm
Just want to network, enjoy a couple of cocktails, and learn about wine? A sommelier will be on-site to talk wine, pairings, answer questions and more.
No need to RSVP, stop in for some refreshments and tour at your leisure!
NEW PRESENTATION
Virtual Reality Panel and Demonstrations

5:30 - 6:30 pm
Demonstrations:
6:30 - 7:30 p.m.
Virtual Reality. Display Graphics. Graphic Design. What do they all have in common? They all have their place in promotional outreach. No matter how you approach your marketing, outreach, collateral or online presence – it's one large puzzle with many pieces.
In conjunction with CHIVR and Robert Half, join us for a panel discussion on VR and it's implications for the future of marketing, print and much more!
If you have not had the opportunity to experience virtual reality for yourself, SmartVizX will be on site to demonstrate this powerful technology. You won't want to miss it!
Don't Have Time Take In One Of These Sessions?
Stop by any time! Our Open House runs from 11AM - 8PM for anyone who would like to stop in to tour our space. You'll have a chance to see shop capabilities up-close and meet the people behind your projects.
Throughout the day, vendors including Avery, GPA, Mohawk, Neenah Paper and more will be present. If you have questions on paper, your next project or just want to chat, they will be on-site to discuss.