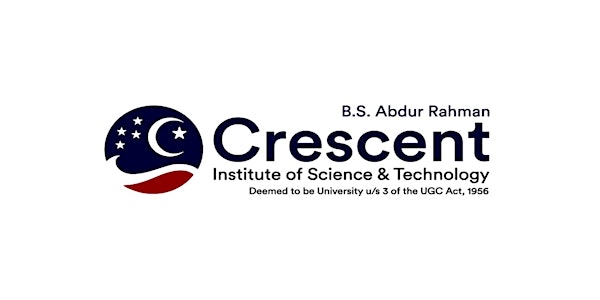 Cresathon-23
3 Day offline hackathon event for software and hardware projects
By BSA Crescent Institute of Science and Technology
When and where
Date and time
February 8 · 9am - February 10 · 6pm IST
Location
B. S. Abdur Rahman Crescent Institute Of Science And Technology Grand Southern Trunk Road Vandalur, TN 600048 India
About this event
3 Day offline hackathon event for software and hardware projects GUIDELINES AND PROCESS FLOW FOR CRESATHON 2023
TEAM FORMATION
Team members from different branches are encouraged to form a team.
Each team would mandatorily comprise of 6 members including the team leader.
Each team must have AT LEAST ONE FEMALE TEAM MEMBER
As the software edition of the hackathon is digital product development competition, majority of the team members MUST be well versed with programming skills.
For the hardware edition, we encourage multi-disciplinary teams – which means your team should have a good mix of Mechanical Engineers, Electronic Engineers, Product Designers and Programmers, etc.
The nominated teams should have participated in the recommended school level hackathon.
TEAM SUBMISSION PROCESS
A mentor is mandate for the team submission
A mentor is expected to have relevant experience in Academic
It is mandatory that the team leader enters the details for a nominated team in the prescribed format only (Sample attached below)
Team details once entered cannot be altered.
Team leader will be responsible to ensure that all the data entered by him/ her is accurate.
PROBLEM STATEMENTS AND PRIZES TO BE WON
Cresathon '23 brings you problem statement within the institute and from private organization.
There would be ONE single winning team for every problem statement posted on the portal.
However, it is NOT mandatory to announce only one winning team against each problem statement. If the evaluating panel conclude that none of the ideas are up-to-the-mark, they may not announce any winning team at the final
Amount of prize money to be awarded to each winning team is Rs.100000/- per problem statement.
If there is a tie between two or more teams, the final decision of the prize money distribution will be taken by the problem statement creator only and once the decision is made, it won't be changed further
Teams are also encouraged to think out-of-the-box and provide creative solutions to themes
The 1st prize money will be of Rs 1 Lac and 2nd of Rs 75, 000 and 3rd will be of Rs 50, 000.
THE PROCESS
Launch of the Cresathon 2023 problem statement on XXXXX
Idea submission counter will start from XXXX
Idea submission counter will end on XXXXX
Intimation of selected team for Internal school level hackathon on XXXX
School level hackathon on XXXX
Intimation of the shortlisted team for the final hackathon on XXXXX
MISCELLANEOUS INFORMATION
Intellectual property (IP) of the winning idea would be split equally between the institute and the winning team or will be decided on the mutual agreement.
Selected ideas will be supported to be developed further so that industries/ government institutions will be able to utilize these ideas; more efforts beyond the finale are required from the selected teams thereafter.
The ideas or solutions provided/developed/proposed by the team's must be new and must not have been present in any previous event/program of any sort