Join us for this free, interactive webinar on July 10th! Learn how writing and poetry facilitate mental health, wellness, and healing.
About this event
After a brief lecture on the psychoeductional properties of poetry, our guest speaker, Destiny Sharion, will guide us through activities that will teach us how to incorporate poetry-writing into our personal coping toolkits.
How will writing poetry help with my mental health?
Increases empowerment of self
Validates sense of self
Increases sense of voice
Increases self and interpersonal awareness
Who can attend?
Anyone and everyone! Whether you're looking to learn more about poetry for your own personal practice or you're a teacher/professional looking to incorporate poetry into your lessons, you will find this workshop valuable. All are welcome!
Meet our guest speaker:
Destiny Sharion graduated from Hawai'i Pacific University in May 2019 with her bachelor's in social work, and again in May of 2020 with her master's in social work, Advanced Standing. Throughout her master's program she represented HPU and the Council on Social Work Education as a Masters in Minority Fellow. During her time at HPU, Destiny was the Secretary for the Black Student Union and the President of the Social Work Club. She also participated in HPU's first ever production of the Me Too Monologues, where students utilized artistic expression to share stories of sexual assault, recovery and resilience. Destiny is an accomplished spoken word artist and poet who believes in "Art as Activism," delivering powerful testimony at the legislature on issues like police violence and the horrors of mass incarceration in spoken word form. Destiny was part of the slam team that represented Hawai'i at the National Poetry Slam competition in both 2017 & 2018 and was the Hawai'i representative for the 2018 Woman of the World Poetry slam. Her poetry is mostly centered around healing, self-discovery, and revolution.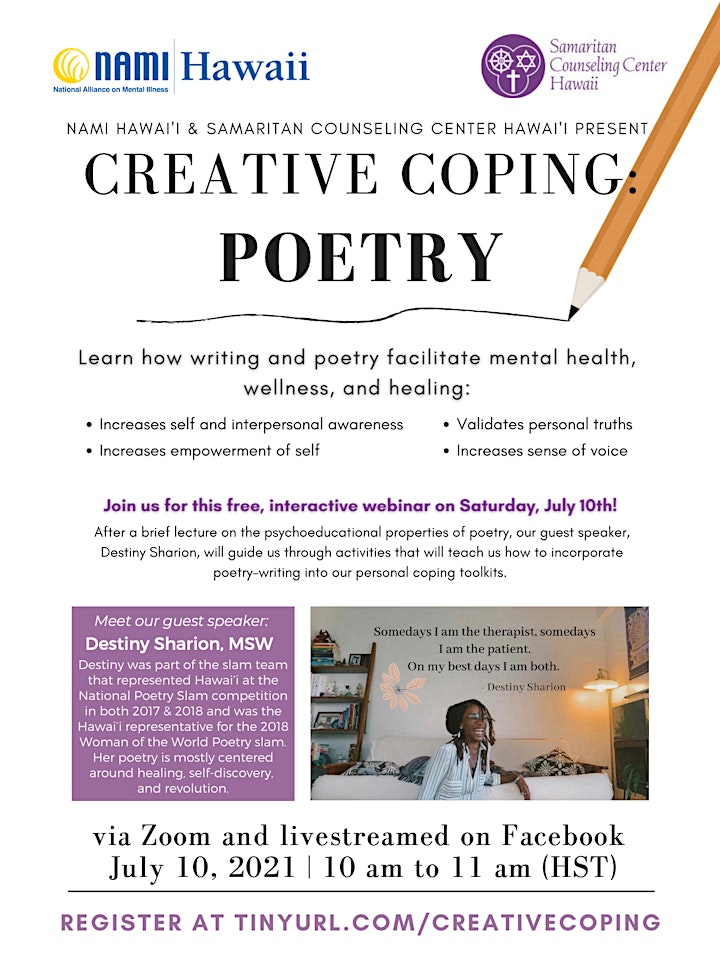 Organizer of Creative Coping: Writing Poetry
Samaritan Counseling Center Hawai'i's mission is to provide professional and accessible mental health counseling sensitive to the spiritual traditions of individuals, families, and communities in Hawai'i. We promote mental health and well-being to people of all faiths, or no faith, regardless of clients' ability to pay.