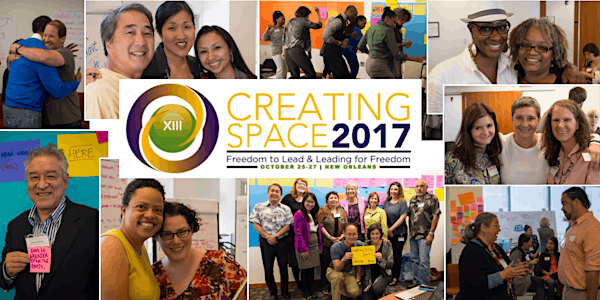 Creating Space 2017: Freedom to Lead & Leading for Freedom
When and where
Location
DoubleTree by Hilton 300 Canal Street New Orleans, LA 70130
Description
This year we are hosting Creating Space in New Orleans. We have been vigorously working with our design team to create a space that is open for a shared learning experience. Our theme this year is Freedom to Lead & Leading for Freedom.
Only power that springs from the weakness of the oppressed will be sufficiently strong to free both." ― Paulo Freire, Pedagogy of the Oppressed
We will explore our Freedom to Lead and collectively seek to answer:
Who gets to be dreamers, the visionaries, and the architects of our future?

What structures, practices, and narratives are blocking the leadership of those marginalized by systemic racism?

How can we align our collective energy, resources, and insights to center, expand and catalyze the leadership of those made vulnerable by systemic racism?


"To affirm that men and women are persons and as persons should be free, and yet to do nothing tangible to make this affirmation a reality, is a farce." ― Paulo Freire
While also exploring what Leading for Freedom looks like by:
Raising up models of spaces, processes, and institutions that are liberated

Exploring how to create liberating spaces to historically marginalized communities and peoples

Practicing how to tackle and dismantle barriers to freedom and liberation

Again and again, we will explore what freedom and liberation mean to each of us as individuals, as part of groups and communities, and in our organizations and work. We will explore how to liberate ourselves and others to create the world we seek for the future.
Previous attendees have said of Creating Space:
Creating Space 2013

"It was a great experience. One of the highlights for me is that LLC creates the space for relationships to develop, and also provides the space for a deeper level of conversation and learning. I also love that when the unexpected emerges, the team can make the adjustments. The conversation catalysts, as always, were catalyzing."

Creating Space 2014

"The sense of spaciousness combined with relevant content. Tough balance, done expertly."

"[I appreciated] the mixture of the participants was really useful for my learning and broadening of leadership development"

Creating Space 2015

"The most important aspect of the Creating Space 2015 experience was the interacting and networking with other leaders! I learned so much from others and their experiences, while gaining valuable connections. "

"Funders and "non-traditional" leaders at the same table/same level. [I] Did not expect traditional power holders to be in the room."

"[I gained] New perspectives on community leaders and their needs. Inspiration for why this work is so needed and relevant — as a 'leadership development professional' it's easy to feel removed from the relevance and stakes of my work. This was a much-needed a reminder how these issues are a matter of life and death for people in affected communities."
Consistently, Creating Space participants greatly appreciate the opportunity to connect with other people doing this work and learning from our peers. Join us in embarking into these conversations
Hotel information will be sent to registrants as there is limited space available. Please reach out to Miriam Persley if you're interested in applying for the Equity Fund.