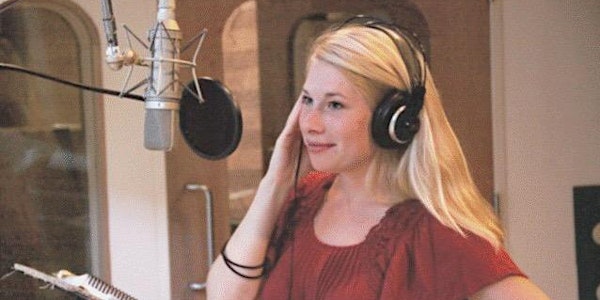 Creating Character Voices
Carin Gilfry will discuss how to expand your vocal range and explore new voices for animation, video games, audiobooks, and puppetry.
When and where
Location
225 e 67th St 225 East 67th Street New York, NY 10065
About this event
Carin Gilfry, voice actor, has narrated and produced over 100 audiobooks, and voiced thousands of commercials, instructional videos, IVR systems, documentaries, and video games. She works primarily from her professional home studio in New York City (www.GilfryStudios.com). Her past clients include Duncan Hines, Quaker, Clairol, Zulily.com, Neutrogena, Benjamin Moore, Frigidaire, GrubHub, Jakks Pacific Toys, Little Tikes, Play Doh, Luxury Retreats, Audible.com, Quell, and many more. Her voice also appears in many children's audiobooks, children's apps, and interactive children's programs at museums and aquariums across the country. 
Carin is the founder and president of Voice Actors of NYC, a 1400 member group which provides affordable, free, and donation based classes and events to the New York VO community.
Carin began her career as singer. She studied at the USC Thornton School of Music and The Juilliard School. She has performed all over the world with companies including The Los Angeles Opera, Le Theatre du Chatelet, The Santa Fe Opera, The Glimmerglass Festival, The Aspen Music Festival, The Phoenix Symphony, and many more. In 2014, she was featured in a story on NPR's This American Life about how she accidentally locked herself in a hotel closet while narrating a children's audiobook. The story was turned into an opera, and performed live at the Brooklyn Academy of Music. 
Carin is the creator and co-host of Rosie's Place. A children's web series which takes stories written by children, and brings them to life using music, dance, and puppetry. 
For more information about Carin, visit www.CarinGilfry.com