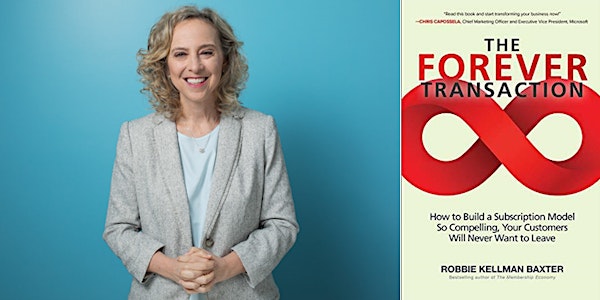 CPS Lecture #147: Robbie Kellman Baxter on The Forever Transaction
A ready-to-use game plan for running a successful and sustainable, subscription business.
Refund Policy
Contact the organizer to request a refund.
Eventbrite's fee is nonrefundable.
About this event
A veritable blueprint for success in the new membership economy, this book is a must-have for organizations of any size. It's a true game-changer.
Baxter takes readers through every step of the subscription business process—from initial start-up or testing of a new model to scaling the operation for long-term growth and sustainability to revamping your culture so everyone works together to optimize customer lifetime value.
It covers all the essentials like subscription pricing, Software-as-a-Service, digital community engagement, and freemium incentives as a way to turn casual browsers into cash-paying superusers. It also features first-hand insights into subscription superstars like Amazon and Spotify.
Most importantly, it shows readers how to build lasting relationships with their customers that are the very foundation of business success—today, tomorrow, and forever.
JOIN US on Wednesday, March 10, 2021 at 5:30 PM PT for a CPS Lecture with Robbie Kellman Baxter on The Forever Transaction: How to Build a Subscription Model So Compelling, Your Customers Will Never Want to Leave.
Robbie will be joined in conversation with Lisa Earle McLeod, best-selling author and global expert on purpose-driven business. Zoom link will be given to those who RSVP.
"Member-centricity is the core of successful associations and, increasingly, thriving companies. In The Forever Transaction, Robbie Baxter captures the techniques that Amazon, Netflix, LinkedIn, and others are using to build sustained customer relationships. Leaders of any membership organization can gain insight and practical tips from Robbie Baxter's book."
-John H Graham IV, FASAE, CAE, CEO & President, American Society of Association Executives (ASAE)
About Robbie:
Robbie Kellman Baxter brings over twenty years of strategy consulting and marketing expertise to her firm Peninsula Strategies, a consulting firm focused on helping companies leverage subscription pricing, digital community and freemium to build deeper relationships with customers. Her clients have included start-ups and mid-sized, venture-backed companies as well as industry leaders such as ASICS, Netflix, Electronic Arts, Microsoft, the NBA and The Wall Street Journal.
Peninsula Strategies has advised over 100 organizations in more than 20 industries on growth strategy. Robbie works directly with every client as a subject matter expert, strategic advisor and transformational guide.
A sought-after writer and keynote speaker, Robbie has presented at top Universities, Associations and Corporations, as well as to Corporate Boards and Leadership Teams around the world. She has created and starred in 10 video courses in collaboration with LinkedIn Learning on business topics ranging from innovation to customer success and membership.
Robbie is the author of The Membership Economy: Find Your Superusers, Master the Forever Transaction & Build Recurring Revenue (McGraw-Hill 2015), a book that has been named a top 5 Marketing Book of the Year by Inc.com, as well as the forthcoming title The Forever Transaction: How to Build a Business So Compelling, Your Customers Will Never Want to Leave (McGraw-Hill 2020). Robbie coined the popular business term "Membership Economy". Robbie's expertise with companies in the emerging Membership Economy extends to include SaaS, media, consumer products and retail and community organizations.
Prior to launching Peninsula Strategies, Robbie was a strategy consultant at Booz-Allen & Hamilton, a New York City Urban Fellow and a Silicon Valley product marketer. Robbie received her MBA from the Stanford Graduate School of Business and graduated with honors from Harvard College.
About Lisa:
Lisa Earle McLeod is an advisor, consultant, and speaker who works with senior executives and sales teams around the world. She is the author of five bestselling books, including Selling with Noble Purpose and Leading with Noble Purpose. Noble Purpose is a customer-driven philosophy that accelerates revenue growth, increases competitive differentiation and ignites emotional engagement.
When organizations want to harness the power of purpose to create a more meaningful workplace and drive outsize results, they turn to Lisa. Lisa is a thought leader who has consulted and spoken for organizations like Salesforce, Roche, Volvo, Bank of America, Cisco, Oracle and The United Way and has worked in over 25 countries. Lisa's work has been featured in Forbes, Fortune and The New York Times.
As one of LinkedIn Learning's most popular instructors, Lisa also has deep experience creating virtual programs to help teams around the world navigate this challenge.
About CPS Lectures:
CPS Lectures is a free discussion series that normally takes place in San Francisco, however events are being hosted virtually at this time. It is a program of the nonprofit The diaTribe Foundation. The series honors the memory of Cyril Patrick Shaughnessy, Jr., Kelly Close's father, who loved discussions, conversation, and being in community and learning from one's peers.
- Please support our local Haigh-Ashbury bookstore, The Booksmith and purchase this book online here. For those on the East Coast, Politics and Prose is another wonderful option. Also, please leave a review on Amazon!
- RSVP required for this free event. You will be given a chance to donate to The diaTribe Foundation when you register - this is completely optional. Thank you to all those who have given to date. We are searching for wine and other items to donate for the silent auction - please email Katie Brauer at cps@diatribe.org if you have any grand ideas or small donations!
- Please share our series with others – you can forward this invite or invite people to sign up at www.cpslectures.org, they can also join our mailing list to receive future invites. Zoom link will be given to those who RSVP.
- Follow @cpslectures on Instagram and Facebook!
Thank you so much for your encouragement and support. We hope to see you on Wednesday, March 10 at 5:30 pm PT, and we look forward to what we know will be a most compelling discussion.