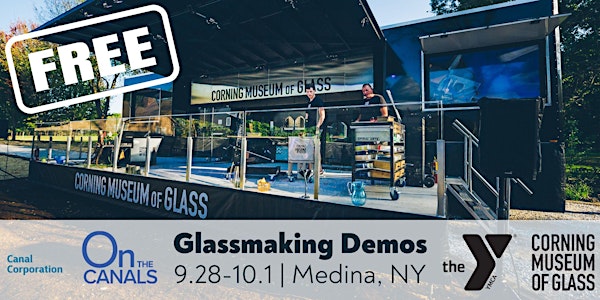 Corning Museum of Glass Mobile Hot Shop | Glassmaking Demos On the Canals
The Mobile Hot Shop takes the artistry and education of the Corning Museum of Glass live glassmaking experience on the road to Medina, NY.
When and where
Location
Medina Canal Basin Manilla Place Medina, NY 14103
About this event
Join the On the Canals program from the New York State Canal Corporation and the Orleans County YMCA of GLOW YMCA, to experience the Mobile Hot Shop as the Corning Museum of Glass (CMoG) takes live glassmaking on the road to Medina, New York, bringing the artistry and education of glassmaking beyond the walls of the museum – to the public, the design community and museums worldwide.
The CMoG Mobile Hot Shop uses unique glassmaking equipment to recreate a state-of-the-art studio environment. At venues around the world, in conjunction with exhibitions, events and art and design initiatives, Museum's gaffers demonstrate complex hot glassmaking techniques.
This is a wonderful family event for all ages.
Demonstrations take place every 45 minutes on:
Thursday, September 29 from 9:30am - 12:30pm & 2:00pm - 5:00pm;
Friday, September 30 from 9:30am - 12:30pm & 5:00pm - 7:45pm; and
Saturday, October 1. from 9:45am - 1:15pm & 5:00pm - 7:00pm.
For "You Design It; We Make It!" demonstrations, please take note of the following dates and times (these are not separately marked in the reservations section):
-Thursday (9.29) at 10:15am & 4:15pm;
-Friday (9.30) at 11:00am;
-Saturday at 12:00pm.
Here's how "You Design It; We Make It!" works:
1. Arrive early and pick up a drawing sheet.
2. Make your own unique drawing using the colored markers provided.
3. Include a description or "artist's statement" - it helps our team understand your idea – and submit your design 30 minutes prior to the show.
4. Our glassmakers will choose one idea and make that piece live on stage (see some previous creations in the images below).
After your CMoG glassmaking experience, be sure to check out all that the Historic Village of Medina has to offer with restaurants, shopping, boutique hotels and attractions, like axe-throwing at the local meadery or freshwater fishing in nearby Lake Ontario tributaries!
On the Canals is a year-round program of FREE recreational and cultural activities highlighting the many ways you can enjoy the canal water ways and trails across New York State. Look here for more info: www.canals.ny.gov/onthecanals/
Find out more about Medina, NY here.
Click here for the Orleans County 2022 Tourism Guide.