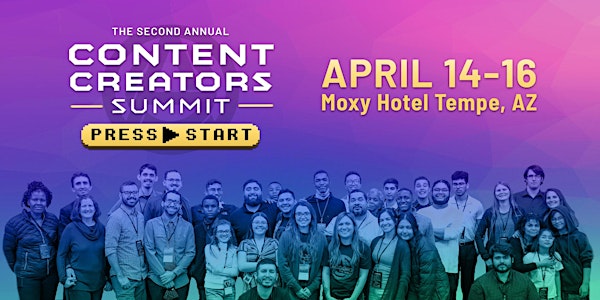 Content Creators Summit: Press Start
Learn how to become an online influencer, build a thriving digital community, network with other creatives and meet some known influencers!
When and where
Location
Moxy Phoenix Tempe/ASU Area 1333 South Rural Road Tempe, AZ 85281
Refund Policy
Contact the organizer to request a refund.
Eventbrite's fee is nonrefundable.
About this event
1 day 20 hours

Mobile eTicket
You're invited to the OAG Content Creators Summit!
Welcome to the second annual Content Creators Summit! Learn how to become an online influencer, foster a thriving digital community, and make new friends as you embark on the quest ahead.
About this event:
Do you feel God might be calling you to a career making content and inspiring others, but you feel stuck? You still aren't sure this is for you. You don't know where to start. You want help … mentorship … and a community to support you. Or maybe you are starting, but you've lost momentum and can't quite get your online career off the ground. If any of this describes you, then the Content Creators Summit is designed just for you.
Your ticket will include all access to seminars, panel/breakout discussions, workshop, exhibits, activity areas, a t-shirt, giveaways and meals.
Registration:
Glitch Fast-Action Special - $125 for the first 25 registrants
Lag Admission - $150 before March 31
Extra Life Full Admission - $195 on April 1
(Register until 11:59pm on Wednesday April 10, 2023.)
Cost above is per admission ticket only and does not include hotel accommodations. See below for accommodations.
All Access Online - $15 until April 14
(Register until 11:59pm on Wednesday April 14, 2023.)
Please contact us directly for group pricing.
Keynote Speaker:
Justin Khoe - Justin is well known in Christian circles for leading the conversation on digital ministry, having taught internationally over the years, touching on one central theme that spans the growth and evolution of social media - how to ignite the church for online evangelism, one device at a time. As someone who has shared the good news online and refined the art himself, you can rest assured he will guide you towards creating content strategies that work and evolve for the long haul, without breaking your back or the bank.
Follow Justin: @jkhoe
Speakers:
Lainey Liz - Lainey is the founder of Simply Bakings, an online food blog and cooking show. She shares her passion of cooking and baking all over the world through her YouTube channel with 300,000+ subscribers, cooking blog with over 100,000 monthly page views, and a social media reach of over 1 million. When she's not in the kitchen, Lainey enjoys seeking God in a myriad of creative ways including Simply Bakings and her SEO work helping Adventist organizations to improve their online presence (digital marketing). She currently lives in Auburn, California with her husband.
Follow Lainey: @simplybakings
Lindsey Johnson - Lindsey began exploring the Arizona desert with her adorable black cat, Aries, when she moved to Phoenix for graduate studies in music. She has developed a strong social media presence by branding Aries unique adventures and personality. Lindsey and Aries seek to use their influence to motivate and inspire an active lifestyle exploring the great outdoors. They are dedicated to utilizing online content to encourage and educate others who want to embark on the adventure of life through a cat's journey.Follow
Lindsey: @thehikelifecat
Cole Comitz - Back to when Vine was popular in 2014, Cole developed an interest in making 6 second comedy videos as a hobby. He would share them both on Facebook & Instagram. Eventually, Cole transitioned from making Vines videos to making TikToks, speaking on bible topics such as: Salvation, The Holy Spirit, End time prophecy, False doctrines & more. Cole is dedicated to revealing biblical truths, creating funny skits & giving guidance to those who are seeking it, in hopes that it will bring them closer to Jesus.
Follow Cole: @colecomitz
Justin Inostroza "Jai" - A technology professional, public speaker, podcast producer, artist, and entrepreneur and AI experimenter. In 2016, after earning a certificate in evangelism, Jai felt compelled to share his own account of how the Bible helped him rediscover his faith, to inspire others to achieve the same connections with God. He has spent the last six years creating Eden's Conflict, a board game and organization that authentically depicts the struggle between good and evil based on his Bible knowledge and religious conviction of promises. Jai is also one of the founding members of One Accord the Guild.
Follow Justin: @edensconflict
Jay Razzouk - Lawyer by day, and content creator by night, Jay helps influencers, coaches and other entrepreneurs level up legally as they expand their online businesses. He frequently speaks on podcasts and live streams about legal issues facing content creators. Jay is currently producing a documentary on Mental Health called Unbroken Minds, for which he has recorded over 150 interviews. He co-hosts a weekly Q&A live stream broadcasted to BibleAsk.org's 80k Facebook subscribers and 3k YouTube followers. Jay is a founding member of the OAG Discord server.
Follow Jay: @jayrazzouk
Co-Hosted By:
Andrew Carroll - For over a decade, Andrew has been a graphic artist working in print, illustration and web design, primarily serving nonprofits and small businesses. He's co-host of the Adventist City Ministries podcast and is an Admin on the OAG Discord server and Summit Art Director. Andrew currently resides in Allentown, PA. Follow Andrew: @42design.co
Michael Soto - As a pastor and YouTube gamer, Mike works to close the gap between people and faith. For five years Mike was a Super Smash Bros. tournament competitor, is a founding member of the One Accord: The Guild, and Director of the Content Creators Summit. He has a Master's degree in Theology from La Sierra University, and resides in Casa Grande, AZ.
Don't forget to book your hotel with Moxy Tempe.
We have a very special rate available April 13-17, click this link to access the rate.
Book your group rate for Content Creator Summit 2023
--------------------------------------------------------------------------------------------------------
Refund Policy:
Contact the organizer at oneaccordtheguild@gmail.com to request a refund. Eventbrite's fee is nonrefundable. Except for that fee, refunds will be given as follows:
(a) full refunds will be given for in-person tickets if requested no later than 1 week before the summit; (b) no refunds will be given for in-person after the event begins; (c) full refunds will be given for online-only tickets if requested before the summit begins.
Health Policy: Please be aware that the event will be mask-optional. This is in accordance with local health guidelines from the city of Tempe, AZ.
--------------------------------------------------------------------------------------------------------
Visit our website >>> oneaccordtheguild.com
For all questions please email us at >>> info@oneaccordtheguild.com
This is a Hybrid event, if viewing online only, you will receive a link via email for the event.
The Content Creator Summit will be recorded and live streamed. By registering for the summit, you grant an irrevocable, world-wide, royalty-free license to One Accord the Guild to use your image, your voice, and your other features to the extent contained in any recordings (including videos, audio recordings, photos, and transcripts) or live streams. One Accord The Guild may use such image, voice, or features, in whole or in part, in print, television, radio, film, digital media (including internet, social media, websites, and apps), and in all other media now known or hereafter existing for (1) advertising, marketing, or publicity; (2) for the creation, enhancement or performance of current or future products of the Service Provider; or (3) or any other purpose in accordance with the mission of One Accord the Guild. You waive the right to inspect or approve any use of the Media by One Accord the Guild.
In accordance with our policy, we seek to protect the name and identities of individuals under the age of 18.
Please notify One Accord the Guild before the summit if you or the person you are registering for the event are under the age of 18.