Description

Connect2STEM is BACK!
2019 is Going to be Bigger, Better and Nerdier!
The University of Arizona (UA), in partnership with COX Communications, presents the fifth annual Connect2STEM — a family friendly event celebrating Science, Technology, Engineering, Math and Medicine. In 2018, the event drew more than 7,500 children and their families!
Be sure to register early to be entered to win a free iPad and to receive $10 off parking, compliments of our generous The Boyer Company and Standard Parking.
STEM enthusiasts have the opportunity to interact with 150+ tables of hands-on science activities. 2018's event included: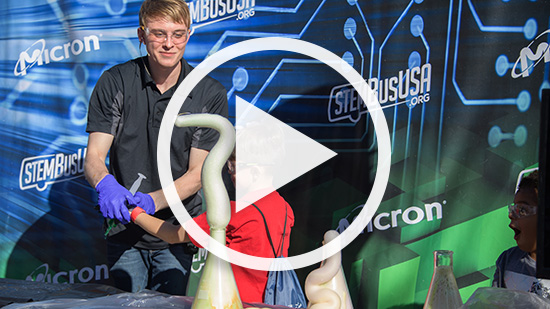 Video Highlights from Last Year's Event
Spread the Word:
Follow @Connect2STEM on Twitter, Instagram and Facebook for updates throughout the year.
Want to be an Exhibitor at CONNECT2STEM?
As an exhibitor you will have the opportunity to engage with STEM enthusiasts and be part of over 100 tables of hands-on science activities. Last year, the event drew more than 7,500 children and families. Showcase your organization's programs and products to the STEM community.
Registration
We are always seeking to expand this great event. If you would like to be a part of the upcoming Connect2STEM, please register your organization to host a table/activity today.
Sponsorships
Major sponsors for Connect2STEM 2018 included Cox Communications, USAA, APS, Fry's, Standard Parking, Boyer and City of Phoenix. If you are interested in becoming a sponsor and being listed in the official program, please contact Allison Otu, 602-827-2452.
Thank You to Our 2019 Sponsors