Description
Have a game-changing vision, project, or strategy that you can't get to because you're crazy-busy?
Here's your opportunity (excuse maybe?) to start 2018 off RIGHT and do your best work--in an uninterrupted, brain-juiced, creative work retreat.
Join us for CONNECT** — a private, daylong "work spa" — to focus and innovate on your most mission-critical project or 2018 intentions. There will be neuroscience, design, mindfulness, chair massage, solo time, networking —and FUN!

Held at CHANGE, engagedIN's neuroscience design training center on 160 acres in the Santa Cruz Mountains — so you can connect with nature, mind-body practices, creativity, your target users/audience and fellow changemakers in health and well-being. See more photos of the CHANGE center, here.
Past attendees at CHANGE events include executives from Aetna, Stanford University, Roche, Becton Dickinson, Nordstrom, Natera, HHS and many more.

You will get deep thought time, peer feedback, design sprints, and expert attention on YOUR project, whatever that is!
Later, enjoy a rustic chef-prepared farm-to-table meal and live performance as part of our quarterly Thought Leader dinner series.
Faculty: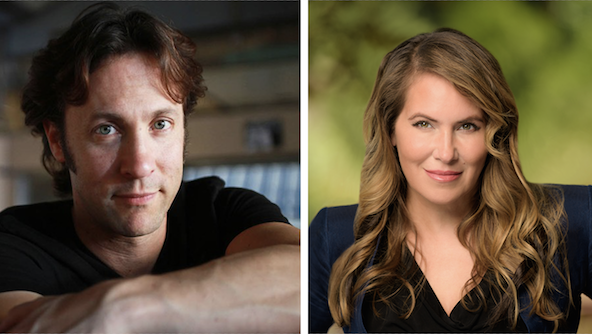 – David Eagleman, PhD, Neuroscientist, New York Times Best-Selling Author, creator and host of PBS's The Brain, co-founder, NeoSensory

– Kyra Bobinet, MD MPH, CEO, engagedIN, Consulting Faculty, Stanford School of Medicine, author of Well-Designed Life: 10 Lessons in Brain Science and Design Thinking for a Mindful, Healthy, and Purposeful Life
– An amazing peer group of top innovators in health and well-being
Connect-by-Design
Unplug and take concentrated time to create or iterate on ANY project you choose
Connect with nature to awaken your brain in a way that's not available in your daily, distracted, back-to-back meeting life.
Apply brain science on attention, motivation, and engagement to create groundbreaking things that change health and wellbeing.
Be among respected peers—equally innovative behavior-change experts—who push you to ignite deeper innovation.
Gain escape velocity from your brain's typical solutions and distractions.
Apply design thinking and neuroscience in design sprints we facilitate for you throughout the day—so you leave with a concrete, testable prototype to bring home—a huge payoff for your time investment!
OR...work alone and practice silence to go deep
Event Schedule
Friday January 5
6pm - 8pm: DECOMPRESS. Rejuvenate from a busy week with an evening mindfulness session led by Dr. Kyra Bobinet. This Friday session is an optional "kick-off" for the event to set-up your brain for maximal performance and connect with your fellow innovators over refreshments and appetizers afterward.
Saturday January 6
9am - 5pm: WORK SPA co-faciliated by Dr. David Eagleman and Dr. Kyra Bobinet to learn applied brain science and use it to design and innovate on your most mission-critical project (for self or others).
5:30 pm - 8:30 pm: Enjoy a rustic chef-prepared farm-to-table meal, local wine-tasting, and mind-blowing live performances to celebrate our accomplishments!
See photos of the CHANGE Training Center and more information at: www.changetrainingcenter.com
**As always, CHANGE has a strict "No pitch unless asked to" policy to protect the mindspace and peace of our thoughtleader attendees.