Description
YOU MUST SIGN THIS WAIVER TO ATTEND: bit.ly/ct19waiver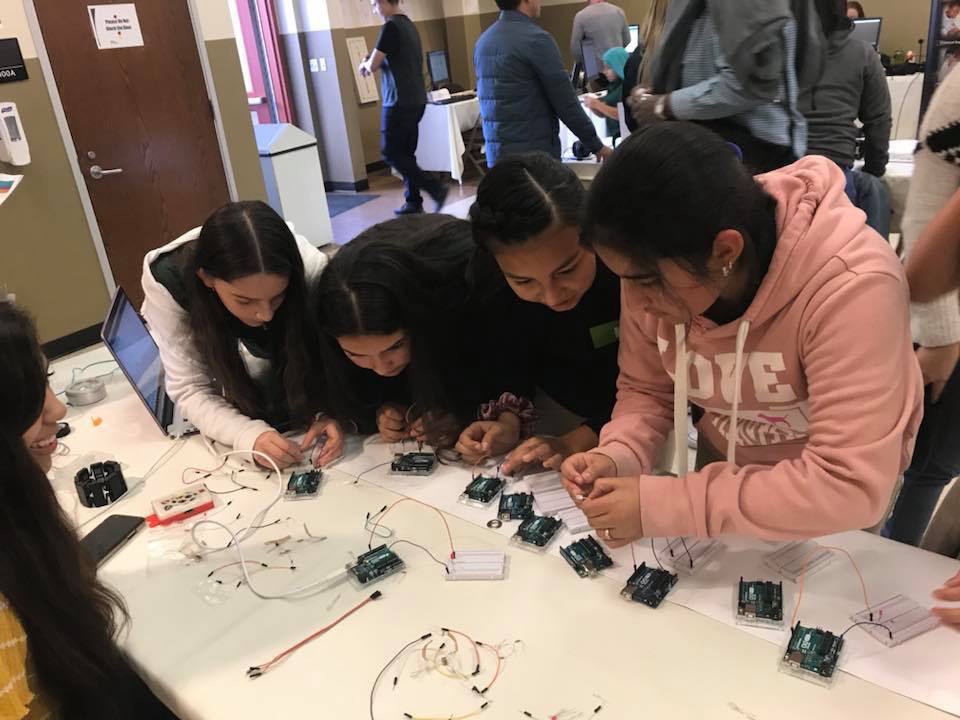 Join Tana McCoy, iTouchUp and Hacker Fund for a free week of technology workshops, recruitment and resource fairs for middle school, high school and college students as we bridge the digital divide in Compton! We've enlisted professionals from TikTok, Riot Games, Adobe, Cal State Dominguez, Road to Artdom, and more to teach fun and creative workshops in all things technology. We are excited to provide free resources that promote S.T.E.A.M. education in the City of Compton. *LUNCH WILL BE PROVIDED DAILY*.
Please register in accordance with the times and dates for each workshop you'd like to attend. You can attend more than one workshop on any given day. Check the schedule daily for updates and additional course offerings!
YOU WILL BE ABLE TO SIGN UP FOR WORKSHOPS ON-SITE ON 8/10/19 from 9-1pm!

Saturday, August 10th
9:00AM - 9:30AM On site Registration & Opening Day Fun!
9:30 AM - 11:30 AM Program a Drone! Intro to Javascript with Emil
11:30AM - 12:00PM Food! Music!
12:00PM - 1:00PM Websites for Beginners with Sean & Brandon
Monday, August 12th
9:00AM - 9:30AM Registration
9:30AM - 11:30 AM Intro to Robotics/Arduinos with Devin
11:30AM - 12:30PM Food! Music!
12:30PM-2:30PM Intro to UX Design with Audrey
Tuesday, August 13th
9:30 AM - 11:30 AM Tech Summit - "Is there racism in gaming?" Let's talk about diversity with Tyler Bell.
12:00 PM - 4:00 PM GAME TIME BABY! Smash and Fortnite. Get your game on!
Wednesday, August 14th
9:00AM - 9:30AM Registration
9:30AM - 11:30 AM Thinking Like a Hacker (Cybersecurity) with Emily and Greg
11:30AM - 12:30PM Food! Music!
12:30PM - 2:30PM Learn to Code with Scratch with The Coding Space
Thursday, August 15th
9:00AM - 9:30AM Registration
9:30AM - 11:30 AM Drawing in p5:js with Kai
11:30AM - 12:30PM Food! Music!
12:30PM - 2:30PM Business and the Tech Industry with Krystle
2:30PM - 3:30PM *Instructional Presentation* -

Cats vs Dogs, Convolutional Neural Network Artificial Intelligence with Fernando & Hector from CSUDH!
Friday, August 16th
9:00AM - 10:00AM Pictures, muddle around, swap IG's, etc!
10:00AM - 12:00 PM Game Development with Sanil
12:00PM - 2:00PM Technical Art with Tatiana
2:00PM-3:00PM Closing ceremonies, music, prizes, food and fun!
Please note that the workshop schedule and topics are subject to change as classes are added. We have talented tech experts signing on to host a workshop everyday! This means more options and more fun!
Registration is FREE!
This event is organized through a collaboration between the City of Compton, Compton Unified School District and the organizations below. Thank you for your support. Visit www.itouchup.org and www.hacker.fund to learn more about these amazing organizations.

Are you interested in teaching, sponsoring or being a vendor? Please reach out to Caryn Brandon at techweekteam@itouchup.org.
Organizer of Compton Tech Week 2019