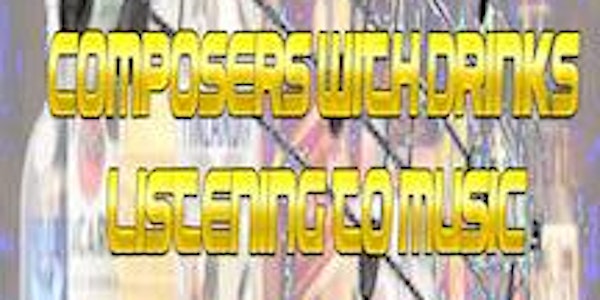 Composers with Drinks Listening to Music LIVE
Composers Concordance Presents Composers with Drink Listening to Music (live) With Hosts Gene Pritsker & Seth Boustead
When and where
Location
Gallery MC 549 West 52nd Street New York, NY 10019
About this event
For Immediate Release - New York, NY - On October 14th at 7pm at Gallery MC, Composers Concordance presents a Live concert of the podcast 'Composers With Drinks Listening To Music'.
Hosts Gene Pritsker and Seth Boustead discuss a featured alcohol, listen to music centered around a theme, and talk about the sounds they hear as the alcohol loosens their inhibitions. With featured guest composers including Lynn Bechtold, Charles Coleman, Dan Cooper, Gilbert Galindo, Ginka Mizuki, and Clemens Rofner. Poet and show regular Robert C. Ford (aka The Wall Street Poet) will be on hand to supply the alcohol inspired by this show's theme: 'Spontaneity'. The CompCord Ensemble featuring Lynn Bechtold - violin, Michiyo Suzuki - clarinet, Daniel Hass - cello and Jai Jeffryes - piano, will perform compostions from this live episode at MC Gallery as all involved listen, discuss and drink the night away.
Featured compositions include 'Microcosms' by Gilbert Galindo, 'Isolation' by Charles Coleman, Seth Boustead's 'Blue Angel' and Gene Pritsker's 'Spontaneous Salon', as well as arrangements of music by The Flaming Lips and "Cannonball" Adderley/Nat Adderley.
Composers: Lynn Bechtold, Seth Boustead, Charles Coleman, Dan Cooper, Gilbert Galindo, Ginka Mizuki, Gene Pritsker, Clemens Rofner, The Flaming Lips, Julian Edwin "Cannonball" Adderley and Nat Adderley
CompCord Ensemble:
Lynn Bechtold - violin
Michiyo Suzuki - clarinet
Daniel Hass - cello
Jai Jeffryes - piano