Event Information
Location
Columbia University Medical Center Alumni Auditorium
630 West 168th Street
New York, NY 10032
Refund policy
Refunds up to 30 days before event
Description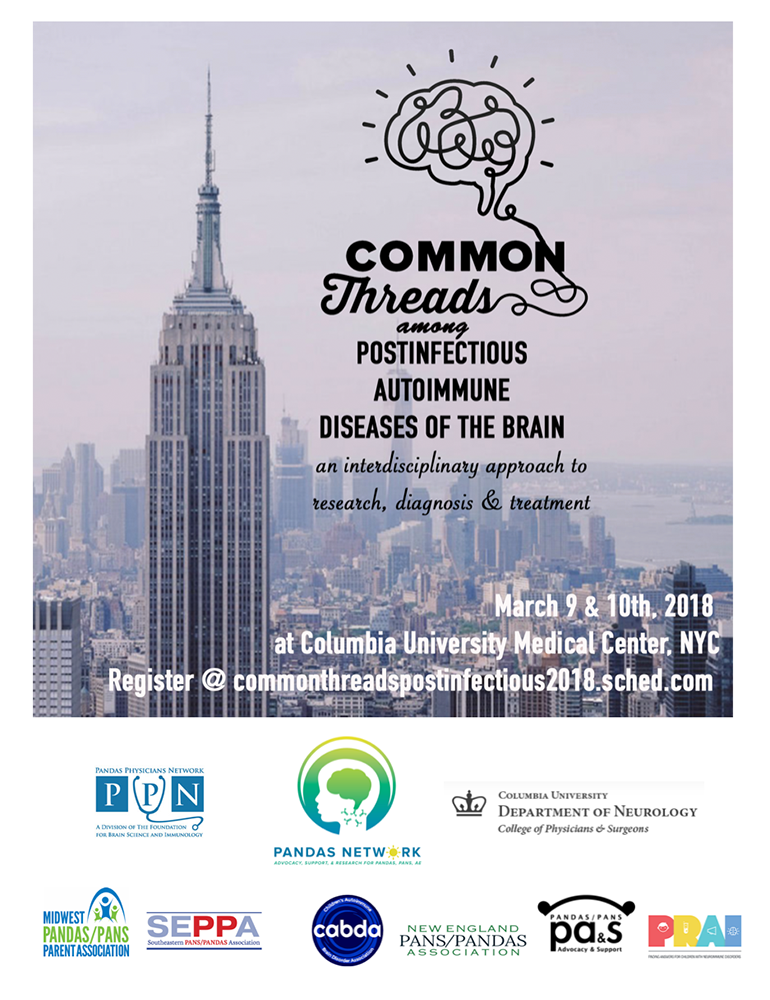 The COMMON THREADS: POST-INFECTIOUS AUTOIMMUNE DISEASES OF THE BRAIN Conference, founded and organized by The PANDAS Network, is an international, multidisciplinary conference that breaks down the silos in medicine by bringing together clinical and research experts in the areas of neurology, immunology, psychology, psychiatry, infectious disease and more to explore the commonalities among post-infectious autoimmune disease models and best practices for treatment. The event will also highlight the newly integrated clinical and research site for PANS/PANDAS patients at Columbia University Medical Center (CUMC) serving pediatric patients in the greater New York area.
On Saturday, March 10th, PANDAS Network and our alliance partners welcome Parents, Educators and Professionals of all Disciplines as we explore basic brain science, new research, diagnosis, treatment and the commonalities among Autoimmune & Infectious Triggered Neuropsychiatric & Related Disorders including basal ganglia encephalitis, PANDAS/PANS, OCD, Tourette, Sydenham Chorea and more.
The COMMON THREADS Conference features top experts in their fields from across research institutions worldwide, as they collaborate and share data and treatment experiences. Presentations from various disciplines, including neurology, neuroscience, immunology, autoimmunity, genetics, infectious disease and psychology will provide attendees with a rare opportunity to understand how the common threads across seemingly disparate disciplines of medicine align to create both biologically based and neuropsychological issues common in a subset of the pediatric population.
All Parents, Educators and Professionals will hear from experts in the morning Plenary Roundtable discussion, followed by sessions on neuroscience, neurology, autoimmunity and genetics. PANDAS Network will make a special announcement during the afternoon luncheon at nearby Bard Hall. And an afternoon dual track will provide 6 additional topics from which to choose allowing attendees to navigate to the most relevant content depending on their stop on the PANDAS/PANS journey.
PLEASE NOTE: Due to overwhelming demand and a limited number of seats for this event, once registered, please contact us immediately if you are unable to attend. We anticipate an extensive Waitlist and hope to accommodate as many attendees as possible.
WE ENCOURAGE YOU TO SHARE THE CONFERENCE FLIER WITH YOUR PEDIATRICIANS, SPECIALISTS, NURSES, SCHOOL PERSONNEL AND OTHERS
DOWNLOAD SATURDAY CONFERENCE AGENDA HERE
Final Agenda:
Saturday, March 10, 2018
8:15 Registration / Check-In & Networking-- Continental Breakfast at Bard Hall
9:00 Plenary Roundtable: Exploring the Common Threads Among Infectious Triggered Autoimmune Diseases of the Brain
10:00- 10:15 Basic Science: Understanding Your Child's Brain
10:15-12:00 Autoimmunity & Genetics: The Role of Infectious Triggers on the Brain-- AE, Tourettes, PANS, Sydenham Chorea and Beyond
12:15-1:00 Luncheon at Bard Hall
1:15-2:50 PANDAS PANS Diagnosis & Treatment + Moderated Q&A (Strand A)
1:15- 2:00 The Gut- Brain Connection: Understanding the Microbiome + Alternative Treatments (Strand B)
2:00-2:50 Deciphering the Spectrum of Chorea, Tics, TS & OCD (Strand B)
3:00-3:50 Psychiatry & Psychology: Managing the Common Symptoms in the PANDAS/PANS Child (Strand A)

3:00-3:50 Manage Disruptive Behavior in the School & Home Settings (Strand B)
4:00-5:15 Fireside Chat: You are Not Alone-- A Conversation with Families and Experts about the Family Dynamics of PANDAS/PANS
5:15-5:30 Closing Remarks with Diana Pohlman
PARENTS & EDUCATORS: Have a doctor or specialist that wants to learn more about PANDAS/PANS? Or want to sponsor a doctor to attend the Professional Day on March 9th on behalf of your community? Let us know, we're here to spread awareness and we can help. Contact the organizer at angelique@pandasnetwork.org.
FAQs
Where is the event taking place?
The Common Threads Conference, Day 2 will take place on the campus of Columbia University Medical Center located near 168th Street at:
CHECK IN & BREAKFAST begin at 8:15 and are located at BARD HALL, 50 Haven Avenue, Columbia University Medical Center, nearest cross street is 169th Street
Sessions begin promptly at 9 am at Alumni Auditorium, Vagelos College of Physicians & Surgeons, 630 West 168th Street, Columbia University Medical Center, New York, NY 10032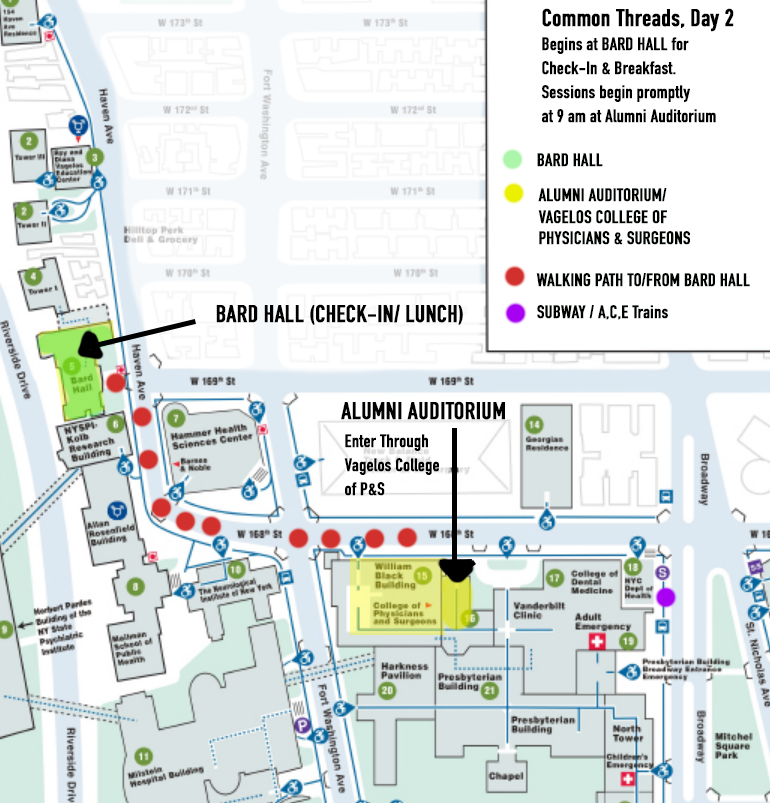 What are my HOTEL OPTIONS for the event?
We recommend several hotels based on your budget, but we have negotiated a block of rooms with Aloft Harlem, in close proximity to the conference venue. Keep in mind that all Conference CUMC events are within walking distance to the A, C and 1 trains at 168th Street and easy to access via NYC's subway.
FEATURED HOTEL- Aloft Harlem - 2296 Frederick Douglas Boulevard New York, NY 10027* 212-749-4000 (Common Threads Conference Room Block Rate Approximately $209/nt)*
PLEASE NOTE: This hotel is 2 subway stops away from the venue; it is NOT walking distance. It is near 125th Street which is 2 subway stops away from 168th (CUMC) heading UPTOWN on the A train.
NEAREST CUMC HOTEL:
Edge Hotel- 514 West 168th, Street New York, NY 10032* Contact Usha Singh- 212.543.0005 (CU Rate Approximately $149)*
UPDATE: THIS HOTEL NO LONGER HAS CU RATES AVAILABLE. Check with hotel for rates.
MIDTOWN:
Hudson Hotel- 356 West 58th Street, New York, NY 10019* Contact Emily Antin- 212.554.6127 (CU Rate Approximately $189)*
Marriott Courtyard- 1717 Broadway at 54th, Street New York, NY 10024* Contact 212.324.3773 (CU Rate Approximately $365)*
DOWNTOWN
Hilton Garden Inn- 39 Avenue Of The Americas, New York, NY 10013 Contact 212.966.4091 (Approximately $160 and up)
Sheraton Tribeca- 370 Canal Street, NY NY 10013 (approximately $148 and up)**
* Offer a discounted rate to Columbia guests while rooms are available
** PN is finalizing a discounted block of rooms at the Sheraton Tribeca and Marriott (Midtown) so please check back for updated rates and information.
What are my transportation/parking options for getting to and from the event?
Keep in mind public transportation to Columbia University Medical Center is quite convenient even from Downtown and Brooklyn, so don't hesitate to stay in the area of your choice. A typical commute from the west side of Lower Manhattan to the event location would take approximately 40 minutes by subway. The A and C trains are most accesible to the168th Street CUMC campus.
Directions to Columbia University Medical Center
The Center is located at West 168th Street and Broadway, immediately southeast of the George Washington Bridge, in the Heights/Inwood section of northern Manhattan.
Bard Hall - Breakfast, Check-In and Lunch will be served in the Bard Hall building at 50 Haven Avenue, just a block north of Milstein Hospital, past the Neurological Institute.
Alumni Auditorium- at 630 West 168th Street, is located just inside the Physicians and Surgeons Building at right. All education sessions take place in this building on the main floor.
By Public Transportation
Subway - Take the 1, A, C, trains to the 168th Street station. From midtown Manhattan, the A train provides express service to 168th. Walk 2 blocks west on 168th and follow the sidewalk on the south side of the street to Bard Hall at 50 Haven Avenue, just past the Neurological Institute.

Bus
A number of city buses serve the medical center: M-2, 3, 4, 5, and 100. For additional bus and subway information, call the Transit Authority at 718-330-1234.

By Automobile
The fastest and most convenient way to reach the medical center by automobile is to follow directions to the George Washington Bridge. Then exit onto Riverside Drive. From there, proceed south and turn left onto West 165th Street (the first left), and then right onto Fort Washington Avenue to the medical center parking facility.
From upstate New York and New Jersey After crossing the George Washington Bridge, follow signs to the Henry Hudson (also called the West Side Highway), and then to Riverside Drive.
From Riverdale and Westchester via the Saw Mill River Parkway Exit the Henry Hudson Parkway at the Riverside Drive exit, which is immediately past the George Washington Bridge.
From Westchester, Connecticut, or the East Side of Manhattan via the Major Deegan, Cross-Bronx Expressway, or Harlem River Drive approaching the George Washington Bridge, take the Henry Hudson Parkway, stay to the left and follow signs to Riverside Drive.
From the West Side of Manhattan Take the Henry Hudson Parkway to exit 15-Riverside Drive South.
Parking
Parking can be tricky around CUMC. Prime spots fill up fast and restrictions like alternative side parking make car travel difficult. Consider planning ahead with these garage resources:

Is there a map of the CUMC vicinity?
Absolutely. Here is a CAMPUS MAP.
Date and time
Location
Columbia University Medical Center Alumni Auditorium
630 West 168th Street
New York, NY 10032
Refund policy
Refunds up to 30 days before event