Event Information
Refund policy
Contact the organizer to request a refund.
Eventbrite's fee is nonrefundable.
Coming to the Table: Cousins Presentation
About this event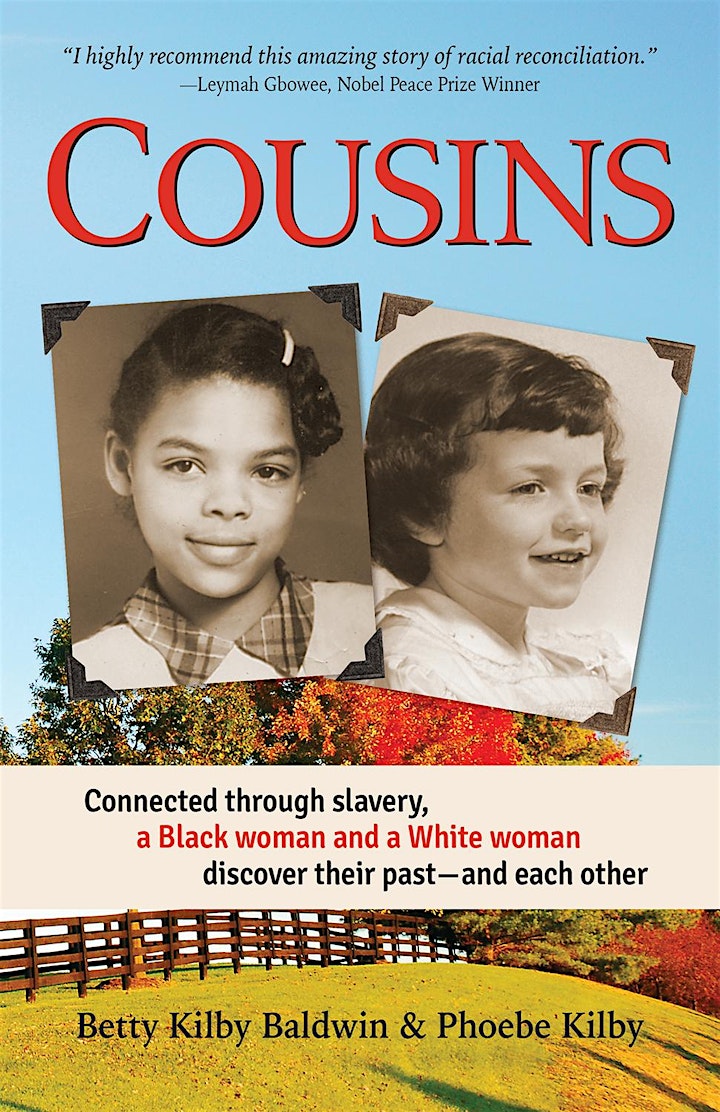 What happens when a white woman, Phoebe, contacts a Black woman, Betty, saying she suspects they are connected through slavery?
To find out, we invite you to attend this special pay-what-you-can virtual Peacebuilding Coming to the Table event on December 11, 2021 with Betty and Phoebe as they share their journey. We will explore each woman's dramatic story and how they came together on a path toward reconciliation.
COUSINS: Connected through slavery, a Black woman and a White woman discover their past--and each other.
Dr. Betty Kilby Fisher Baldwin and Phoebe Kilby explore difficult truths and share an admiration for Dr. Martin Luther King as they embark on a path towards reconciliation.
Each tells her dramatic story - from Betty's experience desegregating her county's only high school to Phoebe's eventual question to Betty: "How do I begin to repair the harms?"
Piercingly honest. Offers examples of reparations on a personal level.
All authors' proceeds from sales of the book are donated to the Kilby Family Scholarship Fund, which offers college scholarships to descendants of the people Phoebe's family enslaved, including Betty's grandchildren.
Some reviews:
U.S. Senator Tim Kaine writes, "I'm very excited about this remarkable book. I hope the experiences of Betty and Phoebe will inspire others to sit down at the table of sisterhood and brotherhood to promote racial healing."
Social justice activist and civil rights attorney Fania Davis agrees--"Cousins is a story that could not be more timely."
CTTT Co-Director Jodie Geddes: "Cousins is a riveting story highlighting the possibility of healing. The openness and vulnerability with which Betty and Phoebe share their stories capture you. The journey they invite us on is a story that everyone needs to read."
CTTT Co-Director Tom DeWolf: "I LOVED Cousins."
Cousins is a must-read for everyone committed to racial healing and justice. Betty's and Phoebe's lives couldn't have been more different, growing up. The legacy of slavery looms large here. Yet once they found each other, they committed to healing and repair and to building an authentic and accountable friendship."
This link provides information on how to order the book: https://walnutstreetbooks.com/titles/cousins/
Dr. Betty Kilby Fisher Baldwin grew up in rural Culpeper and Warren counties, Virginia. Thanks to her father's determination, she entered and graduated from Warren County High School after suing the school board, based on the landmark Supreme Court Brown vs. Board of Education decision of 1954. Betty started her employment as a factory worker and climbed the corporate ladder to achieve executive management employment. After she retired, she wrote and published her autobiography, Wit, Will & Walls. She and her husband currently live in Conroe, Texas. Betty is actively involved in Coming to the Table, and speaks frequently with Phoebe about making connections across the racial divide to create a more just and peaceful world.
Phoebe Kilby grew up in Baltimore, Maryland, and had a long career as an urban and environmental planner. With concerns about the morality and wisdom of war and a growing interest in peace, Phoebe went back to school in 2003 to obtain a degree in Conflict Transformation from the Center for Justice and Peacebuilding, Eastern Mennonite University. A descendant of enslavers, Phoebe was inspired by the Coming to the Table movement to connect with descendants of persons her family enslaved starting with Betty. She has participated in CTTT since 2007 and serves as a co-facilitator for the Asheville, NC, CTTT Local Group. With Betty, she continues to pursue a common grace.
Date and time
Location
Refund policy
Contact the organizer to request a refund.
Eventbrite's fee is nonrefundable.
Organizer of Coming to the Table: Cousins Presentation
The Minnesota Peacebuilding Leadership Institute ("Peacebuilding") is a 501(c)(3) non-partisan public charity nonprofit organization transforming psychological trauma into nonviolent power with positive productive alternatives to revenge. We prepare individuals, organizations, and communities for truth-telling and repairing harm for healed, just, equitable relationships toward the possibility of reconciliation.  Our mission is to instigate, train, and support racially, sexually, culturally, ethnically, religiously, and economically diverse individuals and organizations to become trauma-informed, resilience-oriented, and restorative justice-focused, empowering communities in Minnesota, the USA, and around the world.  Our vision is making Minnesota the Peacebuilding Power State for All. www.mnpeace.org For additional information, please contact us at info@mnpeace.org and find us on social media as @MNPeacebuilding.