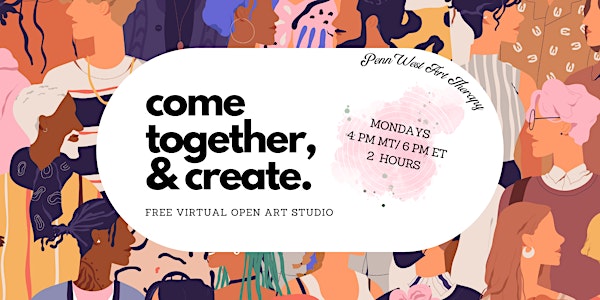 Come Together & Create - Virtual Studio
Our virtual open studios promote wellness through creativity and self-reflection.
About this event
Join us in art-making, skill-sharing, and good conversation. This open studio is made for embracing our humanness and connecting with one another. Each Zoom session is two hours long, allowing time for art-making, processing, reflecting, and sharing. The experientials, or prompts, in this open studio, address the wild journey of being human. Take care of yourself with some quality time at Come Together and Create open studio.
(Convert to your time zone here.)
PennWest's virtual open studios promote wellness through creativity and self reflection. We know that through art we can foster connection even while we are apart. The studios are a place for people from all walks of life to come together and make art as a community. We seek to promote mental health awareness and activities that cultivate positive mental health habits.
The studio runs several days a week at varying times throughout the year. Schedule changes about every 3 months.
The studio is run by the Art Therapy Program at PennWest University in Pennsylvania, USA. Our masters level students lead the studios in order to gain experience.
The virtual studio is FREE to anyone that wishes to join.
Come one day or many (no cap, but we ask that if you sign-up, then you attend)
Artistic training or skill is not required.
Any art tools/media are welcome
Begin a new piece each time or work on pieces in progress
What to expect:
The first 5-10 minutes of each session will be a time to "gather."
Prompt(s): provided for those who wish to follow it, though you may also work on other art.
Working time: typically between 30minutes-1.5hours. As the artmaking time nears an end, the lead will give reminders that it is coming to a close.
Closure: typically the last 20-30 minutes are reserved for building community, discourse, Q&A, and feedback.. Attendees may share what they made if they wish.
Some ground rules:
When entering the meeting, please have your name displayed on your screen – we will not let people in and/or may remove people who do not have a name displayed.
Some form of participation is required. The studio is designed to be interactive, and it may be off-putting to other members if there is someone who is just sitting in the background, not participating. Although we prefer participants to have their videos on, we understand this is not always possible, due to wifi or other issues. In these cases we ask that you participate by voice and at least introduce yourself at the beginning of the group.
Please arrive on time! If you are more than 10 minutes late the studio may be locked, and then you won't get to participate.
*NOTE: Once you register you will receive an email about 2 hours before the event to access the zoom meeting through the online event page*
If you have any questions, you can contact the studio at ArtTherapy@Pennwest.edu