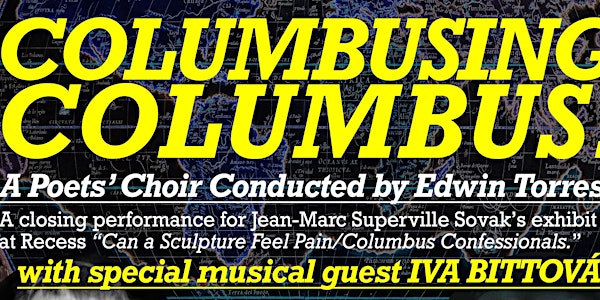 Columbusing Columbus: A Poets Choir with Edwin Torres and Iva Bittová
Columbusing Columbus: A Poets Choir Conducted by Edwin Torres with special musical guest Iva Bittová.
When and where
Location
Recess 46 Washington Avenue Brooklyn, NY 11205
About this event
Columbusing Columbus: A Poets Choir Conducted by Edwin Torres with special musical guest Iva Bittová and poetry written and performed by Ama Birch, LaTasha N. Nevada Diggs, Bob Holman, and E.J. McAdams.
This final participatory performance will include a Poets Choir conducted by Edwin Torres who will vocalize the collective liturgy written as the culmination of visitors' responses accumulated during the course of "Columbus Confessionals." In a guided recitation with musical accompaniment, visitors are invited to join in a "laying of hands" in a procession-like ritual from which a repentant figure of Columbus will be recast using vessels created from molded sections of the sculpture.
Part of Jean-Marc Superville Sovak: Can a Sculpture Feel Pain?/ Columbus Confessionals asks viewers to explore their own connection to the various layers of meaning that have been ascribed to Columbus throughout American history. On an adjacent wall, large prints of Columbus's outline invite viewers to write down their responses to the questions "What did Columbus say in the past?", "What should Columbus say in the present?", and "What might Columbus say in the future?" Transposed onto the monument, Columbus then serves as a vessel for projections of both our anger and hope.
Iva Bittová is "a forward thinking composer who sings and plays violin simultaneously [whose] sound is invigorating, urgent, and also soothing; it is a fusion of Old World and new-music sensibilities." – New York Magazine. In 1982, Iva started studying with Professor Rudolf Šťastný, the primarius (first violin) of the Moravian String Quartet. In the intervening years the violin has become her life's passion and the most inspiring musical instrument in her professional life. Iva firmly believes that, as playing the violin places extreme demands on musicians, the composer's work depends utterly on commitment and diligence. After living in the countryside near Brno for 25 years, Iva decided to relocate her personal and professional life to the United States. In the Summer of 2007, she settled amid the splendors of nature in upstate New York. Iva shares her Hudson Valley home with her younger son Antonín (born 1991) – also a dedicated musician and another chip off the Bitto block.
In 2015 she studied at the Academy of Ancient Music / Musicology at the Masaryk University in Brno and received a bachelor's degree and in 2018 graduated with her master's degree.
Ama Birch is the author of the books (Spirit), Yesterday, Today, and Tomorrow, Faces in the Clouds, Sonnet Boom!, Ferguson Interview Project, and a video game available for Android, "Space Quake by Ama Birch." Her work has been published by Grove Atlantic, Great Weather for Media, Autonomedia, A Gathering of the Tribes, Vail/Vale, Vitrine, Insert Blanc Press, Live Mag!, Fellswoop, Apricity, Belladonna, and The Brooklyn Rail. Birch did a residency at the Atlantic Center of the Arts. She was born on the Lower East Side during a blizzard.
LaTasha N. Nevada Diggs is a writer and sound artist, and the author of TwERK (Belladonna) and the forthcoming Village (Coffee House Press). She has performed at many venues and festivals worldwide, including; the 2015 Venice Biennale, El Museo del Barrio, The Museum of Modern Art, and Walker Art Center. As an independent curator, artistic director, and producer, Diggs has presented events for BAMCafé, Black Rock Coalition, Lincoln Center Out of Doors, and the David Rubenstein Atrium. Diggs has received grants and fellowships from the Howard Foundation, Cave Canem, Creative Capital, a 2020 C.D. Wright Award for Poetry from the Foundation for Contemporary Art, and a National Endowment for the Arts Literature Fellowship (2015), among others.
Bob Holman played a central role in the spoken word, slam and digital poetry movements of the last several decades, as the original Slam Master and a director at the Nuyorican Poets Cafe, creator of the world's first spoken-word poetry record label, Mouth Almighty/Mercury, and founder of the Bowery Poetry Club. He has two albums on Spotify—"In With The Out Crowd" produced by Hal Willner, and "The Awesome Whatever," live in-studio with Vito Ricci. www.bobholman.com
E.J. McAdams is a poet, artist, and collaborator exploring language and mark-making in the urban environment using procedures and improvisation with found and natural materials. He has published five chapbooks and curated the Social-Environmental-Aesthetics reading at EXIT ART. His first full-length collection titled LAST comes out from BlazeVOX in 2023.
Edwin Torres is the editor of The Body In Language: An Anthology (Counterpath Press) and author of 14 books of poetry including; Xoeteox: the collected word object (Wave Books), Ameriscopia (University of Arizona Press), and his current book, Quanundrum: i will be your many angled thing (Roof Books), which received a 2022 American Book Award. Multi-disciplinary collaborations worldwide with a range of cultural nomads have contributed to the development of his bodylingo poetics. He has received fellowships from The Foundation for Contemporary Arts, NYFA, and The DIA Foundation, among others. Anthologies include; New Weathers: Poetics from the Naropa Archives, The Difference Is Spreading: 50 Contemporary Poets on Fifty Poems, and Poets In The 21st Century: Poetics of Social Engagement.
Can a Sculpture Feel Pain?/ Columbus Confessionals is part of Recess's program, Session, which invites artists to use Recess's public platform to combine productive studio space with dynamic exhibition opportunities. Sessions remain open to the public from the first day of the artist's project through the last, encouraging sustained dialogue between artists and audiences. Due to the process-based nature of Session, projects undergo constant revision and the above proposal is subject to change.