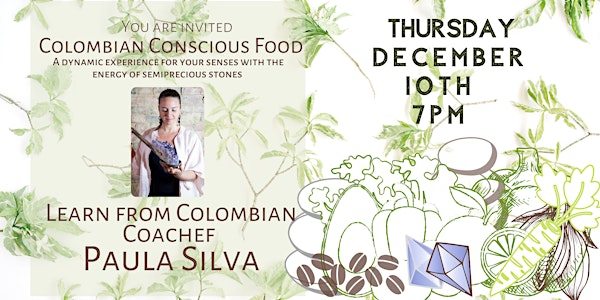 Colombian Conscious Food
Want to close the year with good energy, better perspectives and great mood? Come and cook with our Colombian CoaChef Paula Silvia
About this event
Come and cook with our Colombian CoaChef Paula Silva who will talk about conscious food through a delicious recipe based on heart of palms, coffee and cacao, giving you interesting information about Colombian gastronomy and traditional products.
The virtual event will begin with a short ceremony using a crystal quartz that will help you let go of bad energies and difficult experiences over 2020.
Silva will describe each ingredient while she shows you how to cook natural components to perfection.
To make your experience even more immersive, while you cook the coffee sauce included in her recipe, you will have the opportunity to help your digestive system through the use of an Eye tiger gemstone.
The preparation will be done once the dish is ready to eat, and you will use an amethyst gem stone to attract good energies and best wishes for 2021.