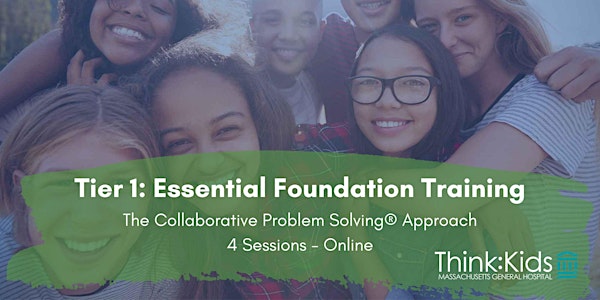 Collaborative Problem Solving | Tier 1 | Think:Kids | CEU / PDP | June 2023
Tier 1 Essential Foundation in Collaborative Problem Solving® Online Training
By Think:Kids at MGH: Collaborative Problem Solving®
Date and time
Starts on Monday, June 5 · 7am PDT
About this event
Tier 1: Essential Foundation in Collaborative Problem Solving® Training
Think:Kids invites educators, residential program staff, mental health clinicians, and anyone who is living with or supporting kids to learn Collaborative Problem Solving® (CPS), a trauma-informed and evidence-based approach that helps kids meet expectations, reduces concerning behavior, builds skills, and strengthens relationships with adults.
This course is conducted online, over 4-sessions:
Monday, June 5: 10:00 am - 2:30 pm ET / 7:00 am - 11:30 am PT
Tuesday, June 6: 10:00 am - 2:30 pm ET / 7:00 am - 11:30 am PT
Monday, June 12: 10:00 am - 2:30 pm ET / 7:00 am - 11:30 am PT
Tuesday, June 13: 10:00 am - 2:30 pm ET / 7:00 am - 11:30 am PT
Essential Foundation in Collaborative Problem Solving (Tier 1) covers all aspects of the approach. Through lectures, role-play, video examples, case studies, and breakout groups, participants learn how to identify the causes of unmet expectations and concerning behavior and how to address those causes using a relational and replicable process.
Upon completion, you will:
Understand why a new approach is needed to meet the needs of all children, including those with social, emotional, and behavioral challenges.
Learn how to assess a youth's thinking skills and what are the situations that lead to challenging behaviors.
Tailor interventions based on goals including reducing concerning behavior, addressing problems and building skills, and relationships.
Begin applying and practicing Collaborative Problem Solving with others to address challenging situations.
Tuition
Individuals: $515 USD for all 4 sessions
Groups of 3 or 4: $495 USD each attendee, for all 4 sessions
Groups of 5 or more: $445 USD each attendee, for all for sessions
Payment Policy: Credit/debit card is preferred for registration payment. Please email us at ThinkKidsInfo@Partners.org if you pay by check/invoice.
Financial Assistance: If you require financial assistance, please apply for assistance by completing this form. Funds are limited, and the application does not guarantee an award. The application is due 2 weeks before the training begins.
Training Cancellation Policy: Non-refundable. Substitutions are permitted.
Course Requirements
When registering, you are signing up for all four days. Attendance is required for each day as the learning builds upon the previous session's content.
All participants must join via their own device. If joining as a group, each person should be on an individual device.

Prerequisite: Prior exposure to Collaborative Problem Solving including attending a CPS Introductory Training, a CPS Parent Class, or watching this recording.
Think: Kids/MGH is an Accredited Provider of Continuing Education Units (CEU) and Professional Development Points (PDP)
Educators: We are approved by the Massachusetts Department of Elementary and Secondary Education for 16 PDPs.
Psychologists: The Massachusetts General Hospital Department of Psychiatry is approved by the American Psychological Association to sponsor continuing education for psychologists. The Massachusetts General Hospital Department of Psychiatry maintains responsibility for this program and its content. This offering meets the criteria for 16 Continuing Education (CE) credit(s) for psychologists. Please contact us at thinkkidstrainings@partners.org for the status of psychologist CE credits.
Social Workers: This training has been approved by the NASW Collaborative of Boston College and Simmons College for 16 continuing education credits.
Licensed Mental Health Counselors: This training has been approved by MMCEP for 16 continuing education credits.
Nursing, Occupational Therapy, Speech Therapy, Other: A certificate of attendance will be provided for 16 units which can be submitted to the corresponding professional organization for consideration.
About Your Instructors
Elizabeth Buchholz, MNS, is a Think:Kids Certified Trainer and Consultant and works with learners across the Collaborative Problem Solving (CPS) continuum. She provides training and coaching for organizations, provides implementation consultation sessions, and facilitates learning through the Certification program. Elizabeth has experience working directly with youth and families using Collaborative Problem Solving in residential treatment, private day schools, and treatment foster care. As an Organization Learning Manager for a statewide nonprofit, she provided training and consultation in Collaborative Problem Solving and Implementation to staff and families in each of these settings. Elizabeth also led the direct care team in a large residential facility using the CPS approach as both a human resources management approach and as the guiding philosophy for interacting with and treating clients and families. Elizabeth received a bachelor's degree in Criminal Justice with a minor in Philosophy and a master's degree in Nonprofit Studies with a concentration in Implementation Science and Trauma Informed Care from the University of Richmond.
Erin Hill, Ph.D., is a Licensed Psychologist and Clinical Instructor in the Department of Psychiatry at Harvard Medical School and a full-time Certified Trainer & Consultant at Think:Kids. Dr. Hill has worked with youth and families in a variety of settings including inpatient, outpatient, residential treatment, and therapeutic schools and summer camps. The primary focus of Dr. Hill's training has been on providing evidence-based treatment to children and adolescents experiencing acute emotional distress and/or behavioral challenges. Dr. Hill received her doctorate in clinical psychology from Suffolk University and her master's in child development from Tufts University. Dr. Hill completed her internship training at Astor Services for Children and Families, in Rhinebeck, NY. She also completed postdoctoral fellowship training at the University of Minnesota.
About the organizer
Think:Kids teaches a revolutionary, evidence-based approach for helping children with behavioral challenges. Through training, support, and implementation services, we promote the understanding that challenging kids lack the skill, not the will, to behave well – specifically skills related to problem-solving, flexibility and frustration tolerance. Unlike traditional models of discipline, our Collaborative Problem Solving® approach avoids the use of power, control, and motivational procedures and instead focuses on teaching kids the skills they need to succeed. #KidsDoWellifTheyCan