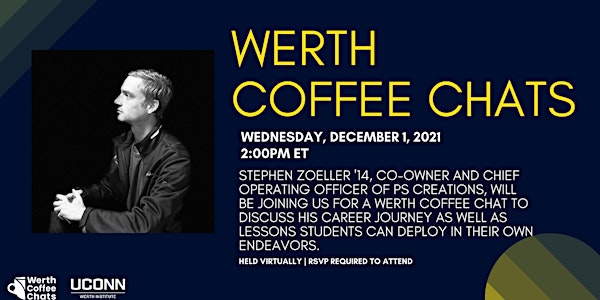 Coffee Chat with Stephen Zoeller '14
Stephen Zoeller '14, Co-Owner of PS Creations, will be joining us December 1st, 2021, at 2pm for a Coffee Chat
About this event
On Wednesday, December 1st at 2:00pm, The Werth Institute's Coffee Chats will be hosting Stephen Zoeller '14, who will discuss his career journey as well as lessons students can deploy in their own paths.
Werth Coffee Chats are intimate discussions with authors, corporate leaders and entrepreneurs about issues of relevance to students. Leveraging our alumni network, we offer these intimate chats to provide topical thought leadership access to the curated student groups.
Attendance is capped at 12 UConn students to keep the ability to ask questions and engage with the guest speaker. Please RSVP by ordering a free ticket and the zoom link will then be sent to you.
More from Stephen...
I graduated the University of Connecticut in 2014 with a degree in economics and business entrepreneurship. After college I got a job as a supply chain analyst for a small startup called Yumi EcoSolutions. We manufactured bamboo products such as plates, cups, bowls and utensils. We had two main product lines, single use compostables, and dishwasher safe reusables. After the first year my hard work began to pay off and my role at the company expanded. My title was revised to be Sr. Operations Analyst as I began to pickup sales and marketing work alongside my logistics and distribution work. After four years there I got the opportunity to move to California and become a partner for a new social media marketing company who's focus was Instagram influencer marketing. Unfortunately that only lasted a year but I soon found my current job which is Chief Operating Officer for PS Creations. My now business partner at PS Creations, invented a dishwashing tool called PLATESCRAPE. It is a simple bucket and brushes that makes it faster and saves a TON of water in the dishwashing process. Plus it's hot water so we are reducing energy use as well. We have now sold thousands of PLATESCRAPEs in America and around the world.