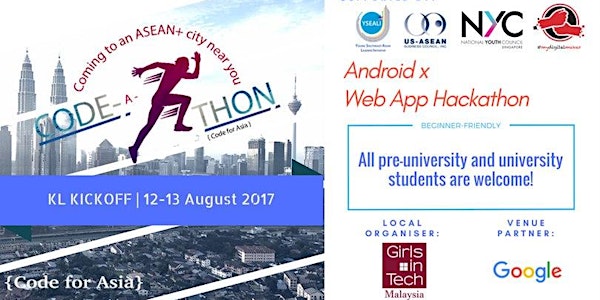 #codeathon ASEAN+ @ Kuala Lumpur
When and where
Location
Google Malaysia Axiata Tower (Quill 7) 9, Jalan Stesen Sentral 5, Kuala Lumpur Sentral Kuala Lumpur, Kuala Lumpur 50470 Malaysia
Description
#codeathon is a learning-intensive hackathon for pre-university students and university students to come together and rapidly prototype software solutions under the theme of "Technopreneurship for Gender Equality". People of all genders are welcomed and the recommended age of participation is 13-29 years old.
Middle school and above students will compete in teams of 2-5 people under 2 separate tracks:
The Jr. category includes middle/secondary school up to pre-university students

The College category includes university students
Beginners are welcome to participate. We will kick-off with workshops and match you with mentors to support you on this exciting journey towards final submission.
By learning tools for starting up and developing app prototypes, students will be able to bring their ideas for making the world a better place to live. Across these 7+ countries and 9+ cities – a total of 40 outstanding individuals will be selected to undertake the short course in Singapore and to hack on a regional challenge together.
We welcome complete beginners and people of all genders!
Why take part?
Code for change!

Build your portfolio and learn new transferable skills with industry mentors

Receive feedback from esteemed judges

Win prizes and/or media mention!
Kick-off weekend details
Day 1: Learn design thinking, hear about problem statements, and get introduced to MIT App Inventor OR web development basics using HTML/CSS and the Bootstrap framework

Day 2: Acquire more intermediate MIT App Inventor skills or dive into JavaScript
How does this work?
Learn at kick-off -> Refine your ideas continuously through learning resources and consultations with mentors -> Submit online
What prizes are there?
Top winning team overall

Best Technical Innovation

Most Socially Impactful

MVP Award for most outstanding female individual
What is your judging criteria?
Did the team identify a real, significant problem?
Is the submitted prototype fully functional and intuitive to use?
Is the presented solution desirable? Is it addressing the right market?
Representation and Female Leadership
Is the team diverse, exhibiting meaningful female contribution?
Note: Please note that your RSVP only serves as an indication of interest. Participants will be subsequently shortlisted to ensure an optimal experience for everyone involved. We want everyone's time with us to be as valuable as possible.
#codeathon is proudly supported by the organisations as below:

FAQs
Q: I am not a student, can I still take part?
A: Anyone outside of the stipulated categories as above may still take part, but you will not be eligible for sponsor prizes and no team should have 50% or more of its members from outside of the track that they have chosen to participate in. This is to ensure fairness in participation.
Q: Can I come alone?
A: Certainly - we will make provisions for you to match up with other solo participants to form a team.
Q: Who can I contact for more information?
A: Just whatsApp Ernie at 8183 3039 or drop us an email at codeforasia@gmail.com.