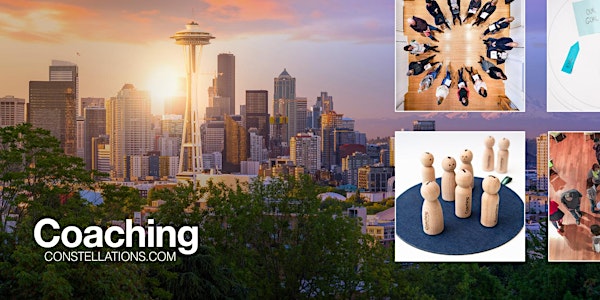 Coaching Constellations: Fundamentals Part 2 - ONLINE
An ongoing exploration of the essential principles in Systemic Coaching & Constellations
Refund Policy
Contact the organizer to request a refund.
Eventbrite's fee is nonrefundable.
About this event
March 22-23, and April 7-8, 2022 with John Whittington & Katrina Ferguson
Fundamentals Part II is for those who have completed our Part I training and who are ready to broaden their understanding, deepen their systemic stance and extend their application with individuals, teams and groups in a wider number of contexts.
This continuation on the Fundamentals is designed to deepen the embodied stance and offer you fresh insights into the hidden dynamics in relationship systems. You will continue exploring the use of systemic language that names 'what is', as well as the use of systemic sentences that create lasting embodied change in leadership and professional development coaching. You will benefit from supervised practice opportunities, combined with fresh teaching and exercises to use with individual and team clients. As a result Part II expands capacity to apply the methodology with individuals, teams and groups in multiple settings. In addition to new practices to use with teams, you will be supported to extend your practice in one-to-one applications, leaving you more deeply resourced and ready to facilitate with your clients.
This part of the learning journey also touches on the conditions required for organizational health, the coach's role in supporting its emergence and the development of systemic leadership. In Part II you will explore structural constellations, including the Tetralemma, used for complex decision making and the resolution of dilemmas. Structural constellations can be particularly useful when working with people who are new to the approach.
What will be included?
The group will continue to explore the organizing principles of relationship systems, resourcing you to go deeper and increasing your fluency in applying the approach and philosophy of this work. Highlights of the experiential training include:
A deeper exploration of the stance, principles and practices of systemic coaching
An introduction to structural constellations
Practice with the systemic sentences that create lasting change
Developing qualities of systemic leadership in your clients
Pre-reading
Fundamentals Part II participants are invited to read a substantial part of 'Systemic Coaching & Constellations' 3rd Edition before attending as this enhances the understanding of the methodology and ability to apply it in practice.
Your facilitators
This training will be led by Katrina Ferguson and John Whittington.
Fees & Times
The price for Fundamentals Part II trainings is $1850 per person. The total ticket price includes the EventBrite ticket administration fee.
This training event, normally a 3-day training, will be held in two 1.5 day sessions to accommodate the online nature of the event. In addition to easing the online learning demand, this structure will allow time to practice in between, and provide useful space to more thoroughly embody and absorb the learning. The meeting times are as follows, all in Pacific Time:
March 22, 2022: 11 am - 6 pm Pacific
March 23, 2022: 11 am - 2 pm Pacific
April 7, 2022: 11 am - 6 pm Pacific
April 8, 2022: 11 am - 2 pm Pacific
For inquiries please contact us through our website or info@northwestintegral.com
Where can I find out more about this training?
You are welcome to explore the Trainings page which describes all our trainings in more detail.
Continuing Professional Development
Participating in the three-day training (held over 4 sessions) will provide each participant with a Certificate in The Fundamentals of Systemic Coaching and Constellations - Part II together with 18 hours of ICF accredited (CCEUs) professional development, split 12 hours 'core' and 6 hours 'resource development'.