Opening night program of the Seventh Annual Report of Camera Obscura - back in person!
About this event
The opening event of the Seventh Annual Report, original Camera Obscura co-founder (in 1957) Lawrence Jordan's IMAGE is an assemblage of assorted images from existing films--his own and others--while poet Joanna McClure selected the soundtrack from recordings ideally suited for each of the chapters. Of the fourteen four-hundred-foot reels, roughly half of IMAGE will be presented this evening. [The subsequent reels will be screened at a later event in 2022.] In addition, the first public screening of Jordan's latest animated short, BELLE DU JOUR, with a remarkable score by John Davis and Janie Geiser's extraordinary LOOK AND LEARN!
[in-person: Joanna McClure + Lawrence Jordan + John Davis]
LOOK AND LEARN (2017) dir. Janie Geiser [11min.]
+
BELLE DU JOUR (2021) dir. Lawrence Jordan [8.5min.]
+
[world premiere]
IMAGE V - X (2021) dir. Lawrence Jordan + Joanna McClure [65min.]
--------
Proof of vaccination required to attend. Masks must be worn indoors when not eating or drinking.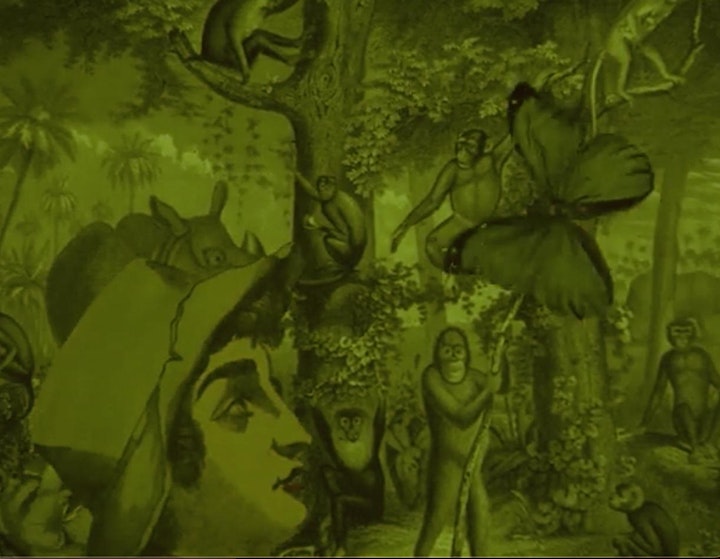 [Belle Du Jour, dir. Lawrence Jordan]
Organizer of CO : Program I : Opening Night
Appearing a few years after Frank Stauffacher's "Art in Cinema" series at SFMOMA ended, the original Camera Obscura Film Society was founded in 1957 by Lawrence Jordan and Bruce Conner (among a handful of others). Their eclectic programs continued until the organization ceased to exist in 1962.

The reconvened Camera Obscura continues to present "unique, antique and experimental" films under the joint coordination of co-conspirators Amanda Salazar and Jonathan Marlow. CO-VII features an assortment of recent or restored films screening across seven programs 10- to 12-December in-between the Roxie Theatre and 518 Valencia!