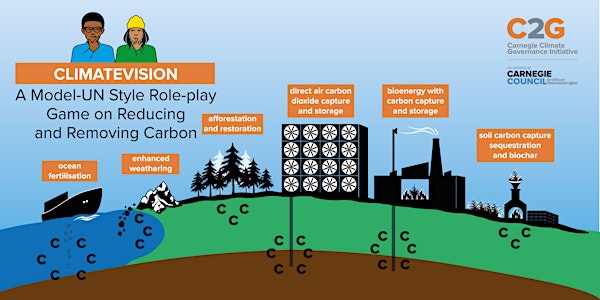 ClimateVision: A Model-UN Style Role-play Game on Reducing and Removing Car...
Location
Carnegie Council for Ethics in International Affairs
170 East 64th Street
New York, NY 10065
United States
Description
ClimateVision: A Model-UN Style Role-play Game on Reducing and Removing Carbon
Presented by the Carnegie Climate Governance Initiative (C2G) and Climate Interactive
Reducing emissions is hard enough, but to reach net zero emissions and beyond the IPCC says we also need to remove billions of tonnes of CO2 already in the air. How would we do that? What strategy would you choose to bring down temperatures, in ways that are safe and fair? One thing's for sure: no one approach is enough, and all could have unexpected consequences…
Join Carnegie Climate Governance Initiative and Drew Jones from Climate Interactive, in support of the UN Youth Climate Summit, to play a thought-provoking "Model-UN-like" negotiating game with the latest En-ROADS Climate Solutions Simulation – a powerful new interactive exploration of the combined effects of different policies and technologies on the amount of CO2 in the atmosphere, and on global temperatures. Play the role of an oil company executive, a tropical landowner, a global climate activist or others. What's feasible? What could have an impact on global warming? How would these interventions be properly governed? Prepare to be surprised.
Max 60 participants, book soon! If participants from the Altering the Climate event would like to also join this one, please RSVP for both events.
(Note: this session will be filmed, both by C2G, and by a visiting documentary crew. Participants will be invited to give their consent to be filmed.)

These tickets are reserved for youth participants of the UN Youth Climate Summit. If under 18, please bring a parent/guardian/chaperone. There are tickets available for a parent/guardian/chaperone to accompany youth participants. Members of the press and UN officials who would like to observe the game may also send an email to contact@c2g2.net for access.