About this Event
We are uniting local communities, artists, entrepreneurs, students*, developers, scientists and engineers, to come together and prototype solutions for our climate resilient future.
We are coming together to explore:
How might we use technology to build stronger communities, support people most impacted by climate change and shift into a regenerative economy?
These main themes will guide our discussions and solution development:
Regenerative Design & Circular Economy - to restore, renew, and revitalize the energy and resources of Earth, and eliminate waste through continual use of resources in a closed-loop systems.
Community Resilience & Inclusion in the Climate Crisis - to support and revitalize our communities that are most impacted by the climate crisis.
Why Now?
The climate crisis is occurring at rates much faster than anticipated, and is harming communities across America. The costs of no action could not only exceed hundreds of billions of dollars annually in the coming decades, but also threaten humanity.
We can expect more wildfires, extreme heat, coastal flooding, water shortages and health problems in the years to come, but these problems won't affect everyone equally. Climate change is a threat multiplier. It exacerbates and amplifies issues of injustice. People living in poverty, indigenous communities, immigrants and the elderly are expected to suffer disproportionately from problems caused by a changing climate.
Our approach to solving climate impact challenges must be inclusive and address the needs of most vulnerable populations. We are called upon to think differently and include communities most impacted to be part of co-designing solutions.
This event brings people together to address 4 of the Sustainable Development Goals (SDGs): Climate Action, Reduced Inequality, Sustainable Cities and Communities, Partnerships for the Goals. For more info about SDGs, visit the UN website.
WHAT YOU CAN DO
Come join us on February 1, 2020 to co-create solutions to address the climate crisis. We welcome everyone to participate including artists, technologists, entrepreneurs, designers, scientists, community members and engineers who are ready and willing to work together to generate ideas and create solutions.
Solutions can include anything from digital products, policy proposals, art installations, new apps for community resilience or pitch decks for innovative business ideas.
During this event, we will:
Work together to address the question of: How might we use technology to build stronger communities, support people most impacted by climate change and shift into a regenerative economy?
Bring diverse people and professions together to co-create solutions related to climate crisis;
Create opportunities for artists, technologists, entrepreneurs, designers, community members & engineers to build relationships and continue collaboration beyond this event!
AGENDA
9:00 - 9:30: Registration, Complimentary Breakfast (vegan options included) & Networking
9:30 – 9:45: Opening Remarks - Why we are here, Getting to Know Each Other - Ksenia Benifand, Climate Futurist, Systems Designer, Aeon Strategies
9:45 - 10:15: Opening Keynote - Kanyon "Coyote Woman" Sayers-Roods, CEO, Kanyon Konsulting.
"Acknowledging the land and our Responsibility the Landscape: Indigenous Perspectives on the Spiritual Ecology of Kinship, Land, and Regenerative methodologies"
Demonstrate the potential for Indigenous values to lead the way forward in the context of a planet at risk. Highlight threats to climate and biodiversity, and the urgent need to protect water that sustains life.
I voice a reminder of the importance of land acknowledgments and inclusion of Indigenous peoples in regard to futures decisions impacting our communities, the environment, and our future. I offer an indigenous, two-spirit perspective on the ecology of the land we stand on. As stewards of the land, we have a responsibility to our environment, always thinking ahead seven generations. I will talk about traditional ecological knowledge and respect for the plants and their abilities and the importance of recognizing native communities and seeking their blessing.
10:20 – 10:55: Katie Patrick, Engineer, Author, How to Save the World
"Fitbit for the Planet - How to make changing the world the greatest game on Earth"
We know the numbers about a lot of things - but what about our numerical environmental footprint? We've had a crisis of environmental data literacy - but that's all changing. Katie tells the story of how the Earth is becoming cybernetic - covered in sensors and becoming a web of digital eyes and ears. We can use the data to drive people's agency to act, just like a Fitbit. By combining this data with behavioral science, UI/UX, and game design techniques into a real-time feedback loop, Katie illustrates how we really can make a Fitbit for the planet and make saving the Earth as fun as a game.
11:00 – 12:00: Marc O'Brien and Sarah Harrison, Founders, The Determined
Design Thinking Workshop & Group Forming - Thinking Wrong to Amplify Impact
Think Wrong Workshop aims to get attendees thinking of really big, creative ideas to work on during the hackathon at the event! We'll encourage fun, crazy ideas to get people thinking creatively while helping attendees meet each other before they form groups.
12:00 - 1:00: Breakout Hands-On Workshop Sessions. You have a choice:
1) Observing Earth: Data, Science & Tools to Boost Natural Resilience - Charlotte Weil, Data Scientist, Natural Capital Project, Stanford University
Visualizing & understanding ecosystems leads to actionable information allowing smarter, sustainable decisions. A tour through tech resources in the fields of: Ecosystems Modeling, Satellite Imagery, Machine Learning (AI), Data Visualization – and how to leverage open datasets & tools to safeguard natural resources and their services to humanity.
2) Saving the Planet with the Power of AI - Isita Talukdar and Aroshi Ghosh
This workshop will introduce you to how AI can be used to fight one of the most critical problems that humankind faces today.
3) Designed by Community - Logan Evasco, Founder, Design It Forward, a project-based, community-oriented eco-design organization.
How to use collaborative design to improve the resilience of your community.
1:00-1:30: Complementary All Vegan Lunch by Fuddism
1:00 - On-going: zSpace Technologies Demo & Educational Experience
Clifford Champion, Product Director, AR/VR, zSpace
zSpace allows users to see real world human impact of land development & coastline erosion. Come learn about this unique XR technology and immersive yourself in a sense of what climate change is really like in our future.
1:30-1:45: Azine Davoudzadeh, Founder, XR EDU and her students
XR EDU Club from Dougherty Valley High School, State Winner in Samsung Solve for Tomorrow contest - presentation about building a fire safety device.
2:00 – 7:00: Design and Development Time! Teams develop their solutions (products, policy solutions, services, etc.)
Considerations/Design Criteria:
Addressing a key challenge - What specific climate challenge does your idea/prototype address? Does your solution address a high priority area?
Creativity and innovation - How unique is the approach to solving your challenge problem? What innovative approaches are you using for your solution?
Diversity & Inclusion – Does your solution consider people most marginalized and impacted by the climate crisis and address the needs of most vulnerable populations. How are you including communities most impacted to be part of co-designing solutions?
Implementation Plan of Action – how would you go about developing and implementing your idea/prototype? Who needs to be involved?
6:00 - 7:00: Complimentary Vegan Dinner by Flying Falafel
7:00 - 8:15: Team Presentations & Idea Sharing
8:15 - 8:45: Judge Deliberations, Awards Ceremony, & Closing
***If you are under the age of 18, you must fill out the WAIVER OF LIABILITY FORM & PHOTO RELEASE, your parent or guardian must be responsible for your transportation to and from the event & this event is not affiliated with any school or district****
Please fill out BOTH forms and you can submit electronically by emailing it to xredutech@gmail.com or bring with you to the event.
Logistics
Parking available within walking distance of the Microsoft Reactor. ABM Parking is open and located near 3rd street and Folsom.
THANK YOU TO OUR SPONSORS! Without you this event could not have been possible.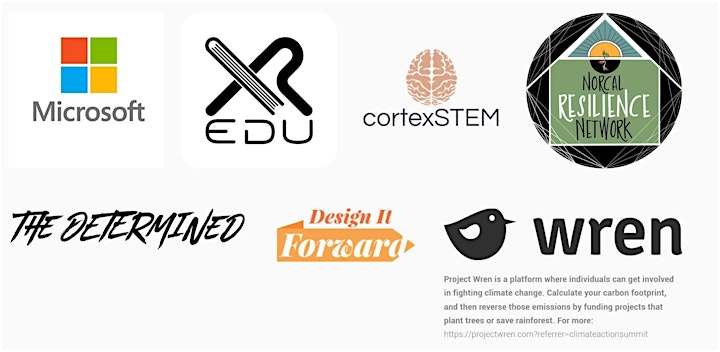 WHO ARE WE
We are Bay Area social entrepreneurs who have come together to take action on climate. Our purpose is to bridge people and organizations tackling climate change with technology solutions, and to accelerate the speed of solutions adaptations and integration. Our mission is to support and unify the efforts on climate action, and provide individuals with the tools to take action for our future.
Azine Davoudzadeh is an educator, speaker and thought leader in the XR Education space. She is the founder of XR EDU, an organization dedicated to researching and building XR tools for education as well as producing high quality ED Tech events. https://www.xredu.tech/
Ksenia Benifand is a futurist & strategic designer, helping people and organizations envision, plan, and lead transformational change towards an equitable and regenerative world. She works with communities, governments, multinationals, start-ups, and non-profits across North America connecting strategic foresight work with on-the-ground social impact & behavior change. https://www.aeonstrategies.ca/
Sara Khalek is an engineer in the medical device space. She has worked on cardiac and neuromodulation products. She is currently pursing her part-time MBA at Berkeley Haas School of Business. In her personal time, Sara works on projects that merge the worlds of science and social impact. https://www.cortexstem.com
Saphonia Foster is a management consultant that helps womxn-owned businesses design, implement and manage their strategic goals. Her company, Revenue SF, is an extension of her decade-long career that includes serving multiple organizations including the U.S. White House (Bush & Obama Administrations), the Impact Hub, among others.