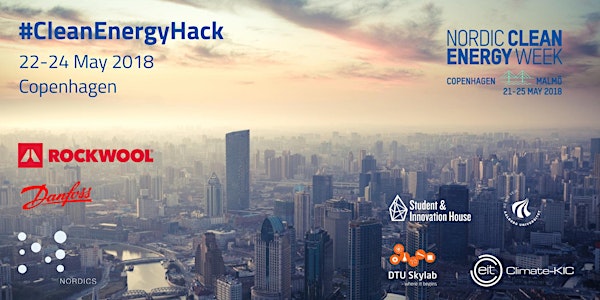 Clean Energy Hack
When and where
Location
DTU Skylab Diplomvej 2800 Kongens Lyngby Denmark
Description
The Clean Energy Hack combines city challenges with people who are passionate about solving them. In the process they lay the ground for large-scale, positive climate impact. Hackathon participants will work on innovative solutions with support and input from decision makers and experts in relevant fields.
We invite students, young professionals and experts within sustainable urban planning, energy transitions, renewables and other related fields to come together for three incredible days comprising an intensive collaborative hackathon, a Sustainable Urban Solutions conference and an ActionLab. Real, concrete challenges by international cities like Singapore and New York will be presented and worked upon throughout the days.
Clean Energy Hack Programme
The Clean Energy Hack will consist of the following days:
22 May: A 12-hour hackathon at DTU SkyLab
The Clean Energy Hack is a fast-paced innovation process that brings together cities' climate challenges with top talent with the passion and ability to solve them. The goal is to find real solutions to real problems. For 12 hours participants collaborate intensively on challenges such as the future of mobility, circular economy needs and local air quality strategies.
After a full day of ideation, work and collaboration on city challenges from around the world, the teams present their solutions before a panel of influential decision makers and city representatives.
23 May: Selected groups will pitch at the Sustainable Urban Solutions conference in Copenhagen
At the Sustainable Urban Solutions Conference, in Copenhagen, 400 international guests meet with leading Nordic and global cities, and partners, to explore sustainable solutions.
The conference will provide a highly relevant platform for action-oriented collaboration that attracts Nordic and international partners via showcasing leading Nordic urban solutions and facilitating co-creation of solutions to city challenges. Participants will hear inspiring keynotes and have the opportunity to directly engage with key city representatives in 10-12 parallel workshops where cities will present concrete challenges.
24 May: ActionLab at Aalborg University's Copenhagen Campus.
The ActionLab is a full day programme dedicated to scaling the impact of the hackathon solutions. All participating groups from the Clean Energy Hack are invited to an intensive day of elaborating on their ideas. This way, the impact of all the students' ideas are taken a level further, when they spend a whole day improving their ideas in collaboration with domain experts within climate impact assessment, business modelling, public acceptance and further.
By the end of the day, the groups are invited to share their progress in an informal setting at the closing reception.
Awards
The winning team will be announced at the Sustainable Urban Solutions Conference on 23 May and will be awarded:
Entry passes to the Smart City Expo World Congress in Barcelona 13-15 November 2018, courtesy of Cleantech Scandinavia

A chance to pitch at the Nordic Pavillion at the Smart City Expo

Coaching by EIT Climate-KIC to prepare for the Expo
We hope that the presented ideas from the Hack can develop into tangible and scalable sustainable solutions for municipalities to implement. The hackathon thus presents a fantastic opportunity to contribute to mitigate climate change and create healthier, cleaner and more sustainable cities.
It is preferred that applicants commit to attend all three days, but individual day sign-up is possible.
We will handpick 60 talents for this incredible experience - do you want to be one of them? Apply before 6 May!
Hackathon co-organisers:
Nordic Clean Energy Week (#NCEW2018)
This three-day Clean Energy event is part of the official programme of the Nordic Clean Energy Week. Hosted by the cities of Copenhagen and Malmö, it ties together the Clean Energy Minsterial and Mission Innovation which take place at the same time.
The Sustainable Urban Solutions Conference in Copenhagen on 23 May is financed by Nordic Innovation and co-organised by
Part of: