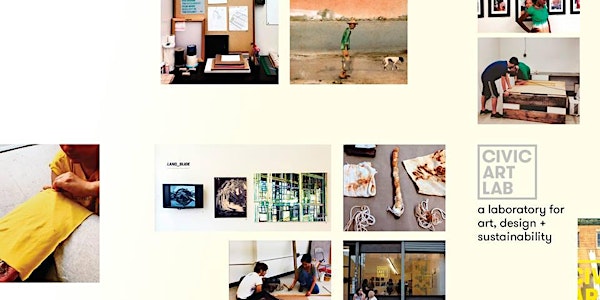 Civic Art Lab 2020: Whole Systems | 3-Day Sustainability and Design Lab
Join us for our 6th annual Civic Art Lab, Oct 23-25! This year's sustainability, design, & art lab is virtual, featuring workshops and talks
Refund Policy
Refunds up to 30 days before event
Eventbrite's fee is nonrefundable.
About this event
Civic Art Lab 2020
We are pleased to announce our 6th annual Civic Art Lab. Free and sliding scale registration is limited.
Civic Art Lab 2020 focuses on "good health," well-being, and solutions to poverty; examining: the importance of reduction of health risks, accessible healthcare, anti-racism, and the improvement of access to shelter for those impacted by the ever more frequent "climate-related extreme events and other economic, social, and environmental crisis," along with the mobilization of resources that include access to food, sanitation, and water. Basic human needs, when fulfilled, help to construct a "whole system" in which individuals and families can live in relation to the earth. The Civic Art Lab 2020 call for submissions seeks to uncover thoughtful, innovative, and integrated design-led solutions to these challenges.
Civic Art Lab is a pop-up gallery and workshop space, hosted by GreenspaceNYC. This year's lab will be held on virtually, on Zoom!
Friday 4 pm: Welcome
4 pm: Laura Scherling, Jeff Kasper, Yasmeen Abdallah, Daniel Horn, Leonel Ponce, Jon Saavedra
4:15 pm: Politics of Poetics and the Digital in an Age of Isolation, Anna Nazo, Royal College of Art (UK)
Friday 5 pm
5 pm: Health & the Built Environment: Catalyzing Quality Open Space through Public Art in Rockaway
Ana Fisyak, Founding Principal, Ana Fisyak Consulting
Judah Asimov, Senior Manager, Planning & Outreach, Rockaway Initiative for Sustainability & Equity (RISE)
5:30 pm : Principles of Green Infrastructure: Building Community Health and Wealth through Urban Agriculture and Stormwater Design
Pankti Mehta, Browne Sebright, Kats Tamanaha, Pratt Institute Graduate Center for Planning and the Environment (GCPE)
Friday 6 pm: Identity as Resistance: An Art-Making Workshop, Julia Justo, Teaching Artist
Friday 7 pm (Keynote): "Can Technology Help Preserve Long Lasting Global Cultures and Heritage?" Rebecca Hui, Roots Studio
Saturday 1 pm: Natural Color with Food Scraps, Victoria Manganiello, Artist, Designer, Researcher
Saturday 2 pm: Creative Coding & Traditional Yogurt, Petar Sapundjiev, Engineer and Designer
Saturday 3 pm: Stress Management Through Fitness, Wade Belfon, Fitness Trainer
Saturday 4 pm: Solar Design for Resiliency and Emergency Planning, Beth Ferguson, Sol Design Lab / UC Davis Design
Saturday 5 pm: Resilient Thinking Design Approach Workshop, Rafael De Balanzó, Architect and Assistant Professor Adjunct, Queens & Hunter College, CUNY
Saturday 6 pm: Spring Back/Fall Forward: Navigating Art, Activism, and Education in 2020, Yasmeen Abdallah, Artist, Curator, Activist, Educator
Sunday 1 pm: Comprehensive Change for Meaningful Impact, Kavitha Mathew, AIA, NOMA, LEED AP/ Founder, Equity Co:LAB LLC /Director, Leadership and Engagement Initiatives, AIA New York
Sunday 2 pm: 'When you plant public space, you harvest public health', Susana Fernández Molina, The Urban Activist
Sunday 3 pm: Interdependence & Wellbeing / Digital Collage from the Commons, Zoey Hart, Interdisciplinary Artist/ Cultural Educator and Emily Garfield, Artist
Sunday 4 pm: Preparing for the Unknown: End of Life Planning 101, Mangda Sengvanhpheng, BACII
Sunday 5 pm: Cooking Simple, Cooking to Impress, Claudia Tolea, Food Blogger
Civic Art Lab is hosted by GreenspaceNYC (www.greenspacenyc.org), a non-profit collaborative that develops and curates free educational programming, hands-on workshops, and public design projects that encourage dialogue, enliven public spaces, and promote the future of more equitable and sustainable cities. Past workshops, exhibitions, and events have been held at Parsons School of Design, the New Museum, IDC w/ Sesame Workshop, and more. 
Co-Directors & Founders / GREENSPACENYC + Civic Art Lab: Laura Scherling, Jeff Kasper  Organizers: Dan Horn, Leonel Ponce, Yasmeen Abdallah  Sponsors: Material for the Arts (NYC Office of Cultural Affairs), ORLI+, Fractured Atlas
Questions? Contact: laura@greenspacenyc.org and jeff@greenspacenyc.org