About this Event
The CIRI Science Symposium is an annual gathering featuring presentations delivered by industry leaders and research scientists. The Symposium features four sessions each consisting of a series of short "lightning" presentations followed by an extended and lively Q&A panel discussion. Who'd have thought that science could be so much fun?
Session 1: Pandemic Preparedness — Coronavirus and More
This session, literally grabbed from the headlines, will explore the technical, communication and training needs of industry professionals and the clients they serve.
Session 2: Measuring Clean
In this important session, research professionals will look at various means used to measure cleaning efficacy.
Session 3: Strategies for Odor Control and Elimination
Processes to be examined include ozone and related technologies, the impact of high-performance cleaning and measurement on odors, and characteristics of wildfire odors and strategies to eliminate them.
Session 4: Delving Deeply into Disinfection
Presenters will examine products and processes used to disinfect the indoor environment and protect human health.
Registration Includes:
March 31 - Symposium: 8-5:00 PM
Price includes lunch and morning and afternoon breaks.
Hotel Accommodations:
Make your reservations online or call The Hilton Cincinnati Netherland Plaza directly at 1-800-Hiltons (please reference the group code TEX when calling).
Please note, hotel capacity is limited. There is a group rate of $175/night valid through March 10, 2020.
Travel:
Cincinnati/Northern Kentucky International Airport (CVG)
Proximity to both I-71 and I-75
The CIRI Science Symposium is a special pre-conference event co-located with The Experience Conference & Exhibition. CIRI Science Symposium attendees receive a $30 discount by entering promo code: CIRI30 when registering for The Experience Conference. Trade show entrance is included with your registration for the symposium by entering code: DEC20.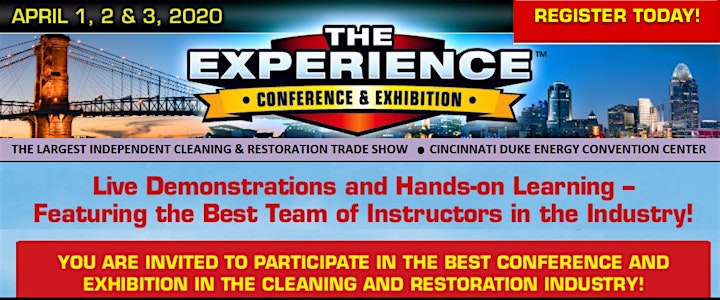 Questions? - contact:
Shannon Hughes: shannon@ciriscience.org