ONE NIGHT ONLY—Acclaimed composer and vocalist Circuit des Yeux presents her Matador Records' debut w/ live orchestration by Wordless Music.
About this event
Circuit des Yeux presents a very special presentation of their new album -io, the first for storied independent label, Matador Records. (Named one of Pitchfork's "Most Anticipated Records of Fall 2021".)
The intensely personal album is a bold new peak for the celebrated modern composer, made in response to the grief that enveloped her after the death of a close friend, shortly before the pandemic began. She worked alongside 13 renowned musicians from Chicago's jazz and experimental scenes to create the songs, but for this exclusive New York City performance, orchestration will be provided by local arts fixture, Wordless Music NYC.
ABOUT CIRCUIT DES YEUX:
Haley Fohr (b. Dec 16 1988) is a vocalist, composer and singer-songwriter based in Chicago, Illinois. Her musical endeavors focus around our human condition, and her 10-year career as Circuit des Yeux has grown into one of America's most successful efforts to connect the personal to the universal. She is most distinctly identified by her 4-octave voice and unique style of 12-string guitar. Her mysterious "Jackie Lynn" project landed her on the cover of Wire Magazine in August of 2016. Her recent works include an Original Soundtrack for Charles Bryant's silent film Salomé (1923), commissioned by Opera North, and a critically acclaimed 2017 album Reaching For Indigo, released on Drag City Records.
ABOUT -io:
Circuit des Yeux's first studio album since 2017, -io, and her first for Matador Records. The sky over -io is Florida's strange, radiant orange. It's a built environment, unnatural, made from concrete and glass, with skyscrapers that stretch to the vanishing point as you gaze up at them.
It's crumbling and suffocating, a city perpetually on the brink of collapse, where tension never topples over into catharsis, where the heat never breaks.
Inside this world and its closed loop of time, Fohr found herself able to begin moving again. "I was haunted by memories in the pandemic," she says. "As someone with PTSD, memories are all twisted up inside of me in a way that doesn't help my higher self. Making this album was once again an exercise of trying to relieve myself of some of that darkness in a way that music has always done for me."
ABOUT WORDLESS MUSIC ORCHESTRA:
Wordless Music Orchestra is the house band of New York City's Wordless Music series, which was founded by non-musician Ronen Givony in 2006 and has since presented concerts in museums, churches, nightclubs, and out of doors, pairing artists from the sound worlds of so-called classical, electronic, and rock music. Comprising New York's most omnivorous young musicians, and members of groups such as Alarm Will Sound, ACME, and Ensemble Signal, the orchestra presented its first concerts over two sold-out nights in January 2008 under conductor Brad Lubman, with the U.S. premiere of Jonny Greenwood's Popcorn Superhet Receiver, on a program with music of Gavin Bryars and John Adams.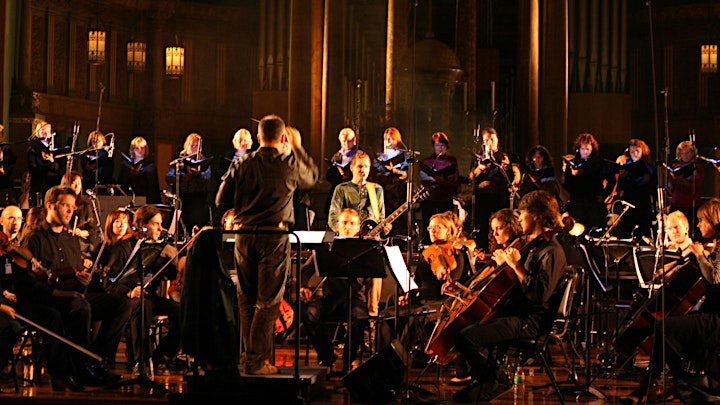 Performers
Date and time
Location
Refund policy
Organizer of CIRCUIT DES YEUX PRESENTS "io" (ORCHESTRAL)