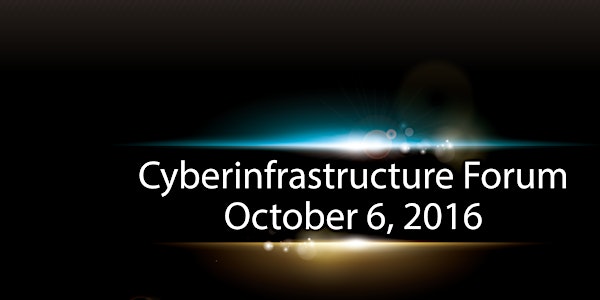 When and where
Location
MSU Union 49 Abbot Rd. East Lansing, MI 48824
Description
CI Forum 2016
The fifth annual Michigan State University Cyberinfrastructure (CI) Forum will be held on October 6, 2016. The CI Forum presents an opportunity for faculty and students to understand the benefits that cyberinfrastructure can bring to their scholarly pursuits, to explore what others are doing with cyberinfrastructure, and to learn what resources are available on campus, across institutions, and nationally. The theme this year will be "Computational Computing for Future Generations". We are excited to present you with top notch keynote speakers, as well as cutting edge breakout sessions you won't want to miss! For more information, see http://vprgs.msu.edu/ci-forum (link is external).
---
Agenda
Registration
8:30am-9:00am
MSU Union Ballroom
Breakfast
8:30am-9:30am
MSU Union Ballroom
Welcome & Opening Remarks
9:00am-9:10am
Dr. Kenneth Merz, iCER Director
MSU Union Ballroom
MSU Library Talk
9:15am-9:30am
Shawn Nicholson, Associate Director for Digital Information & Systems, MSU Library
Cyberinfrastructure: What's In a Name?
MSU Union Ballroom
Keynote
9:30am-10:00am
Dr. Steven Gordon, Senior Education Lead at the Ohio Supercomputing Center
MSU Union Ballroom
Break
10:00am-10:15am
Morning Breakout Sessions
10:15am-12:00pm
Lunch, Resource Fair, and iCER Office Hours
12:00pm-1:30pm
MSU Union Ballroom
Afternoon Breakout Sessions
1:30pm-3:00pm
Break
3:00pm-3:15pm
Keynote
3:15pm-3:45pm
Donna Cumberland, Executive Director of IT Research Computing at Purdue University
MSU Union Ballroom
Closing Remarks
3:45pm-4:00pm
Dr. Bill Punch, iCER Associate Director
MSU Union Ballroom
HPCC User Meeting
4:00pm-4:30pm
MSU Union Ballroom