About this Event
12.22 Sunday (Electronic)
Nectar & SolidSound present:
CHROMEO (DJ Set)
plus The Juan Maclean
DJ Max Gain
$35 - $65
8pm, 21+
Nectar Lounge
412 N 36th St
www.nectarlounge.com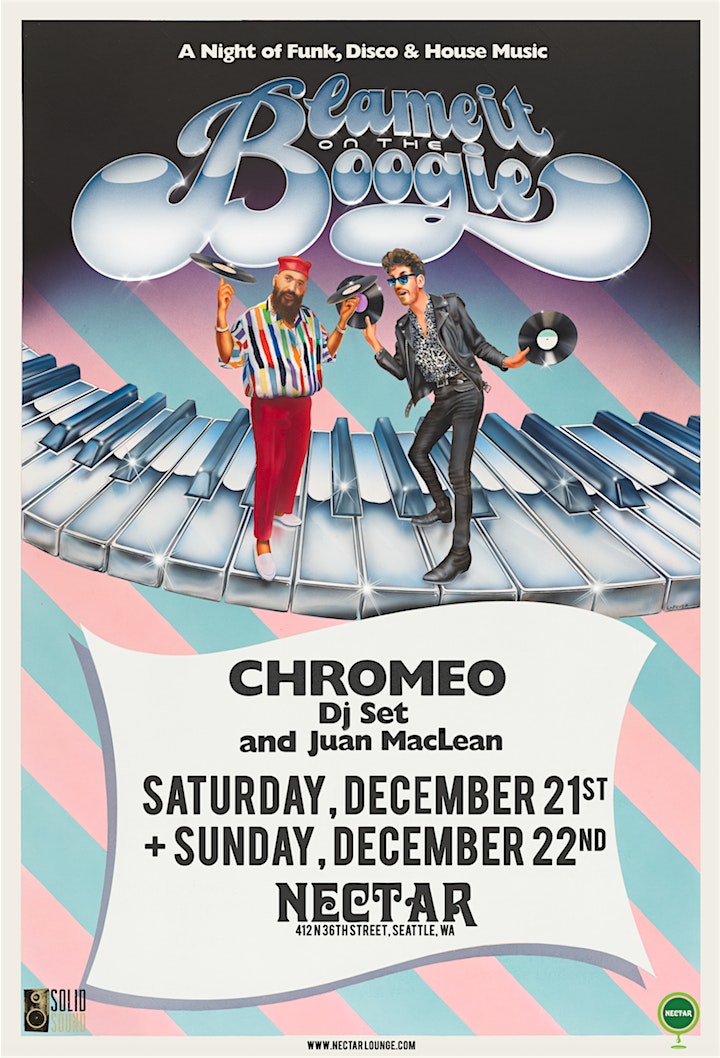 CHROMEO
World leaders, powerful CEOs, and other fat cats could learn a lesson or two from electrofunk duo Chromeo, namely: know thyself, know thy vibe, and stay thy course. The rest of the population will catch up. Indeed, Chromeo is really good at being, well, Chromeo. The mission, the package, the vision — it's been a straight shot of pure intentionality from the jump. Funk a game plan, Montreal natives Dave 1 and P-Thugg had a ten-year battle strategy: from cult 80s fetishists on 2004's She's In Control to indie blog darlings on 2007's Fancy Footwork, to international touring sensations on 2010's Business Casual, to bona fide pop stars on 2014's White Women.
And guess what? Pee (still looking a smooth criminal in a Coogi) and Dave (ever the Semitic/Gallic heartthrob in tight pants) are back. Early 2018 will mark the release of the Funklordz' fifth studio LP: Head Over Heels. The album not only elevates Chromeo's blueprint of ass-targeting beats, melodic honey and clever lyrics about the foibles of contemporary love…it augments it with unprecedented conceptual cohesion, booming sonics and more collaborations than ever before. Session legends such as Pino Palladino and Jesse Johnson (The Time, D'Angelo) coexist alongside the likes of DRAM and The-Dream on this intricate and ambitious ode to funk music, orchestrated by modern day masters of the genre.
Consider the first single "Juice", a hilarious paean to female power set to a buoyant California bop: it's Chromeo at its biggest and baddest.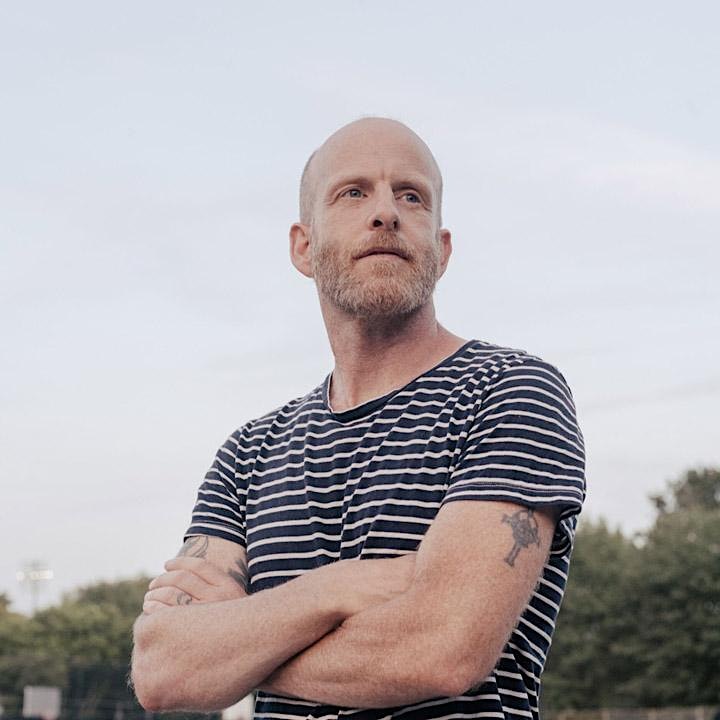 JUAN MACLEAN
Juan MacLean is a Brooklyn based DJ and producer who has been a mainstay of the New York club scene, as well as maintaining a rigorous international touring schedule, since the release of his first records on the DFA record label in 2002. While maintaining residencies in various New York clubs over the years, Juan has graced the decks at legendary venues like Berlin's Panorama Bar, Tokyo's Womb, Sao Paulo's D-Edge, Lisbon's Luxe, Fabric of London, and countless others in between.
He quickly established a reputation as an eclectic and adaptive DJ, utilizing years of music making and performance experience to develop a finely tuned sensitivity to quality selection and reading a room. Never much of a genre purist, Juan's sets can feature the gamut from Disco to House to some Techno, with detours into Electro or proto-House along the way, often in the same night. He has also produced an extensive catalog of 12"s and LP's, mostly for the record label established by his old friend James Murphy, DFA Records, including the seminal dance floor hit 'Happy House,' first released in 2009. In 2010 Juan was recruited restart the legendary !K7 DJ Kicks series which helped to spread House music to a wider audience on the cusp of the resurgence of House as a world wide phenomenon. It was selected as the #1 Essential mix by DJ Magazine for that year. Juan has also released on Classic Recording Company and New York City's Let's Play House.
Most recently, in 2017, Juan released the latest EP of his Peach Melba project on the stalwart record label Classic Recording Company, an EP that was featured in the Traxxsource Top 10 techno chart and the Juno top 20 Deep House chart. He also released his latest The Juan MacLean 12" on DFA, 'Can You Ever Really Know Somebody,' the latest in a long line of dance floor hits featuring vocalist Nancy Whang. Additionally, Juan is always on call for remixes having mixed records by Daft Punk, Air, Yoko Ono, Lana Del Rey, Cerrone and Franz Ferdinand.
Currently, Juan is finishing production on his 4th LP, slated for release on DFA Records.
Performers
Date and Time
Location
Refund Policy