Description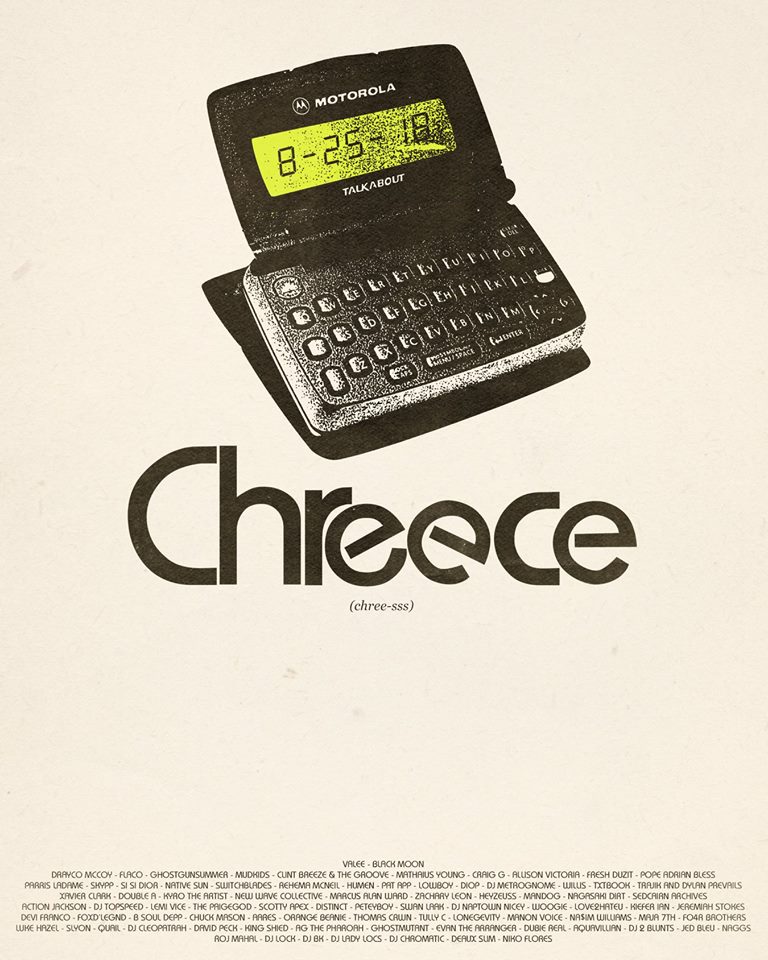 SATURDAY AUGUST 25, 2018
All lanes of Indiana hip hop are coming together for a single day of "Cheers" and "Peace" - it's CHREECE! This will be a day to remember and a cause worth celebrating.
Includes 50+ emcees and collectives, tons of DJs and Producers, exclusive merchandise from vendors and sponsors, and MUCH MORE! See Below for Lineup!
IMPORTANT INFO:
You must pick up OR purchase tickets at check-in on the day of the event (location TBD) -

BEFORE GOING TO ANY OF THE OTHER VENUES!

All artists, promo tickets, press, volunteers, etc. must also check in before going anywhere else.
Wristbands are required at all venues except Thunderbird and Fountain Square Plaza (outdoors).
Again, you

must

get a wristband from check-in before you may enter the other venues. You may be asked to show ID at any of the venues serving alcohol, at any time - NO EXCEPTIONS.
Hi-Fi, Pioneer, White Rabbit, and Thunderbird are 21+ ONLY. You will not be permitted to enter these venues if you are under 21. All other venues are open to all ages, and music will kick off at 2 PM!
Chreece spans six venues in Fountain Square:
THE HI-FI (21+)
WHITE RABBIT CABARET (21+)
PIONEER (21+)
THE HOOSIER DOME (all ages)
SQUARE CAT VINYL (all ages)
THUNDERBIRD (21+)
FOUNTAIN SQUARE PLAZA (all ages, no wristband required)
Chreece is supported by Jack Daniels, No Bad Ideas, Sun King, Kolman Dental,
Chreece Lineup This Year Includes
Valee
Black Moon
Drayco McCoy
FLACO
Ghost Gun Summer
MUDKIDS
Clint Breeze
MATHAIUS YOUNG
CRAIG G
ALLISON VICTORIA
FRESH DUZIT
POPE ADRIAN BLESS
PARRIS LADAME
SKYPP
SI SI DIOR
NATIVE SUN
SWITCHBLADES
REHEMA MCNEIL
HUMEN
PAT APP
LOWBOY (GRXZZ & BLOOD HANDSOME)
DIOP
DJ MetroGnome
WILLIS
Txtbook
TRAJIK AND DYLAN PREVAILS
XAVIER CLARK
DOUBLE A
KYRO THE ARTIST
NEW WAVE COLLECTIVE
MARCUS ALAN WARD
ZACHARY LEON
HEYZEUSS
MANDOG
NAGASAKI DIRT
SEDCAIRN ARCHIVES
ACTION JACKSON
DJ TOPSPEED
Lemi Vice
PaigeGod
SCOTTY APEX
DISTINCT
PETEYBOY
SWAN LAAK
DJ NAPTOWN NICEY
WOOGIE
LOVE2HATEU
KIEFER IAN
JEREMIAH STOKES
DEVI FRANCO
FOXD'LEGND
B SOUL DEPP
CHUCK MASON
AARES
ORANGE BEANIE
THOMAS CRWN
TULLY C
LONEGEVITY
MANON VOICE
NA$IM WILLIAMS
MAJA 7TH
FO4R BROTHERS
LUKE HAZEL
SLYON
QUAIL
DJ CLEOPATRAH
DAVID PECK
KING SHIED
AG THE PHAROAH
GHOSTMUTANT
EVAN THE ARRANGER
DUBIE REAL
AQUAVILLIAN
DJ 2 BLUNTS
JED BLEU
NAGGS
ROJ MAHAL
DJ LOCK
DJ BK
DJ LADY LOCS
DJ CHROMATIC
DEAUX SLIM
Niko Flores