Description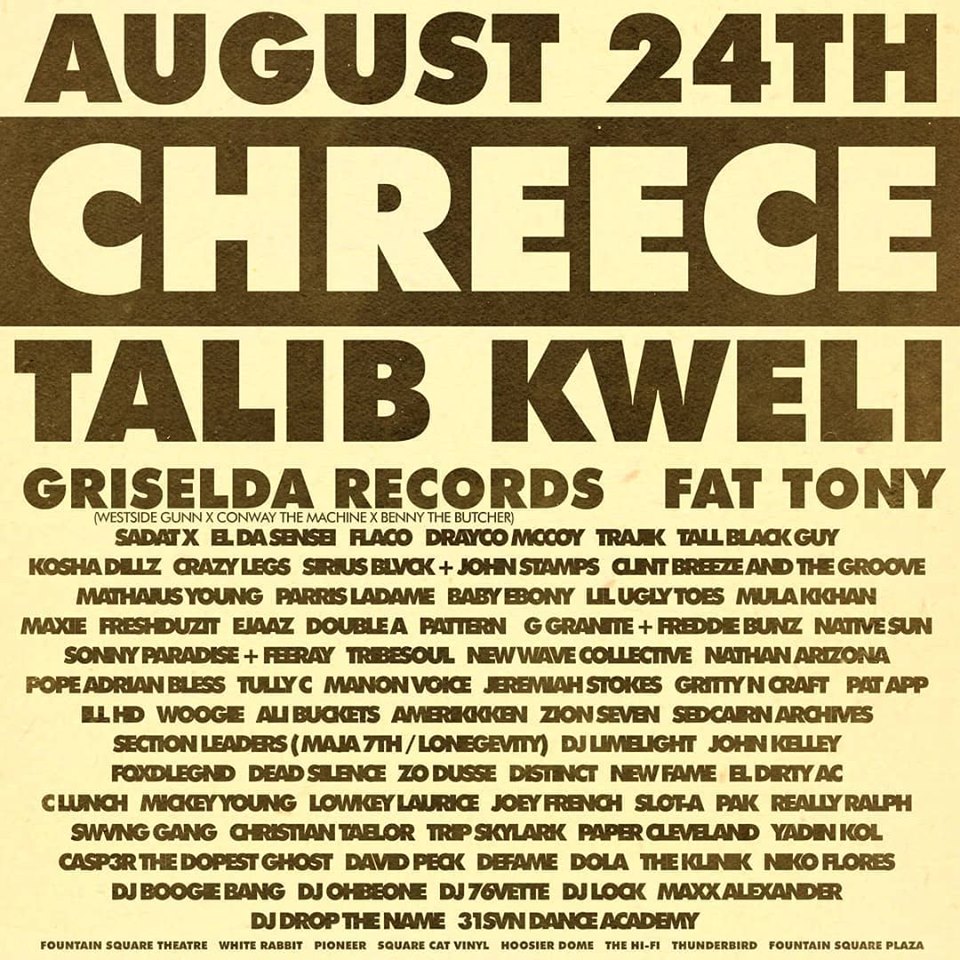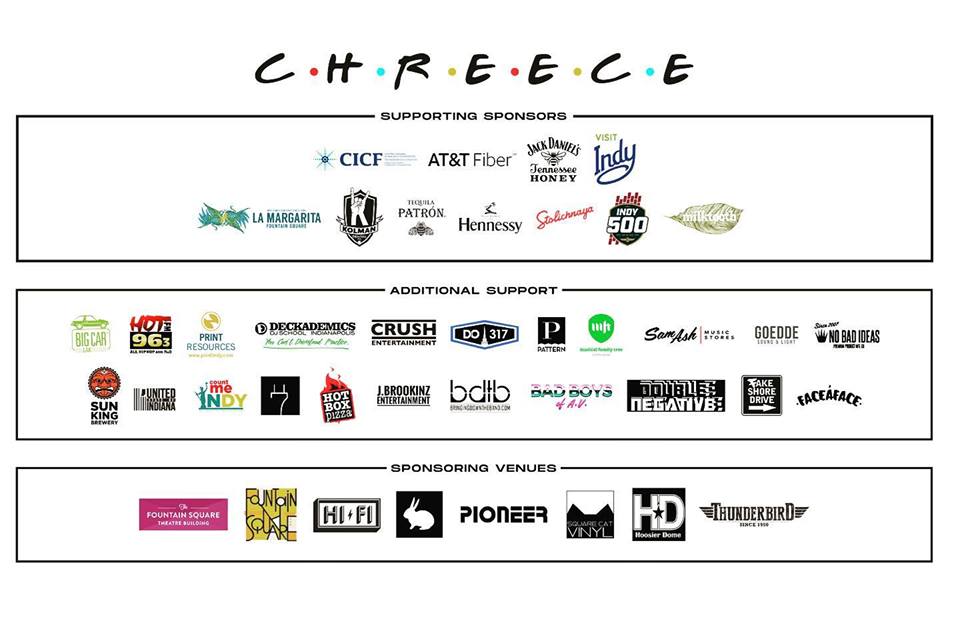 AUGUST 24th, 2019
Fountain Square - Indianapolis, IN
2p-2a
All lanes of Indiana hip hop are coming together again for a single day of "Cheers" and "Peace" - it's CHREECE! Be apart of one of the Midwest's largest hip hop festival.This will be a day to remember and a cause worth celebrating.
Includes 50+ emcees and collectives, tons of DJs and Producers, exclusive merchandise from vendors and sponsors, and MUCH MORE!
ALL VENUES REQUIRE A GENERAL ADMISSION WRISTBAND EXCLUDING - SQUARECAT VINYL, THUNDERBIRD, and THE FOUNTAIN SQUARE PLAZA
PLEASE CLAIM YOUR WRISTBAND AT THE BOX OFFICE LOCATED AT ZODIAC VINTAGE (1060 Virginia Ave). BOX OFFICE WILL OPEN AT 12PM - DAY OF FESTIVAL.

ATTENDEES MUST SHOW I.D. IN ORDER TO CLAIM WRIST BAND AT WILL CALL
/////VENUES////
Fountain Square Theatre (ALL AGES)

The White Rabbit Cabaret (21+)

Pioneer (All Ages BEFORE 10pm AFTER 21+)
Square Cat Vinyl (ALL AGES)

Hoosier Dome (ALL AGES)

The Hi-Fi (21+)

Thunderbird (21+)

Fountain Square Plaza (ALL AGES)


//////ARTISTS//////

TALIB KWELI

GRISELDA RECORDS ( BENNY THE BUTCHER X CONWAY THE MACHINE )

FAT TONY

SADAT X + EL DA SENSEI
FLACO

DRAYCO MCCOY

TRAJIK

TALL BLACK GUY

KOSHA DILLZ

CRAZY LEGS

SIRIUS BLVCK + JOHN STAMPS

CLINT BREEZE AND THE GROOVE

MATHAIUS YOUNG

PARRIS LADAME

BABY EBONY

LIL UGLY TOES

MULA KKHAN

MAXIE

FRESHDUZIT

EJAAZ

DOUBLE A

PATTERN

IZZALDIN Feat. DJ gNO (Holistic)
G GRANITE + FREDDIE BUNZ

NATIVE SUN

SONNY PARADISE + FEERAY

TRIBESOUL

NEW WAVE COLLECTIVE

NATHAN ARIZONA

TULLY C

MANON VOICE

JEREMIAH STOKES

GRITTY N CRAFT

PAT APP

ILL HD

WOOGIE

ALI BUCKETS

AMERIKKKEN

ZION SEVEN

SEDCAIRN ARCHIVES

SECTION LEADERS ( MAJA 7TH / LONEGEVITY)

DJ LIMELIGHT

JOHN KELLEY

FOXDLEGND

DEAD SILENCE

ZO DUSSE

DISTINCT

NEW FAME

EL DIRTY AC

C LUNCH

MICKEY YOUNG

LOWKEY LAURICE

JOEY FRENCH

SLOT-A

PAK

REALLY RALPH

SWVNG GANG

CHRISTIAN TAELOR

TRIP SKYLARK

PAPER CLEVELAND

YADIN KOL

CASP3R THE DOPEST GHOST

DAVID PECK

DEFAME

DOLA

THE KLINIK

NIKO FLORES

DJ BOOGIE BANG

DJ OHBEONE

DJ 76VETTE

DJ LOCK

MAXX ALEXANDER

DJ DROP THE NAME

31SVN DANCE ACADEMY

*lineups subject to change*
Organizer of CHREECE 2019
 After the success of the first three CHREECE festivals, CHREECE PRESENTS has been formed to promote Indy Hip Hop Culture on a year round basis. Chreece Presents will partnering with Live Nation in promoting their Hip Hop shows for the summer and will be curating more shows. This is a great move for live Hip Hop in Indiana and will only strengthen an already burgeoning music scene.
For more info
Chreece.com
Twitter @chreeceaf
Instagram @chreeceaf
Facebook.com/chreeceaf