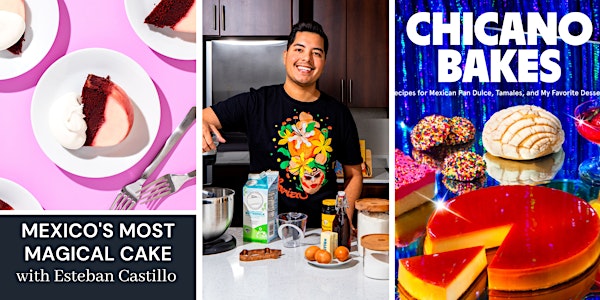 Chocoflan: Mexico's Most Magical Cake with Esteban Castillo
Celebrate making chocoflan with guest chef Esteban Castillo using a little bit of magic!
Refund Policy
Contact the organizer to request a refund.
About this event
1 hour 15 minutes

Mobile eTicket
NOTE: iphone and ipad users, CLICK HERE to register for class.
What's on the Menu:
"Impossible." "Miraculous." "A magic trick you can eat." What dish could deserve these superlatives? Nothing other than Mexican chocoflan. Rich, chocolatey and creamy, chocoflan is a delicacy frequently served to celebrate birthdays and other special occasions. It also happens to be a personal favorite of guest chef Esteban Castillo, author of the new book "Chicano Bakes." Made up of a layer of moist red velvet cake and a layer of custardy vanilla flan, chocoflan is as visually striking as it is tasty. Esteban will reveal the magic: that you first add the cake batter to the pan and then pour in the flan—and during the baking process they switch places. Once the chocoflan is out of the oven, you'll learn Esteban's way to serve it: with dulce de leche sauce and a sprinkle of cinnamon. Not a fan of magic shows? No problem: the flan and the cake that you'll learn in this class both stand confidently on their own, meaning that you can mix and match them to suit your sweet tooth. Whether you're planning a showstopper for this Valentine's Day or just looking for a new any-day dessert, you won't want to miss this one.
About Esteban: Esteban Castillo is a PR/Digital Marketing professional and the creator of Chicano Eats, a blog that showcases exciting dishes that combine traditional Mexican influences with concepts from his life in California. He is the Reader's Choice winner of the 2017 Saveur Blog Awards for Best New Voice, and Chicano Eats has been featured in Food52, NPR's the Salt, Instagram, Remezcla, and We Are Mitú, among others.
Order yourself a copy of Esteban's new book,"Chicano Bakes "! Use promo code MILK2023 for 10% off your order here.
Want to give this class as a gift? You can purchase gift cards here.
Bonus: All attendees of this class will receive a one-time 15% off coupon to the Milk Street Store after class.
This event has limited spots, and you must register in advance via Eventbrite. One sign-up covers one device. Closed Captioning is available for this event.
Immediately after registering, you will get a confirmation email that contains the Zoom meeting log-in information. One week prior to class (or within 48 hours of registering, if you sign up less than a week in advance), you will receive an email with the ingredients, equipment and prep you'll need to cook along with us, if you choose.
After class, you will receive a recording of the event, as well as a folder of recipes and resources that we discuss during the event. Class recordings are available to all registered attendees for two weeks following each event.
Payments for Milk Street live stream classes are non-refundable. If you find yourself unable to attend, you may transfer the ticket to someone else, but we are unable to refund fees and all payments are final. Classes are subject to cancellation at any time. In the case of cancellation by the event organizer, all paid tickets will be fully refunded.
Proceeds from live stream cooking classes support Milk Street's non-profit work with The Big Sisters Association of Great Boston, The Boys & Girls Club of Dorchester, and other partners.
If you have any questions about this class, please don't hesitate to get in touch via cookingschool@177milkstreet.com.