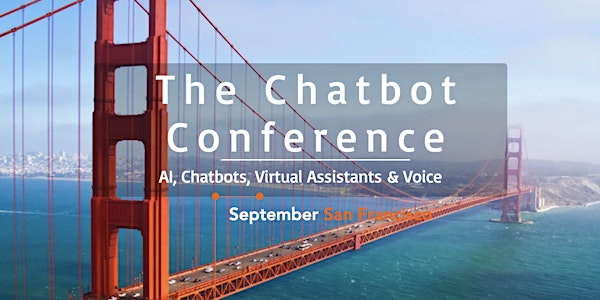 Chatbot Conference
When and where
Location
San Francisco 135 Fisher Loop San Francisco, CA 94129
Description
Chatbot's Life, will host our 2nd annual Chatbot Conference in San Francisco. The event features the top Bot entrepreneurs, the hottest startups, and biggest influencers in the Chatbot space.
If you could ask Facebook, Google, & Amazon anything about Bots what would you ask?
Join us and connect with the top speakers, entreprenuers and developers in the chatbot and ai space. We features speakers from many of the hottest companies like Chatfuel, Dashbot, Recime, Seed, Assist and many more.
How are Enterprises winning with Bots?
It has been over nearly 2 year since Brands started playing around with bots. In the first year, most experiences were a hit or miss. In the second year, we are finally starting to see bots pay dividends to business. To date, we have discovered 3 main use cases that are giving companies an ROI. We will fully explore this topic.
Voice Bots

It's been a great year for Voice. Products like Google Home and Alexa have entered over 30 Million homes and Brands are starting to heavily invest in this new platform. We will do a deep dive into what is working best and how to leverage it.
Our Topics:
Enterprises & Bots: Exploring Bots with an ROI
Artificial Intelligence & NLP: ​Latest on NLP & AI for Bots
Voice & Virtual Assistants: Latest on Voice from Google Home, Alexa, & Siri.
Chatbots Design & UX: Latest design conventions and a look at what's working.
Chatbots as Vertical Solutions: Ecommerce, Marketing, Customer Service and domain specific bots.
Chatbots Discovery & Monetization: User acquisition and sales.
Bot Frameworks & Modules: Building Bots using Frameworks and Modules
Bots & Emerging Technologies: Learn how bots, AR/VR, and blockchain are starting to converge.
And more....